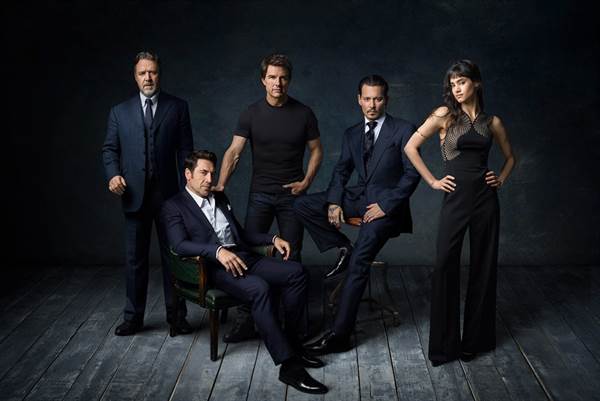 Universal Pictures has announced that they will be releasing a new series of films that will be called the "Dark Universe". The series of films will begin with the release of The Mummy, which is heading to theaters on June 9, and will continue with the relaunching of Universal's other iconic monster characters.

"We take enormous pride in the creativity and passion that has inspired the reimagining of Universal's iconic monsters and promise audiences we will expand this series strategically," said Donna Langley, Chairman, Universal Pictures. "The enterprise masterfully developed by Chris and Alex will allow each subsequent chapter the right time to find the perfect cast, filmmakers, and vision to fulfill it. As we launch Dark Universe with Danny's provocative theme before The Mummy and collaborate with a brilliant filmmaker like Bill to weave the story of a very modern woman in a very classic tale, we feel confident we're off to a tremendous start."

Alex Kurtzman, who directed and produced The Mummy, along with Chris Morgan began Dark Universe.
"When Universal approached us with the idea of reimagining these classic characters, we recognized the responsibility of respecting their legacy while bringing them into new and modern adventures," said Kurtzman and Morgan. "The studio and our fellow creative collaborators have championed and challenged us as we've begun to spin the web of Dark Universe. It's our hope these movies will engross longtime fans and spark the imaginations of brand-new ones."

The next film from the Dark universe will be Bride of Frankenstein, directed by Oscar-winner Bill Condon.

"I'm very excited to bring a new Bride of Frankenstein to life on screen, particularly since James Whale's original creation is still so potent," stated Condon. "The Bride of Frankenstein remains the most iconic female monster in film history, and that's a testament to Whale's masterpiece-which endures as one of the greatest movies ever made."

Bride of Frankenstein is slated for a February 14, 2019, release.

Dark Universe films will include performances from some of the most talented and popular global superstars stepping into iconic roles, as well as electric new talents whose careers are starting to break through. While previously announced, the stars of both imminent and future Dark Universe projects are gathered for the first time in the attached photo: The Invisible Man and Frankenstein's Monster will be played by, respectively, blockbuster icon Johnny Depp and Academy Award® winner Javier Bardem, who appear together later this summer in Pirates of the Caribbean: Dead Men Tell No Tales. Those actors join superstar Tom Cruise as a soldier of fortune Nick Morton and Oscar® winner Russell Crowe as Dr. Henry Jekyll, who lead the all-star cast of The Mummy, along with Sofia Boutella, the actress who embodies the title role in that film.

All of the Dark Universe films are connected by a mysterious multi-national organization known as Prodigium. Led by the enigmatic and brilliant Dr. Henry Jekyll, Prodigium's mission is to track, study and when necessary-destroy evil embodied in the form of monsters in our world. Working outside the aegis of any government, and with practices concealed by millennia of secrecy, Prodigium protects the public from knowledge of the evil that exists just beyond the thin membrane of civilized society…and will go to any length to contain it. To learn more about Dark Universe and Prodigium, visit www.DarkUniverse.com and www.WelcometoProdigium.com.