The Mummy (2017)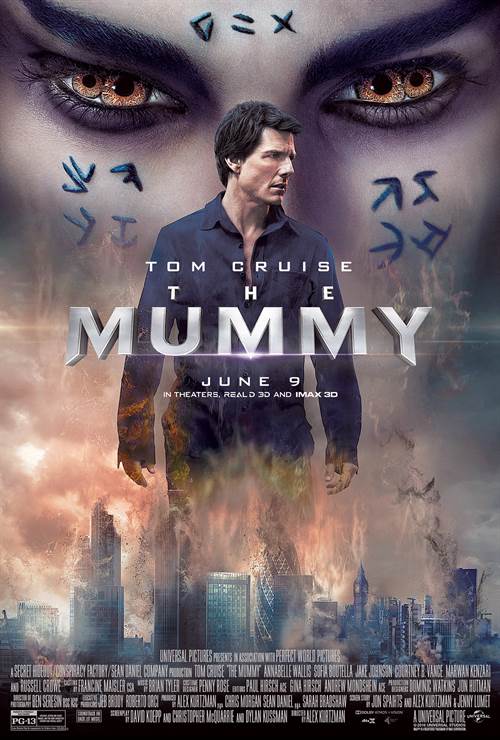 Share this:
| | |
| --- | --- |
| Director: | |
| Writers: | |
| Cast: | |
| Released: | Friday, June 9, 2017 |
| Length: | 107 minutes |
| Studio: | Universal Pictures |
| Genre: | Sci-Fi/Fantasy, Action/Adventure |
| Rating: | Some material may be inappropriate for children under 13. |
Synopsis
Tom Cruise headlines a spectacular, all-new cinematic version of the legend that has fascinated cultures all over the world since the dawn of civilization: The Mummy.

Thought safely entombed in a tomb deep beneath the unforgiving desert, an ancient princess (Sofia Boutella of Kingsman: The Secret Service and Star Trek Beyond) whose destiny was unjustly taken from her is awakened in our current day, bringing with her malevolence grown over millennia and terrors that defy human comprehension.

From the sweeping sands of the Middle East through hidden labyrinths under modern-day London, The Mummy brings a surprising intensity and balance of wonder and thrills in an imaginative new take that ushers in a new world of gods and monsters.

Purchase DVD/Blu-ray/4K UHD physical copy of The Mummy today at Amazon.com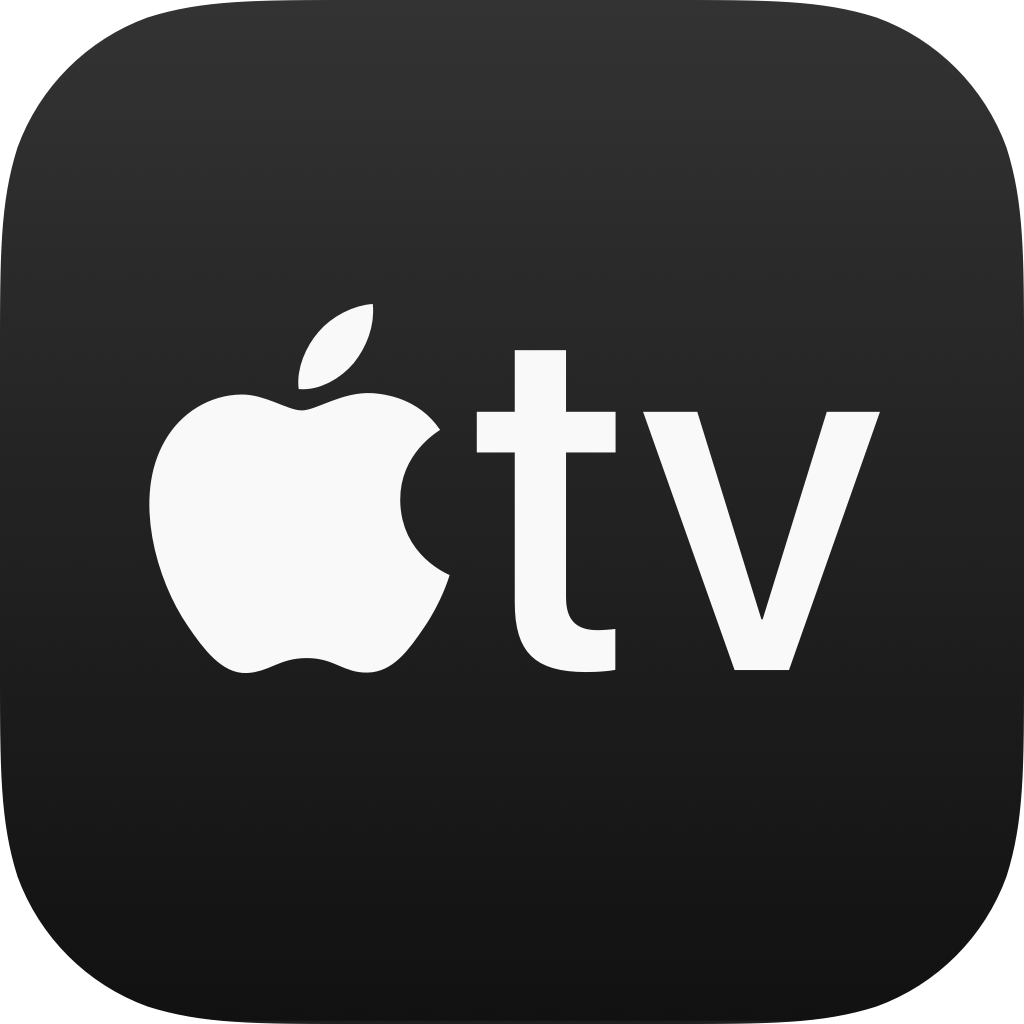 Download The Mummy in Digital HD/4K from the iTunes store.
The Mummy images are © Universal Pictures. All Rights Reserved.
Could Universal's Dark Universe Be Reaching an Early Grave?
11/10/2017 2:10 PM EDT
It has been reported that Universal's Dark Universe Franchise, which was launched with The Mummy, has been shut down. While there is no official confirmation about this news, the other films in the franchise have seemed to have lost steam. Along with The Mummy, the Dark Universe films were to include Bride Of Frankenstein, Wolf Man, The Invisible Man and a Creature From The Black Lagoon film.Thing...
More>>
UK Mummy Premier Canceled in Wake of Manchester Bombing
5/25/2017 11:34 AM EDT
The UK premier for The Mummy has been canceled, following the attack that occurred in Manchester on Monday. "All of us at Universal have been devastated by the terror attack in Manchester and continue to stand with the community and country as it recovers. Out of respect to those affected by this tragedy we have decided not to move forward with the London premiere for The Mummy scheduled to take p...
More>>
Universal Begins New Dark Universe Series with The Mummy
5/22/2017 3:02 PM EDT
Universal Pictures has announced that they will be releasing a new series of films that will be called the "Dark Universe".  The series of films will begin with the release of The Mummy, which is heading to theaters on June 9, and will continue with the relaunching of Universal's other iconic monster characters."We take enormous pride in the creativity and passion that has inspired the reimagining...
More>>
Universal to Celebrate The Mummy with Special Event Day
5/12/2017 11:30 AM EDT
On Saturday, May 20, Universal Pictures in conjunction with RealD, will be celebrating the upcoming release of The Mummy by declaring the day "The Mummy Day". To celebrate, they will be unveiling a 75-foot, 7-ton sarcophagus at Hollywood & Highland.  Tom Cruise will be on hand with director Alex Kurtzman, and co-stars Annabelle Wallis, Sofia Boutella and Jake Johnson.The structure took two firms e...
More>>
The Mummy Filmmakers Discuss Tom Cruise's Zero Gravity Scene
3/29/2017 3:49 PM EDT
Tom Cruise is known for being a consummate professional, so when we hear directors raving about his performances, we shouldn't ever be surprised.  Such is the case today, as "The Mummy" filmmakers (who were making a presentation at CinemaCon) spoke about a particularly grueling stint sequence that Cruise was involved in.There is a scene with a plane crash, and Cruise performed in an impressive 64 ...
More>>
New Mummy Film Could Star Female Lead
10/14/2015 11:53 AM EDT
Universal will be launching a new "Mummy" to start their new monsters franchise, but this time, we could see a female lead in the film.Boris Karloff played the Mummy back in 1932, and in 1999, Arnold Vosloo took the lead.  Now, casting is open to either male or female. The studio has two different stories set up, one for male and one for female, just in case. Casting is scheduled to begin within t...
More>>
Total Recall Director, Len Wiseman, In Final Talks To Take Over ...
9/25/2012 10:13 AM EDT
Len Wiseman has been set by Universal Pictures to direct "The Mummy", a reboot of the franchise which most recently spawned a trilogy earning around $1.25 billion.  The film will be written by Jon Spaihts and produced by Alex Kurtzman and Roberto Orci through their Universal-based K/O Paper Products, alongside Sean Daniel and Jim Jacks. Daniel and Jacks produced the trilogy starring Brandon Fraser...
More>>
The Mummy To Get A Reboot
4/6/2012 2:36 PM EDT
Thirteen years it seems is a long enough wait to reboot a movie these days, according to Universal Pictures any way. That's how long ago Stephen Sommers bought Imhotep back from his then sixty Seven years slumber in the Mummy. A movie that went on to spawn two follow up movies and make household names of the stars, Brendan Fraser and Rachel Weisz although the later did cut and run after the Mummy ...
More>>
Mummy 3 September 2007 Update
9/13/2007 10:57 AM EDT
Maria Bello was recently interviewd by Sci Fi Wire at the Toronto Film Festival, where she was promoting her new film, The Jane Austen Book Club.  She spoke of her upcoming role in The Mummy: Tomb of the Dragon Emporor.Bello, who will be replacing Rachel Weisz in the film, says that the role of Evelyn Carnahan has changed. "She has the same name, but she's a very different character than Rachel pl...
More>>
Scorpion King Sequel In The Works
6/19/2007 2:25 PM EDT
There is a sequel for "The Scorpion King" in the works, and it's reported that Russell Mulcahy will be the director. Mulcahy also directed Resident Evil: Extinction and Highlander.The Scorpion King was a spin-off from "The Mummy" movies series, which also has a sequel coming out next year. It starred Dwayne "The Rock" Johnson, and Kelly Hu.No word on casting or plot details for the movie....
More>>
Mummy Franchise To Be Reinvented With Brendan Fraser in 3rd Film
9/8/2006 10:40 AM EDT
Brendan Fraser will reprise the role of Rick O'Connell from the popular "The Mummy" franchise. Details are scarce but the role will re-imagine the character in a "new setting" rumored to be away from the desert and the mummies curse.  Joe Johnston is signed to direct the film which is expected to start filming in 2007. Stephen Sommers direct "The Mummy" (1999) and "The Mummy Returns" 2001 - both b...
More>>
The Mummy Theatrical Review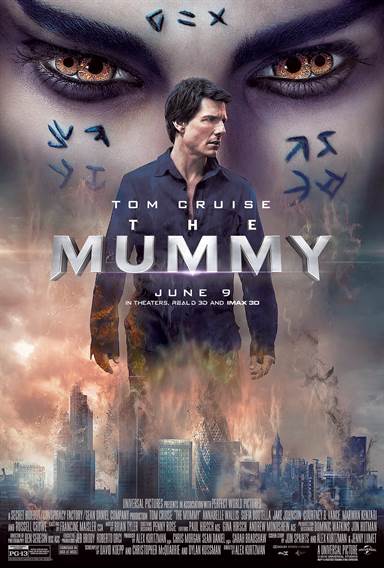 If you are anything like me, you loved 1999's
The Mummy
starring Brendan Fraser (
School Ties; Gods and Monsters
) and Rachel Weisz (
The Bourne Legacy
). It was fun, well done and included some interesting ideas about history. When I heard it was being "reimagined" starring Tom Cruise (
Mission: Impossible
) and Russell Crowe (
Gladiator
) and I saw the first trailer for it, I wasn't overly optimistic. It looked decidedly different from the film I enjoyed so much and I was afraid it wasn't going to be good. While it is, in fact, different than the other film it has a lot going for it.
Nick Morton (Cruise) and Chris Vail (Jake Johnson; New Girl) are soldiers who are doing advanced reconnaissance in Iraq. Morton is also an illegal antiquities dealer, so when he steals a map leading to supposed treasure, he puts himself, and Vail, in harm's way to find it. When they find something unexpected, the military and archeologist Jenny Halsey (Annabelle Wallis; Annabelle) dig it up. While transporting it back, they end up crashing in London, setting loose the evil within.
Ahmanet (Sofia Boutella; Kingsman: The Secret Service) was an Egyptian Princess planning to take over her father's throne but when he has another child, a son, she sees her plans falling apart. Desperate, she calls on the God of Death, Set, to give her power and kills her father and baby brother. Captured, she is buried alive in Mesopotamia but is freed when Morton, Halsey, and Vail discover her sarcophagus. She then decides to make Morton her "chosen" in order to give human life to Set but her plans are foiled by Doctor/Lawyer Henry Jekyll (Crowe). Ultimately, selfish Morton makes a choice and ends the Princess but comes with consequences for him.
It is nice to see Cruise not playing the straightforward action hero for a change. Yes, there is action but his character is more self-centered here than we have seen him play in the past though. He also shows a greater depth of emotion than we usually see from him. Crowe is well suited for this dual role, with a tinge of madness thrown in and Boutella is an excellent choice, as something about her oozes evilness. Wallis does a fine job but I'm not really sure she and Cruise have all that much chemistry.
Dark is definitely the descriptive term I would use for this film, as it is much less fun and campy than the 1999 version; though, I assume that was the intent as it was meant to kick off a series of films known collectively as the "Dark Universe". There were moments I found it to be scarier than some horror films I had recently watched and the overall tone was somber. Unfortunately, I think they were trying to interject some humor into the film with ghost/zombie Vail showing up occasionally with a bit of foreshadowing for Morton but his appearances came across as merely stupid and inane. I also don't get the "zombies". Shouldn't they have been "mummies"?
The three-dimensional aspects were minimal and seem to have been a post-production afterthought. They didn't add much to the plot or the feel of the film and simply seem like a way for the studio to suck more money out of moviegoers. The effects, however, were fairly well done, so the movie does have that going for it.
The Mummy wasn't a bad film. I've seen far worse but it wasn't great, either, and I don't think it is going to be the blockbuster Universal was hoping for to kick start their newest series in an effort to combat the Marvel Universe. For me, I will stick with 1999 and Brendan Fraser's Kevin O'Connell.
Grade: C-
Read More The Mummy Reviews
For more reviews please visit our film/television review section.
SPONSORED LINKS