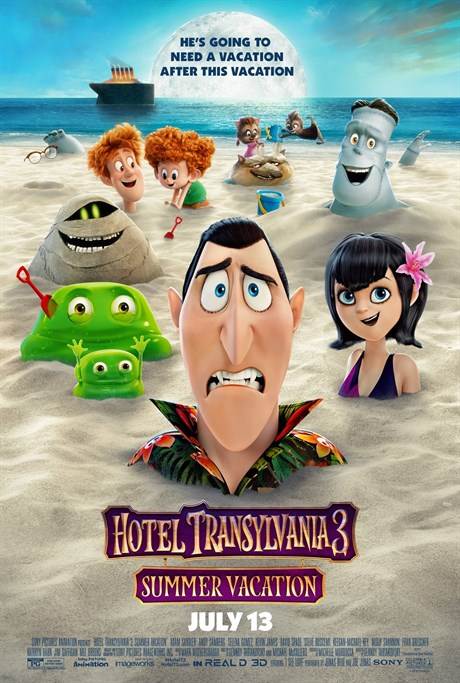 Amazon Prime and Sony Pictures will be giving Amazon Prime members a summer kick-off gift. In celebration of the release of Hotel Transylvania 3: Summer Vacation, Prime members will be able to get access to an exclusive advance showing of the film two weeks before the release.

The early showings for Prime members will take place at 3 pm local time on June 30, 2018, at one of about 1,000 leading theaters across the country. Members can celebrate the first day of summer by purchasing their tickets for the showing starting today online at Amazon.com/HotelT. Members can each purchase up to 10 tickets for the showing, while supplies last. Ticketing is powered by Atom Tickets. Hotel Transylvania 3: Summer Vacation opens wide on July 13, 2018.

Elias Plishner, Executive Vice President, Worldwide Digital Marketing for Sony Pictures said, "We can't wait to welcome Prime members on this monster vacation before anyone else. Summer vacation has officially started, and this movie will be a perfect way for families and friends to spend quality time together."

"Prime members all over the country went to theaters early to watch Jumanji: Welcome to the Jungle not too long ago," said Cem Sibay, Vice President of Amazon Prime. "Hotel Transylvania just happens to also be my daughter's favorite and so I am especially excited to bring Prime members together - this time on a monster cruise ship in Hotel Transylvania 3: Summer Vacation."

Hotel Transylvania 3: Summer Vacation, brings us our favorite monster family as they embark on a vacation on a luxury monster cruise ship so Drac can take a summer vacation from providing everyone else's vacation at the hotel. It's smooth sailing for Drac's Pack as the monsters indulge in all of the shipboard fun the cruise has to offer, from monster volleyball to exotic excursions, and catching up on their moon tans. But the dream vacation takes a dangerous turn when Mavis realizes Drac has fallen for the human captain of the ship, Ericka, who holds a mysterious secret that threatens them all.