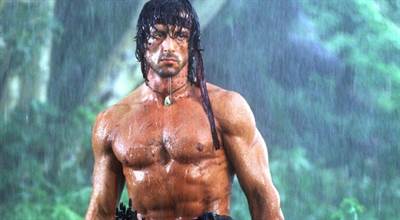 Sylvester Stallone is being celebrated at the Cannes Film Festival today. He appeared at the Hotel du Cap for a Rambo V: Last Blood junket and then headed over to a Masterclass at the Salle Debussy, and then will be appearing tonight at a sneak peek of Rambo V as well as a 4K restoration of First Blood.

Stallone spoke about the new film, saying, "In every film, Rambo never goes home, he goes out the to the jungle or Afghanistan. In the new one, he does come home, but in a way he never arrives. He's there, but he's not. That's what the whole story is built around. As soon as he walks outside his door, he has no more control. The world controls you." He added, "We pick it up, he's out in this storm, a horrible storm. He's trying to rescue people. There's a flash flood. One guy goes up by horseback, he volunteers to save people. He's still dealing with survivor guilt, b/c he could save his friends in Vietnam. A result of PTSD. He has a hard time. He has a beautiful ranch, but he lives underground. This is how he deals with his dilemma. There's something subterranean in Vietnam. He has an adopted family there. His father has passed on. The housekeeper who is 70 has a granddaughter. He's her surrogate father."

Stallone also spoke about his film "Cobra" and was asked by an audience member for his reflection of the film.

"That (conceit) was what if Bruce Springsteen had a gun? That was rock n' roll meets drama. That should have been another franchise because that character was so cool. And I blew it. My personal life got in the way. But we're trying to bring it back as a streaming TV series. Bring out the zombie squad. I'm long gone, but the idea is really good," said Stallone.

"Rambo V: Last Blood" is slated for a September 20, 2019 release.