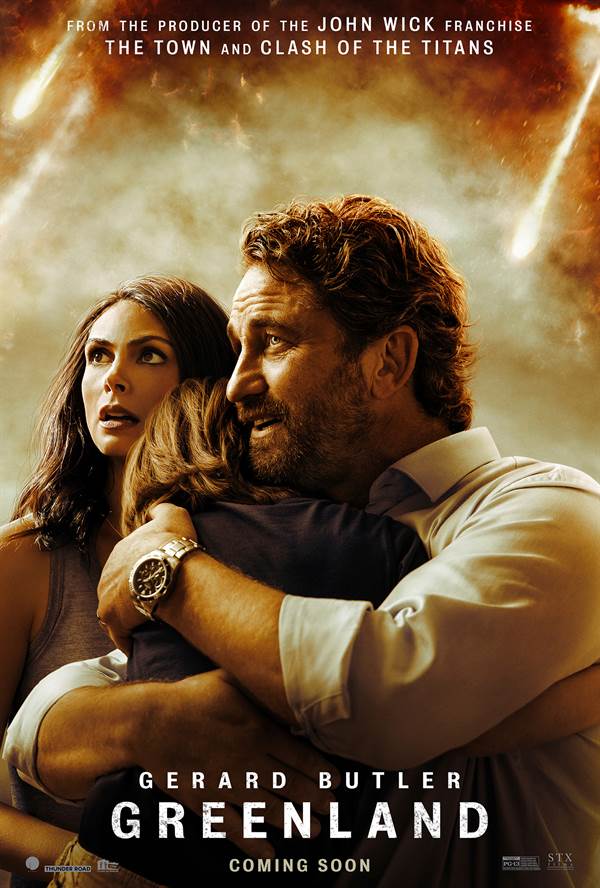 End of the world disaster films seem to always draw big audiences so it makes sense that STX Films would want to bring their version to home theaters this holiday season. GREENLAND is the story of a planet-destroying comet hurtling towards earth and one family's trek to get to a place that will hopefully shield them from the worst of the damage. GREENLAND will be released on PVOD on December 18, 2020, and STX Films, in conjunction with FlickDirect, want to give some lucky winners the chance to win a Virtual Advance screening pass good for December 15, 2020, at 7 pm (waiting room opens at 6 pm).
To enter for a chance to win a virtual advance screening pass for GREENLAND follow these easy steps:
A family fights for survival as a planet-killing comet races to Earth. John Garrity (Gerard Butler), his estranged wife Allison (Morena Baccarin), and young son Nathan make a perilous journey to their only hope for sanctuary. Amid terrifying news accounts of cities around the world being leveled by the comet's fragments, the Garrity's experience the best and worst in humanity while they battle the increasing panic and lawlessness surrounding them. As the countdown to a global apocalypse approaches zero, their incredible trek culminates in a desperate and last-minute flight to a possible safe haven.
The contest ends December 12, 2020. For more information, please visit the GREENLAND page on FlickDirect.

Rated: PG-13

NO PURCHASE NECESSARY. Limit one virtual pass per person. This film is rated PG-13. Must be 13 years of age or older to win a pass. Employees of all promotional partners and their agencies are not eligible. Void where prohibited. If an email is received without a comment on the trailer, the entry will be voided, and the email deleted. Entries must be received by 11:59 pm on December 12, 2020, to be eligible to receive a pass. Winners will be contacted via e-mail to receive their pass. Sponsors not responsible for incomplete, lost, late, or misdirected entries or for failure to receive entries due to transmission or technical failures of any kind.
How The Virtual Screening Works:
Each person would click the link to download their virtual screening pass. If you already have a Ticktbox Account GREAT, if not, signing up for one takes 2 minutes and is totally FREE. Once you reserve a virtual ticket you will receive an email saying "thank you for signing up". On the day of the screening, you will receive another email one hour before showtime prompting you to "VIEW ONLINE SCREENING". Once you click this button it will take you to the virtual waiting room and the movie will start exactly at 7 PM EST.