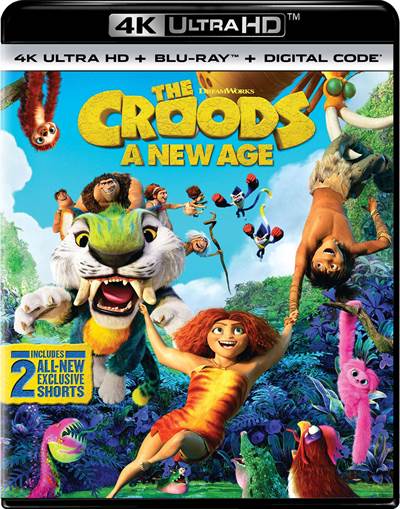 In 2013 Universal Pictures brought audiences the animated version of cavemen in their hit movie, The Croods. This past Thanksgiving, they continued the story with THE CROODS: A NEW AGE. With colorful visuals and a fun story, they reminded us why we fell in love with the first film. In anticipation of the 4K Blu-ray release on February 23, 2021, Universal Pictures Home Entertainment, in conjunction with FlickDirect, want to give one lucky winner their own copy.

To enter for a chance to win THE CROODS: THE NEW AGE 4K Blu-ray combo pack follow these easy steps:
The Croods have survived their fair share of dangers and disasters, from fanged prehistoric beasts to surviving the end of the world, but now they will face their biggest challenge of all: another family
The Croods need a new place to live. So, the first prehistoric family sets off into the world in search of a safer place to call home. When they discover an idyllic walled-in paradise that meets all their needs, they think their problems are solved … except for one thing. Another family already lives there: the Bettermans.
The Bettermans (emphasis on the "better")-with their elaborate treehouse, amazing inventions, and irrigated acres of fresh produce-are a couple of steps above the Croods on the evolutionary ladder. When they take the Croods in as the world's first houseguests, it isn't long before tensions escalate between the cave family and the modern family.
Just when all seems lost, a new threat will propel both families on an epic adventure outside the safety of the wall, one that will force them to embrace their differences, draw strength from each other and forge a future together.
The Croods: A New Age features the voice talent of returning stars Nicolas Cage as Grug Crood, Catherine Keener as Ugga Crood, Emma Stone as their daughter, Eep; Ryan Reynolds as Eep's boyfriend, Guy; Clark Duke (Hot Tub Time Machine) as Thunk and Cloris Leachman as Gran. They're joined by new stars Peter Dinklage (Game of Thrones) as Phil Betterman, Leslie Mann (Blockers) as Hope Betterman, and Kelly Marie Tran (Star Wars: Episode VIII: The Last Jedi) as their daughter, Dawn.
Contest Ends February 26, 2021
NO PURCHASE NECESSARY. Limit one entry per household. Must be 13 years of age or older to win. Employees of all promotional partners and their agencies are not eligible. Void where prohibited. Entries must be received by 11:59 pm on Friday, February 26, 2021, to be eligible for the drawing. The winner will be contacted for their mailing address. Sponsors not responsible for incomplete, lost, late, or misdirected entries or for failure to receive entries due to transmission or technical failures of any kind. ONE ENTRY PER PERSON.