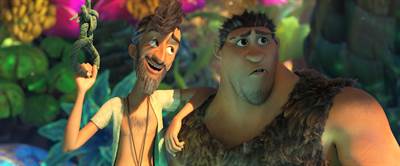 The Croods are heading to the small screen. "The Croods: Family Tree" will be a new series set to stream on Hulu and Peacock.
The "Croods" franchise began in 2013 with "The Croods" and had a follow up with 2020's "The Croods: A New Age". The animated prehistoric family will star in the six-episode series, showing how the Croods and the Bettermans are learning to coexist on a farm that they both live on.
Kelly Marie Tran will reprise her role as the voice of Dawn Betterman, alongside Amy Landecker as Ugga, Kiff VandenHeuvel as Grug, Ally Dixon as Eep, AJ Locascio as Thunk, Dee Bradley Baker as Sandy, Artemis Pebdani as Gran, Darin Brooks as Guy, Matthew Waterson as Phil, and Amy Rosoff as Hope.
The film franchise grossed over $800 million worldwide.