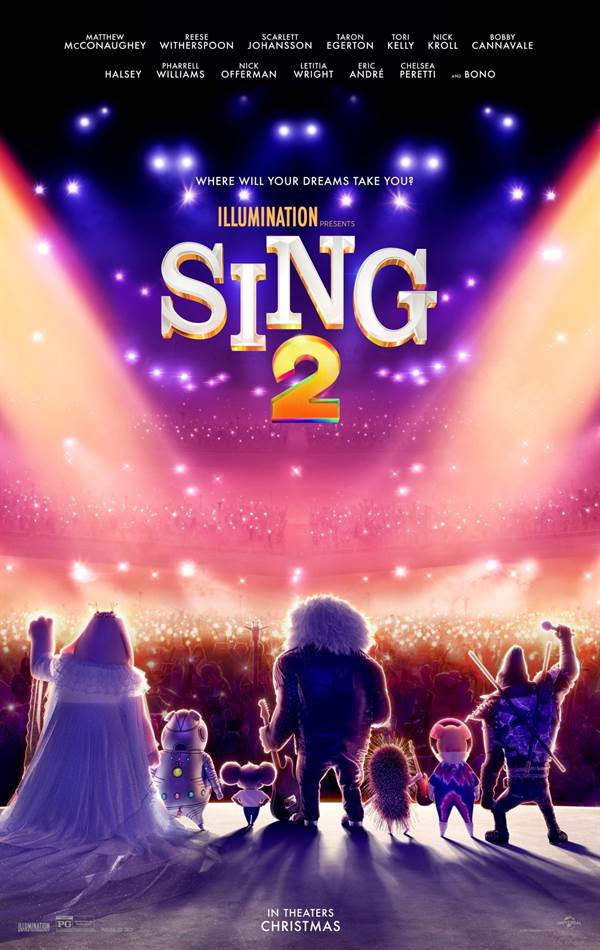 Today, Illumination and Universal Pictures have announced the launch of The Sing 2 Sing-Along Experience in theaters nationwide.
Beginning March 25, audiences in the United States and Canada will be able to choose from multiple Sing 2 Sing-Along showings at participating theaters in all major markets and experience the thrill and joy of sharing unforgettable musical performances with fellow fans as, together, they sing their favorite songs along with the film's beloved characters. Conceived and designed as a one-of-a-kind experience for fans, the Sing 2 Sing-Along welcomes audiences to join together in creating the kind of magic that usually only happens when a crowd unites in a live concert, as their favorite band performs their favorite song. The Sing 2 Sing-Along provides fans that feeling again and again and again throughout the film.
Illumination's Sing 2 was released on December 22 and has earned over $1 billion worldwide.
The Sing 2 Sing-Along Experience will include lyrics to more than 20 of the biggest hits featured in the film, including "Girl on Fire," "There's Nothing Holdin' Me Back," "Let's Go Crazy," "She Bangs," and the beloved U2 classics, "Where The Streets Have No Name" and "I Still Haven't Found What I'm Looking For."
Sing 2 features all of the characters audiences fell in love with in the first film (voiced by Matthew McConaughey, Scarlett Johansson, Reese Witherspoon, Taron Egerton, Tori Kelly, Nick Kroll, and Garth Jennings), plus additional characters played by music superstars Pharrell Williams and Halsey, actors Bobby Cannavale and Letitia Wright and comedians Eric André and Chelsea Peretti.
Tickets for the event are available right now on Fandango.