Sing (2016)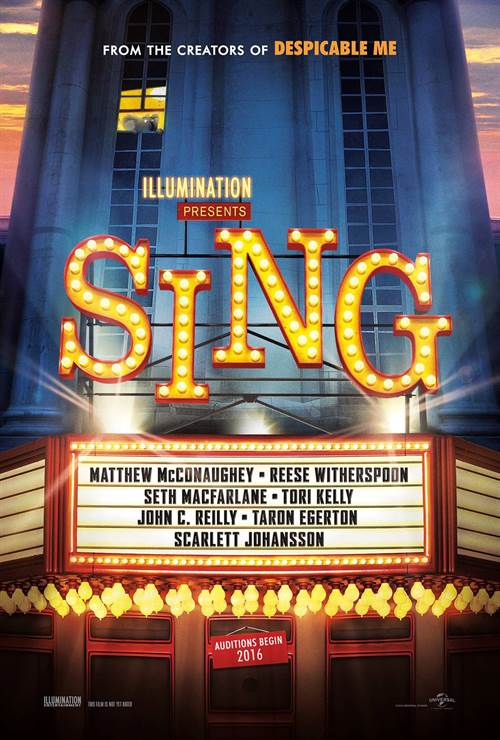 Share this:
| | |
| --- | --- |
| Director: | |
| Writers: | |
| Cast: | |
| Released: | Wednesday, December 21, 2016 |
| Length: | 108 minutes |
| Studio: | Universal Pictures |
| Genre: | Family, Musical |
| Rating: | Some material may not be suitable for children. |
Synopsis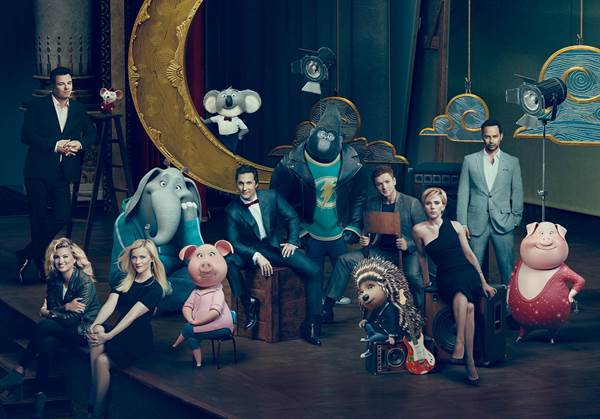 Illumination has captivated audiences all over the world with the beloved hits Despicable Me, Dr. Seuss' The Lorax, Despicable Me 2 and Minions, now the second-highest-grossing animated movie in history. Following the release of this summer's comedy blockbuster The Secret Life of Pets, Illumination presents Sing this holiday season.
With its highly relatable characters, heart and humor, the first collaboration between writer/director Garth Jennings (Son of Rambow, The Hitchhiker's Guide to the Galaxy) and Illumination founder and CEO Chris Meledandri marks the sixth fully animated feature from the studio.
The event film stars Academy Award® winners Matthew McConaughey and Reese Witherspoon, alongside Seth MacFarlane, Scarlett Johansson, John C. Reilly, Taron Egerton and Grammy Award-nominated Tori Kelly.
Set in a world like ours but entirely inhabited by animals, Sing stars Buster Moon (McConaughey), a dapper koala who presides over a once-grand theater that has fallen on hard times. Buster is an eternal—some might even say delusional—optimist who loves his theater above all and will do anything to preserve it. Now faced with the crumbling of his life's ambition, he has one final chance to restore his fading jewel to its former glory by producing the world's greatest singing competition.
Five lead contestants emerge: Mike (MacFarlane), a mouse who croons as smoothly as he cons; Meena (Kelly), a timid teenage elephant with an enormous case of stage fright; Rosita (Witherspoon), an overtaxed mother run ragged tending a litter of 25 piglets; Johnny (Egerton), a young gangster gorilla looking to break free of his family's felonies; and Ash (Johansson), a punk-rock porcupine struggling to shed her arrogant boyfriend and go solo.
Each arrives under Buster's marquee believing that this is their shot to change the course of their life. And as Buster coaches each of his contestants closer and closer to the grand finale, he starts to learn that maybe the theater isn't the only thing that is in need of saving.
Featuring more than 65 hit songs, Sing is produced by Meledandri and his longtime collaborator Janet Healy. Together, they have produced all of Illumination's films since the studio's inception.

Purchase DVD/Blu-ray/4K UHD physical copy of Sing today at Amazon.com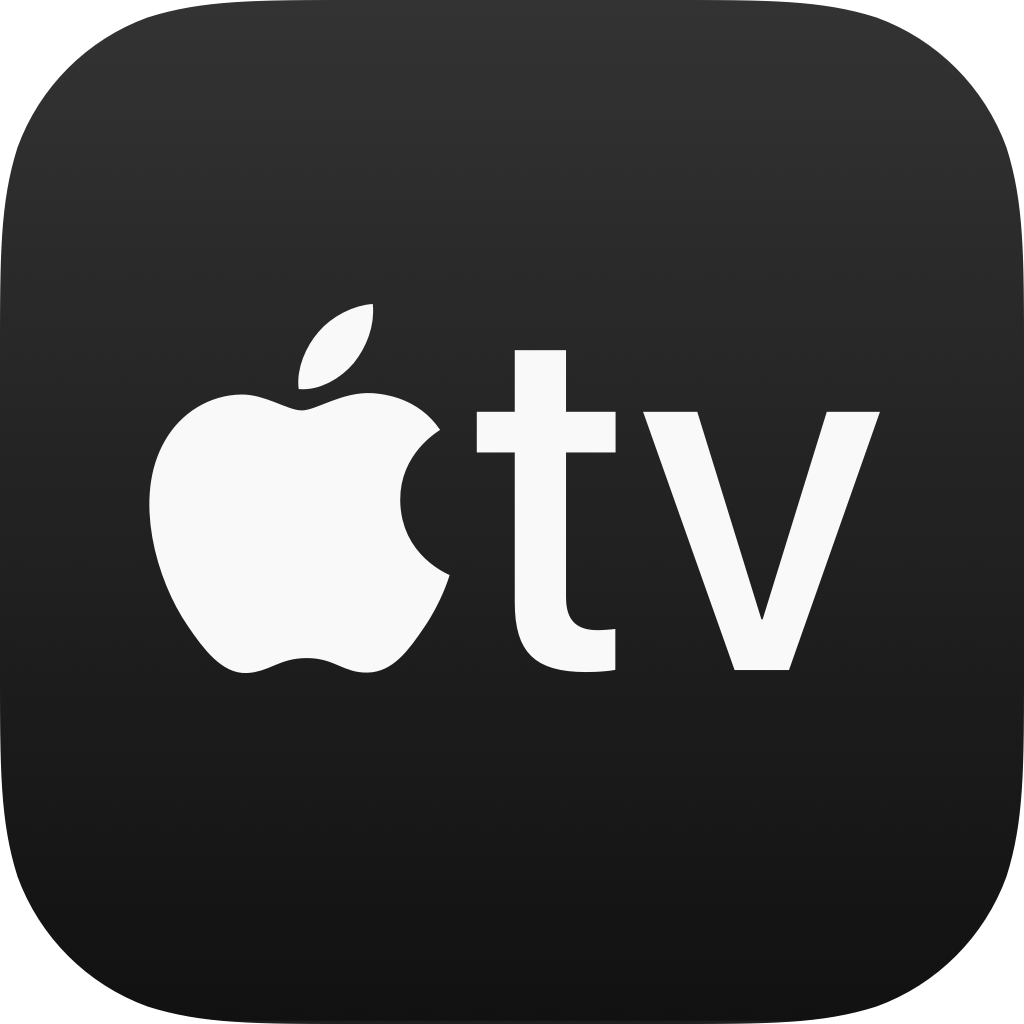 Download Sing in Digital HD/4K from the iTunes store.
Sing images are © Universal Pictures. All Rights Reserved.
AMC Theatres to Host Sing Saturday on Thanksgiving Weekend
11/15/2016 11:48 AM EDT
Illumination Entertainment, along with Universal Studios and AMC Theatres have issued a press release regarding their upcoming "Sing Staurday" event, which is to take place Thanksgiving weekend.  The release is as follows:Universal City, CA, November 14, 2016-Illumination Entertainment, Universal Pictures and AMC Theatres today announced a Thanksgiving weekend event for audiences of all ages: "Sin...
More>>
Sing Theatrical Review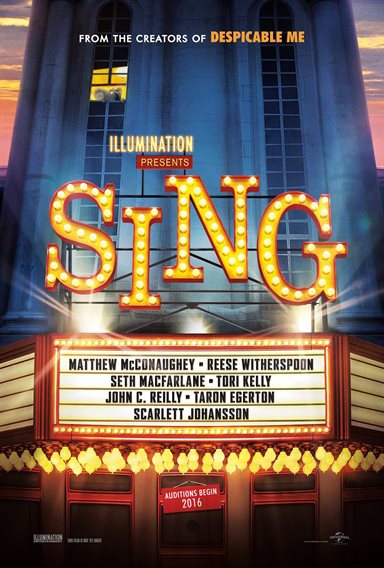 When I first saw the trailer for Illumination's
Sing
, it reminded me of a little movie released back in 1997 called
Cats Don't Dance
. It told the story of an optimistic cat who leaves his home to pursue a career in Hollywood. It was a tribute to the golden age of Hollywood musicals, while at the same time providing social commentary on discrimination in the entertainment industry, particularly in the 40s and 50s. Think
Zootopia
meets
La La Land
. It was a fantastic movie. Though, sadly, it never found much of an audience outside of a small cult following. I felt the need to mention this movie just to give an idea of what expectations I had going in. What I ended up getting was just an okay movie.
Sing tells the story of Buster Moon (Matthew McConaughey; Free State of Jones), a koala who owns a theater that hasn't had a hit in a long time, if ever at all. His only friends are his assistant Karen Crawley (Garth Jennings, who is also this film's director and writer), a borderline senile iguana with a glass eye that keeps popping out, and Eddie the sheep (John C. Reilley; Guardians of The Galaxy), a slacker who is the grandson of a famous singer and has kept bailing Buster out of financial trouble again and again. But, even as the theater is crumbling all over and the money has dried up, Buster remains optimistic, believing that all he needs is just one big show to turn it all around. So, Buster decides to run a singing competition for a $1,000 prize, but due to a glass eye-related accident, the prize money went from $1,000 to $100,000.
This typo resulted in a massive turnout of contestants, and it's here where we meet the rest of our cast. Rosita the pig (Reese Witherspoon; Wild) is a housewife who had to give up on her dreams of being a performer to take care of her many children and is constantly neglected by her husband. Johnny the gorilla (Taron Egerton) is the son of a crime boss who wants to be a singer, but his father wants him to follow in his footsteps and join his gang. Meena the elephant (Tori Kelly) is an amazing singer who has to overcome her crippling stage fright. Ash the porcupine (Scarlett Johansson) is a punk rocker who was chosen to perform in the competition, but when her boyfriend is not chosen, it puts a strain on their relationship. Finally, there's Mike the mouse (Seth MacFarlane; Ted), an egotistical street performer who is only doing it for the money.
With the exception of one original song, this film is basically a "jukebox musical"; meaning that it consists entirely of licensed pop music. It boasts the fact that it has over 85 songs ranging from current pop to 50s crooner jazz. However, it burns through most of its tracklist during the auditions of the singing competition, with each song only getting about 10 seconds of playtime. Normally, I'm not the biggest fan of this style of musical, but I can recognize when it's done well. A good jukebox musical creates a story around the licensed music; Sing, however, plays it safe going the American Idol route by having it center around a singing competition.
That's, ultimately, my biggest issue with this movie, it plays it way too safe. The characters are clichéd and their stories are predictable. Meena has stage fright, but then she gains the courage to sing in the end. Johnny father gives his "I have no son" line when he learns of his son's desire to become a singer, only for them to reconcile at the end. The list goes on. One exception, though, is the character of Mike the mouse. Seeing him threatening people to give him more money, cheating in card games, and trying to win the affections of a female mouse made him the most entertaining character to watch. Mike was also responsible for the funniest line in the entire movie. I won't spoil it, all I'm going to say is it involved an inhaler.
The big show at the end was definitely the highlight of this film and it's here where the animation really shines. Each musical act is fun and energetic and when it was all over, it left me with a big smile on my face. The only problem is that it's the only scene that I could call truly exceptional. If only the rest of the movie had that same kind of energy, then I would've given it a much more enthusiastic recommendation.
Sing had its moments, but it never really rose above being anything more than passable. With a few exceptions, the characters are lacking in any real personality and their story beats are predictable and clichéd. That being said, kids will definitely enjoy this. The screening I attended was full of kids who were laughing, clapping, and singing along to the songs. Ultimately, what the film lacks is a defining personality. I think the decision to make this a jukebox musical ultimately hurt its chances of being something truly memorable. It's enjoyable for what it is, but it's not something I really see having the lasting appeal of something like Frozen or Moana. If you only had one choice for an animated musical about talking animals working in show business, then I would have to recommend Cats Don't Dance over Sing.
Grade: C
-- Javier Conte
Read More Sing Reviews
For more reviews please visit our film/television review section.
Illumination has captivated audiences all over the world with the beloved hits Despicable Me, Dr. Se...
SPONSORED LINKS