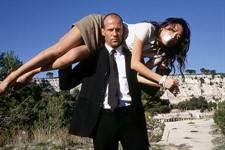 A third Transporter film has gotten the green light, and Jason Statham will be reprising his role once again as Frank, a mercenary driver/delivery man aka "Transporter".

Also returning to the series is Francois Berleand, and a Robert Knepper of "Prison Break" fame, will be new to the lineup.

The film will be shooting for 16 weeks on location in Russia and France. A new director will be at the helm, however. Replacing Louis Leterrier will be Oliver Megaton, director of the film, "Hitman".

The first two "Transporter" film grossed more than $130 million at the box office.