Transporter 3 (2008)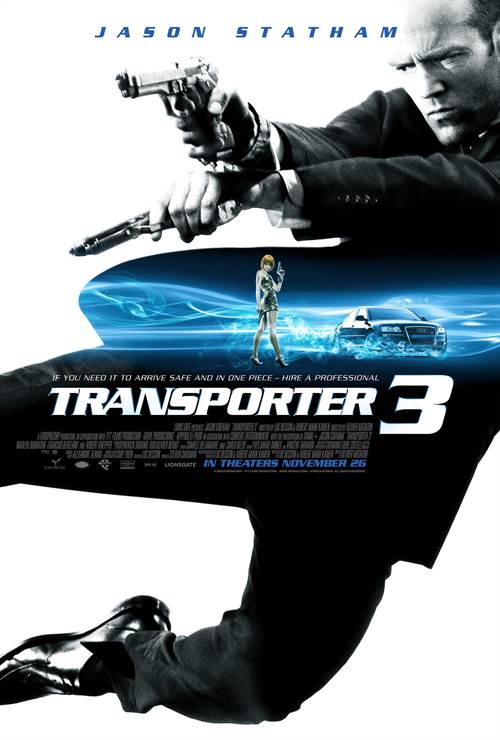 Share this:
| | |
| --- | --- |
| Director: | |
| Writers: | |
| Cast: | |
| Released: | Wednesday, November 26, 2008 |
| Length: | 100 minutes |
| Studio: | Lionsgate |
| Genre: | Action/Adventure |
| Rating: | Some material may be inappropriate for children under 13. |
Synopsis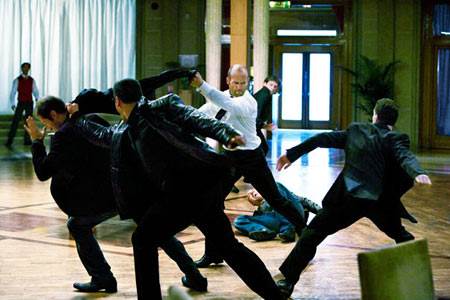 Frank Martin has been pressured into transporting Valentina, the kidnapped daughter of Leonid Vasilev, the head of the Environmental Protection Agency for the Ukraine, from Marseilles through Stuttgart and Budapest until he ends up in Odessa on the Black Sea. Along the way, with the help of Inspector Tarconi, Frank has to contend with the people who strong armed him to take the job, agents sent by Vasilev to intercept him, and the general non-cooperation of his passenger. Despite Valentina's cynical disposition and his resistance to get involved, Frank and Valentina fall for each other, while escaping from one life-threatening situation after another.

Purchase DVD/Blu-ray/4K UHD physical copy of Transporter 3 today at Amazon.com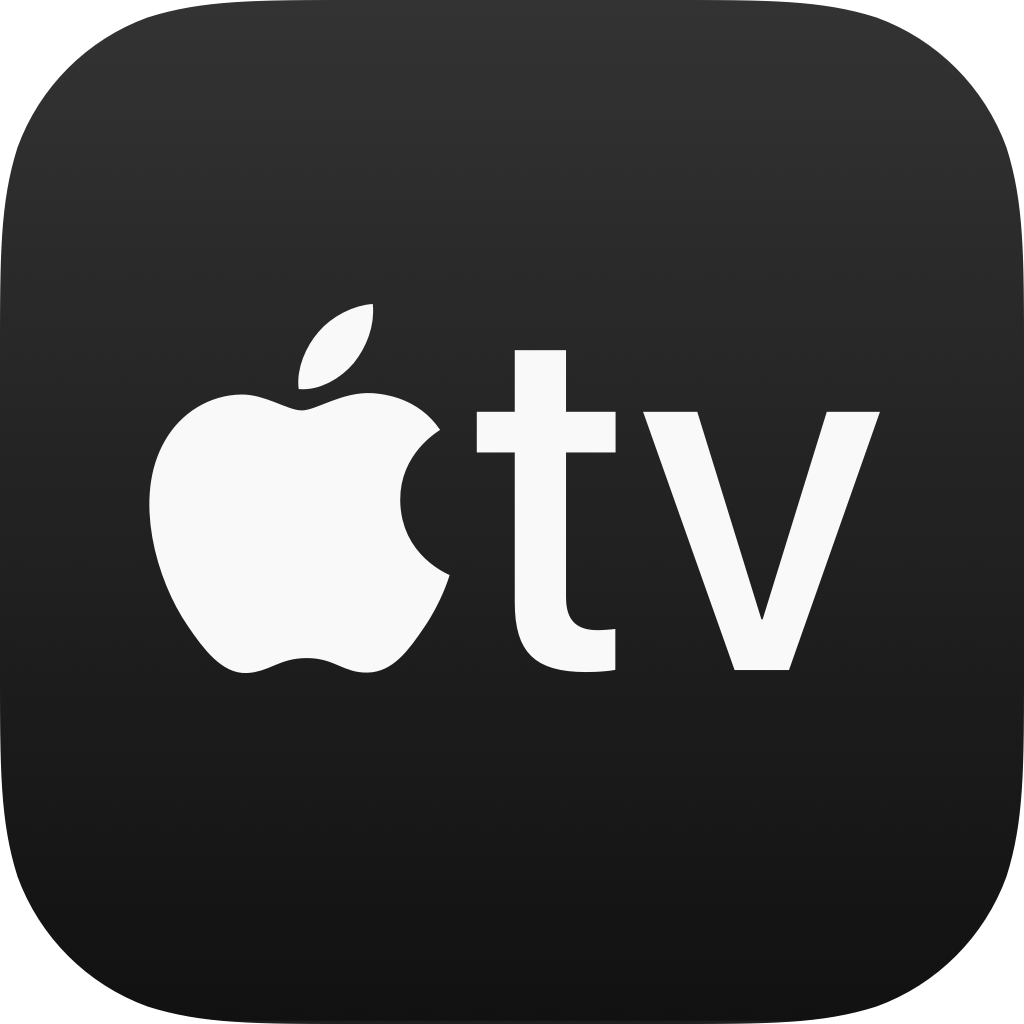 Download Transporter 3 in Digital HD/4K from the iTunes store.
Transporter 3 images are © Lionsgate. All Rights Reserved.
New Transporter Trilogy to Be Released
5/20/2013 9:43 AM EST
The "Transporter" franchise, starring Jason Statham, will be releasing some new films.  EuropaCorp and Fundamental Films are set to co-produce three more installments of the action franchise.There is still no word yet if Statham will be back to reprise his role of Frank Martin, and no director is on board yet.  Producing the film will be Luc Besson and Mark Gao....
More>>
Jason Statham and Robert Knepper To Star In Transporter 3
2/27/2008 1:23 PM EST
A third Transporter film has gotten the green light, and Jason Statham will be reprising his role once again as Frank, a mercenary driver/delivery man aka "Transporter".Also returning to the series is Francois Berleand, and a Robert Knepper of "Prison Break" fame, will be new to the lineup. The film will be shooting for 16 weeks on location in Russia and France.  A new director will be at the helm...
More>>
Transporter 3 Theatrical Review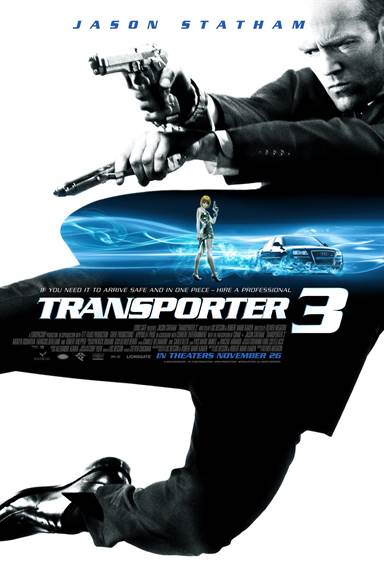 Although you have to judge a movie by its pedigree, there also has to be a line at which you stop. Thrillers need to at least have moderately smart plots; action needs to actually be exciting, and so on. When going up against Transporter 3, I really was not sure where to draw the "base line". I was not that impressed with the first two; and while I found them no worse than "workmanlike", I was a little bored by the second. I also found the first to be a dreadfully-missed opportunity when it segued from what looked like a really smart crime thriller to an over-the-top action palloza.

I think the baseline for Transporter 3 is the first two. Does it exceed them or not?

The Transporter series is about a guy with the generic tough-game of Frank Martin (Jason Statham), who leads a precision life as a guy who transports cargo (by car) with no questions asked. He lives by an iron clad set of rules, drives with the same ability that a brain surgeon cuts, and fights like a machine. He is an awesome, disciplined physical specimen; and he looks damn good in a suit. He also speaks with a British accent, so you know, that's extra cool!
I think my problem with the Transporter movies is that they all revolve around the fact that he actually does not really care about his rules (mainly because they would make for a dry, cold story). Unfortunately, when the rules are broken, what we get is a pretty generic action movie with a car as the centerpiece.

To be certain, it does that well. Actually, Statham's real passion is driving. Sure, he can't drive like his character can, but he finished 12th in a world championship driving competition – he is no poser. His martial arts background is also real; he does most of his own stunts and fighting. While the combat techniques are cynically calculated, to have him take his shirt off, the fights are decent. There's a little variety in the technique, and Statham makes it look good. I found the fights to be lacking in either the inventiveness of the first movie or some really signature situations; although there is, to be fair, a great moment where after almost laconically dispatching several thugs, he has to sprint to catch his suit jacket before it hits the floor!

The movie is virtually a commercial for the Audi A8 W12 that he drives in the film. Noteworthy is that it never suffers real disfiguring damage (partly due to Frank's careful driving, partly due to armor -- although he kicks the window out effortlessly). Despite this, the car chases are only "pretty good". They are fast enough -- but not especially innovative.

My main issue with the movie is with the passenger he is given: a Ukrainian girl (Natalya Rudakova), who may or may not be especially relevant to his job. However, you would think after the second movie, he would figure that out faster. I found her borderline unlikable, and the script's requirement for chemistry between them felt as if it were forced.

All in all to my mind, Transporter 3 doesn't let the series down -- it just doesn't elevate it anywhere different than the first two went. I am still waiting for a movie about the cold super-expert who has unbreakable rules and sticks to them.
-- Marco Chacon
Read More Transporter 3 Reviews
For more reviews please visit our film/television review section.
SPONSORED LINKS