Transporter 3 (2008)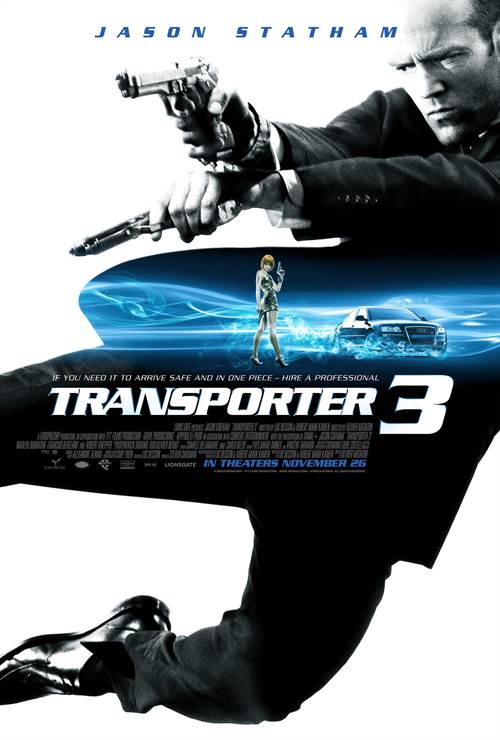 | | |
| --- | --- |
| Director: | |
| Writers: | |
| Cast: | |
| Released: | Wednesday, November 26, 2008 |
| Length: | 100 minutes |
| Studio: | Lionsgate |
| Genre: | Action/Adventure |
| Rating: | Some material may be inappropriate for children under 13. |
Transporter 3 Synopsis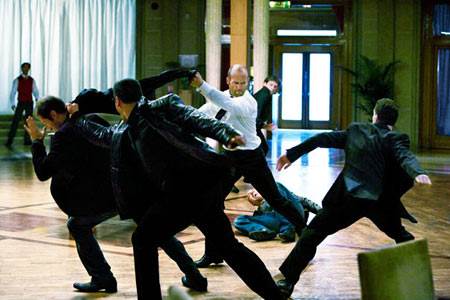 Frank Martin has been pressured into transporting Valentina, the kidnapped daughter of Leonid Vasilev, the head of the Environmental Protection Agency for the Ukraine, from Marseilles through Stuttgart and Budapest until he ends up in Odessa on the Black Sea. Along the way, with the help of Inspector Tarconi, Frank has to contend with the people who strong armed him to take the job, agents sent by Vasilev to intercept him, and the general non-cooperation of his passenger. Despite Valentina's cynical disposition and his resistance to get involved, Frank and Valentina fall for each other, while escaping from one life-threatening situation after another.

Purchase DVD/Blu-ray/4K UHD physical copy of Transporter 3 today at Amazon.com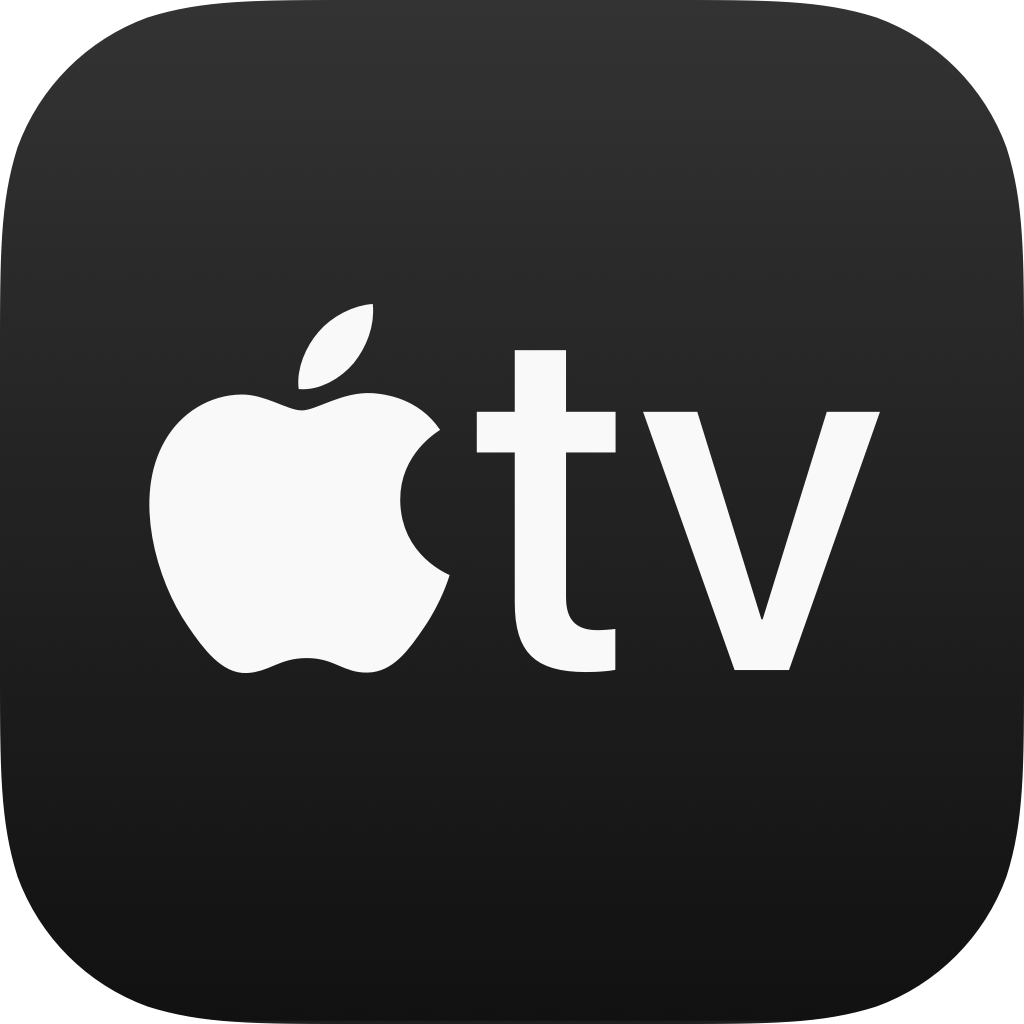 Stream Transporter 3 in Digital HD/4K from the AppleTV store.
Transporter 3 images are © Lionsgate. All Rights Reserved.
New Transporter Trilogy to Be Released
5/20/2013 9:43 AM EST
The "Transporter" franchise, starring Jason Statham, will be releasing some new films.  EuropaCorp and Fundamental Films are set to co-produce three more installments of the action franchise.There is still no word yet if Statham will be back to reprise his role of Frank Martin, and no director is on board yet.  Producing the film will be Luc Besson and Mark Gao....
More>>
Jason Statham and Robert Knepper To Star In Transporter 3
2/27/2008 1:23 PM EST
A third Transporter film has gotten the green light, and Jason Statham will be reprising his role once again as Frank, a mercenary driver/delivery man aka "Transporter".Also returning to the series is Francois Berleand, and a Robert Knepper of "Prison Break" fame, will be new to the lineup. The film will be shooting for 16 weeks on location in Russia and France.  A new director will be at the helm...
More>>
Transporter 3 4K Review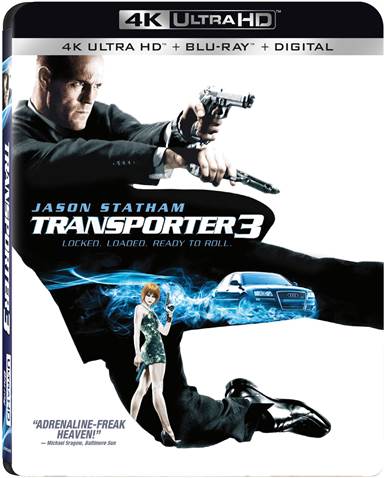 In 2002 audiences were introduced to Frank Martin (Jason Statham;
Crank)
- the quiet, brooding, self-employed transporter. He has a set of rules he doesn't break. One – don't look in the package, two – he doesn't "deal" in people, and three – he works alone. His work is dangerous and he gets paid handsomely for it. However, sometimes things don't go quite as planned and in the sequel
Transporter 2
he ends up retiring. However, a good thing never lasts for long as evident by
Transporter 3
coming to 4K Blu-Ray this week.
The quiet French countryside is where we find Frank as Transporter 3 opens, calmly fishing with his buddy, Inspector Tarconi (Francois Berleand; The Chorus). As the inspector questions Frank about a recent incident Frank denies any knowledge of the events and of course he has a good alibi… the Inspector himself! Interestingly that all changes when a car comes crashing through Frank's living room later that night. He suddenly finds himself helping another transporter who ends up dying and then discovers a female, Valentina (Natalya Rudakova; Before the Snow), in the back of the same car.
Fast forward several hours and Frank is mostly naked in a sparsely furnished room with a new accessory – a bracelet that will explode if he is more than 75 feet away from his car. In said car is Valentina waiting for Frank so they can deliver a package for a man named Johnson (Robert Knepper; Prison Break). Unhappy about being forced out of retirement Frank tries to figure out what is going on and how to remove the bracelet, to no avail. Having already broken one of his rules (he always works alone) he decides to look in the package and discovers he is actually breaking 3 of his rules. Luckily, in the end, the bad guys are thwarted and Frank and Valentina manage to not blow up (she has one of those deadly bracelets on as well).
The Transporter made Statham and action star and its two sequels solidified his status. The fight scenes are choreographed like an intricate ballet and he dances through the sequences masterfully. Newcomer Rudakova is merely ok but she didn't have much acting experience before this role. Knepper, however, is menacing as the villain and he plays his part beautifully shooting a man dead simply for speaking after he told him to be quiet.
The plot is a little thin and again Frank breaks three of his rules that had been established in the original so it's hard to give much credibility to the story. The fight scenes also lose a little bit when Frank is literally undressing while beating the hell out of bad guys. While I get that it is his trademark it's rather annoying because it merely seems to be a shameless ploy to get Statham shirtless.
The 4K version o this film has some nice visuals which is a plus. The colors are distinct and true and the details are sharp. The Dolby Atmos audio enhances the viewing experience with a loud a booming soundtrack that envelopes the audience form all sides. The combo pack offers the 4K disc, a standard Blu-ray disc, and a Digital HD copy of the film. It also has the following extras: Audio Commentary With Director Olivier Megaton, Special Delivery: Transporters In The Real World, Making-Of Transporter 3, Storyboard Compare, Visual Effects,
The Sets, and the Theatrical Trailer. The best of this grouping is the transporters in the real world.
The trilogy takes a marked downward turn in the latest film but there are still some very good action scenes and car chases. Statham is still the brooding loner we have come to love and he plays his part well. If you own the first to films in the series then you will want to add this one in 4K to your collection.
Grade: B-
Read More Transporter 3 Reviews
For more reviews please visit our film/television review section.
SPONSORED LINKS