American Gods Season 2 Preview
By
Allison Rose
,
Feb 25, 2019 09:38 AM EST
The writing is still engaging and fresh and the production value is strong. If you enjoyed American Gods season 1, then season 2 is a must see!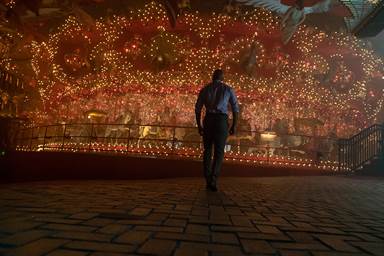 War is coming…war between the old and the new. At least that is what American Gods would have you believe. After an almost two year hiatus, the hit television series is finally returning to STARZ on March 10, 2019, and fans of the show won't be disappointed. Building on the premise and introduction of Season One, Season Two opens to more suspense, drama, and tension and promises to be a fun-filled ride the whole way through. Just watching the trailer, it's obvious the show hasn't lost any of the momentum it offered back in 2017.
The those who are unfamiliar with American Gods, The eight episodes of the first season introduces us to Shadow Moon (Ricky Whittle; The 100) who has emerged from jail after his wife, Laura (Emily Browning; Suckerpunch), was killed in a car accident. On the way to her funeral he meets Wednesday (Ian McShane; Deadwood) who offers him a job as his bodyguard, Shadow also meets Mad Sweeney (Pablo Schreiber; Orange is the New Black) who is a leprechaun and gives Shadow a gold coin after Shadow bests him in a fight. Throughout the season, Shadow begins to believe in magic especially when that "magic coin" seemingly brings Laura back to life. Shadow also learns that there is tension between the old gods and the new ones. The season ends with the big revelation that Wednesday is really the god, Odin.
With that whammy of a secret out in the open, we start season two with Mr. World (Crispin Glover; Back to the Future) getting fixed and mad at Wednesday/Odin. As the leader of the new gods, Mr. World is not pleased and is ready to rid the earth of the old gods once and for all. This causes Wednesday to convene a meeting of the old gods, trying to convince them to go to war. And this is where episode one ends.
Returning are all the characters we have grown to love from Season one. Whittle is excellent as Shadow and he and McShane have terrific chemistry. McShane once again portrays a wholly unlikable character but does it with such charm that you can't help but enjoy his moments on screen. Scheiber and Browning bring some comic relief to their scenes and their snarky banter bring s a smile to ones face. Glover has a commanding presence that makes him a worthwhile adversary for McShane.
After two years of waiting and rumors of a shakeup of the top management of the show, one might worry that the show would have suffered. Luckily this isn't the case. The writing is still engaging and fresh and the production value is strong. The details in the carousel scene are intricate and the fire emanating from the gods during their council meeting looks authentic. Starz placed a premium on quality and American Gods delivers. The story moves seamlessly from season one into season two without missing a beat and the first episode seems to draw the viewer in as if it doesn't want to let go.
If you missed Season One of American Gods, good news! you still have time to catch up before season two starts. If you already saw it, then I suggest rewatching it so you are prepped and ready for March 10, 2019, because as season openers go this a good one with a plot that will keep you engaged not only throughout the first hour but for the entire season.
Grade: A-
Listen to the American Gods Season 2 Preview soundtrack on Apple Music.