Simpsons: Season 15 DVD Review
If you have already collected the others Simpsons, then this one will fit in slot number 15.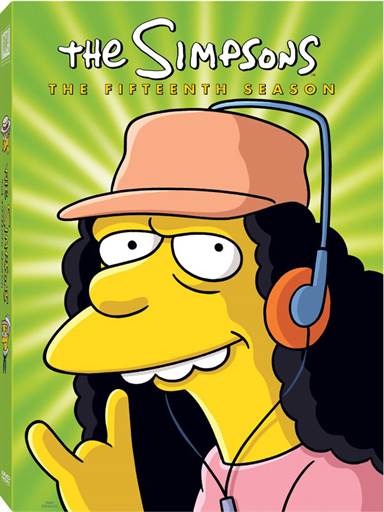 Whenever I think of the Simpsons, Homer flashes in my mind with those pop-eyes, pot belly and 12 o'clock shadow and most often with a dysfunctional grin. He hasn't changed much over the years and with the Simpsons Fifteenth Season just released, you can expect more of the fun loving guy that's the brunt of the comedy.

You get a lot for your dollar with 22 episodes to remind you how funny the show's incredibly goofy storylines get played out. This season like all the others has enough rude, crude, expletive (although most of them muffled or insinuated), crass and offensive moments that, on any given day if we were to utter, would be enough to get you fired or thrown out of the house by your mother-in-law.

The Simpsons are total escapism at its utmost delight. We only have to sit back and guffaw or snicker while downing another beer, soft drink or cup of java while Matt Groening and his crew research more sick and sometimes twisted moments for our entertainment. And that brings me to this season's wild, dumb and crazy lovable episodes in this box set of 4 DVDs crammed full of delightful grubs and worms.

"Tree House of Horror XIV"- Yes Homer and the rest of the family are still doing their Halloween gig as they have for the past 14 years and they actually have a different storyline. This time Homer usher's in The Grim Reeper, except he gets in a quandary when he finds Marge on his list. Side stories involve Bart buying a watch that allows him to 'change time' and Frinkinstein wins a major award.
"My Mother the Carjacker"- Glen Close makes an appearance in this episode involving Homer's mother.
"The President Wore Pearls"- Finds Lisa being elected President of her student body.
"The Regina Monologues"- Taking place in London with guest appearances by Tony Blair and J.K. Rowling, where Homer gets arrested for Treason.
"The Fat and the Furriest"- Homer finds himself being attached by a bear in the dump.
"Today I am a Clown"- Krusty want a Bar Mitzvah
"Tis the Fifteenth Season"- Homer buys himself an expensive present from the money being saved for Christmas giving.
"Marge versus Singles, Seniors, Childless Couples and Teens and Gays"- Marge wants the town to be less child friendly after a concert goes awry.
"I (Annoyed Grunt) Bot"- Homer builds a robot to battle Bart
"Diatribe of a Mad Housewife"- Mary-Kate and Ashley Olsen make an appearance in this tale about Marge the romance novelist.
"Margical History Tour"- Marge becomes a historian of sorts when the library doesn't have books on history needed by Bart and Lisa.
"Milhouse Doesn't Live Here Anymore"- Milhouse moves to Capital City and Bart befriends Lisa to take his place.
"Smart and Smarter"- Maggie and Lisa are at odds with each over an IQ test.
"The Ziff Who Came to Dinner"- Jon Lovitz makes an appearance as Marge's ex-flame
"Co-dependents' Day"-Marge gets sent to rehab after driving drunk and crashing the car
"The Wandering Juvie"- Bart gets sent to juvenile hall after a department store incident. Sarah Michelle Gellar makes an appearance in this episode.
"My Big Fat Geek Wedding"- Edna dumps Skinner at the altar after she finds out that he doesn't want to get married. Matt Groening guest stars in this episode.
"Catch 'em if You Can"- Bart and Lisa follow Homer and Marge to Miami who are on a vacation away from the kids.
"Simple Simpson"- Homer becomes a pie throwing super hero
"The Way We Weren't"- Ah, their first kiss. Marge and Homer recount that 'loving' event.
"Bart-Mangled Banner"-Bart moons the American Flag and gets the whole family in the doghouse with the town.
"Fraudcast News"- After an error in the headlines Mr. Burns buys up the entire town's media, except when it comes to Lisa's rag.

My love for The Simpsons has not yet waned and the fifteenth season still has me wanting more. I recently took a hiatus from the show not too happy about so many ads, and with the DVD releases I do not have that problem. The only problem I do have is that I can get so far behind being that this series came out in 2003-2004. Well I'm just going to have to reconsider this thought. The good thing is that one tends to forget what the older episodes were about.

There isn't much change in the Video Quality from TV to DVD. The colors are bright and clear with no bothersome pixilation. The family members are unchanged from last season except for the added special effects and make-up required for their roles (LOL). I could ramble on here, but it's not necessary as you get the idea, VERY good animation.

The Sound Quality with the 5.1 Dolby Digital is all you need to hear the show. The dialogue comes across crystal clear and there's even some sound effects coming from behind and the sides with surround speakers turned up.

The bonus features are common to other seasons with commentary available on all the episodes. Other features include:

Bonus Features:
"All Aboard with Matt" features creator Matt Groening talking about the season.
"The Unusual Ones" Crew David Silverman, Mark Kirkland, Steve Moore, and Mike Anderson, are featured in this 15 minute short with snippets from several seasons.
"Living in the Moment"- photos from throughout the years and more including their star on the walk of fame.
Multi-Angle Animation Showcase
Deleted Scenes with Commentary (With an option to add the scenes back into the show)
Special Language Feature
Sketch Galleries
Commercials
26 Page Booklet is enclosed in the box set
While the episodes are funny, I did find some of the sketches a little familiar and Krusty just doesn't do it for me right now. Also, Groening should release 16-18 in 2013, 19-21 in 2014 and 22-23 in 2015 so we can get caught up.

FINAL ANALYSIS: If you have already collected the others, then this one will fit in slot number 15. The series will live on because the world changes every day with enough material to last forever. (B)

Purchase your copy of Simpsons: Season 15 today at
Download Simpsons: Season 15 from the iTunes Store in Digial HD.