The Woman in Black Theatrical Review
The Woman In Black Is A poor choice for Daniel Radcliffe and his fans.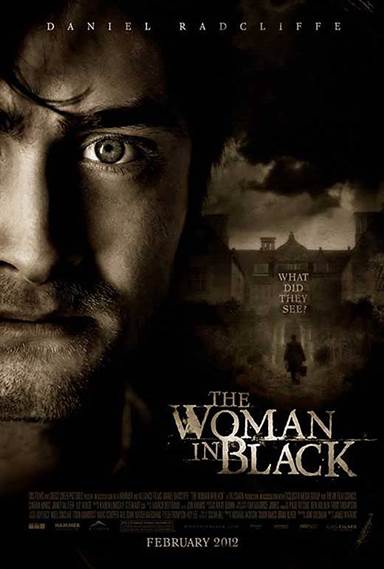 For the first time being away from his comfort zone of playing Harry Potter, Daniel Radcliffe takes on a Victorian horror flick called The Woman in Black. Although Radcliffe has shown a strong growth on his way to being an adult film star, he chose this film that has to prove he has made it. Good choice or bad, he's now matured and ready for something even bigger. Although I was not pleased with the story due to it's weak ending, lack of true horror and some plot points that did not work, most of Radcliff's followers will be waiting in line for tickets.

It's an early period in England and when the story opens we find Arthur Kipps (Daniel Radcliffe) at the foot of a bed receiving his newborn child only in disbelief that his wife has died giving the birth he holds in his arms. Five years pass and now a lawyer we see him in the office of his boss. Not happy with Arthur's successes he gives him one more chance to remain in his position. His assignment takes him to a remote town of Crythin Gifford where he must go over the final papers of an estate. He arrives there and finds the town haunted by the mystery of their missing children. When he goes to the island mansion estate to search through files, things get very creaky and threatening.

Director James Watkins spools his movie out very slowly getting as much gothic local color as he can in every shot. Setting his ominous mood he adds the fog, rain and cold weather of the North, muddy roads, worn houses, beat-up shops and costumes of the era. The dank atmosphere that Watkins provides for Kipps helps with the ghostly feel that makes the film at least passable. When Kipps arrives at the island mansion estate, Watkins's set looks daunting, worn, overgrown and unkempt. It's a perfect setting for a horror film.

Beyond the façade of the sets and costumes lies a story that never stands up to the horror that most American's have come to enjoy. Yes there's a lot of shadowy movements in the dark, a very tormented screaming woman wasting away in a black dress, scenes of children in grotesque poses; well you know, Disney's Haunted Mansion. The film just didn't cut it for me and especially a story with a litany of sadness, grief and remorse, having an ending so weak I walked out at the end feeling, not scared, but scorned.

Well, did Daniel Radcliffe do a good job of acting? In spite of the lame story and cheesy scare tactics, Radcliffe made his intended character believable, interesting and enjoyable to watch. Unfortunately, for those of us who feel that Radcliffe could do no wrong as Harry Potter, he got sucked into a role that will not be memorable except to say, "Wow, too bad he chose to do that role after leaving such an awesome legacy". But, Daniel do not be discouraged, tweens and teens will crowd to see you in The Woman in Black, but start choosing your future career moves more wisely.

The MPAA has rated The Woman in Black PG-13 for thematic material and violence/disturbing images. Maybe the film is scary by British standards, but lame by American horror releases.

FINAL ANALYSIS: A poor choice for Daniel and his fans. (C )

Purchase your copy of The Woman in Black today at
Download The Woman in Black from the iTunes Store in Digial HD.
About John Delia
comments powered by

Disqus
Today's iTunes Digital HD Deals