Heading Home: The Tale of Team Israel (2018)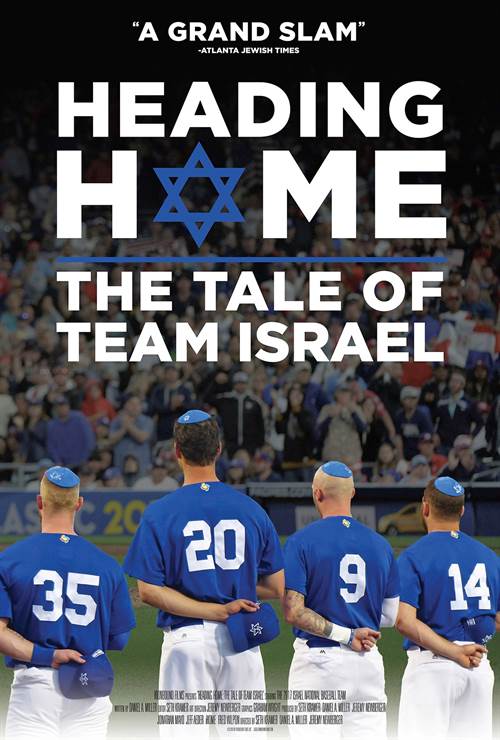 | | |
| --- | --- |
| Director: | |
| Writers: | |
| Cast: | |
| Released: | Sunday, August 5, 2018 |
| Length: | 87 minutes |
| Studio: | Menemsha Films |
| Genre: | Documentary |
| Rating: | |
Heading Home: The Tale of Team Israel Synopsis
A stirring story of sports, patriotism and personal growth, Heading Home charts the underdog journey of Israel's national baseball team competing for the first time in the World Baseball Classic. After years of defeat, Team Israel is finally ranked among the world's best in 2017, eligible to compete in the prestigious international tournament. Their line-up included several Jewish American Major League players―Ike Davis, Josh Zeid and ex-Braves catcher Ryan Lavarnway―most with a tenuous relationship to Judaism, let alone having ever set foot in Israel. Their odyssey takes them from Tel Aviv and Jerusalem where they are greeted as heroes, to Seoul where they must debunk their has-been, wannabe reputations. With their Mensch on the Bench mascot by their side, the team laughs, cries, and does much soul-searching, discovering the pride of representing Israel on the world stage.
Heading Home: The Tale of Team Israel images are © Menemsha Films. All Rights Reserved.
Heading Home: The Tale of Team Israel Theatrical Review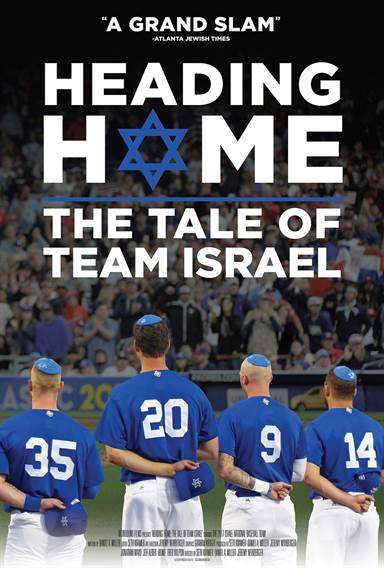 In 2005 the International Olympic Committee officially terminated Baseball as an Olympic sport. In response, the World Baseball Classic was created with the inaugural tournament played the following year in 2006. Made up of 16 teams from around the globe it featured the best baseball players, many of whom play professionally. The Classic resumed in 2009 by invitation only offered to the best baseball-playing nations in the world. Subsequently, the tournament was changed to every 4 years and there is now a qualifying round to see which 16 teams will compete for the title. Heading Home: The Tale of Team Israel is a documentary about an unlike group of players who shocked the world.
To be considered a "heritage "player for a team other than your home country you have to meet certain requirements of blood ties to that country. In the case of Israel, players have to be Jewish or have a parent or grandparent who was Jewish. With that in mind, plans were hatched to recruit former and current Major League baseball players from the United States to field a team from Israel at the World Baseball Classic in 2017. Ike Davis, Cody Decker, Sam Fuld, Josh Zeid, Ty Kelly, Ryan Lavarnway, and Jason Marquis not only suited up to play ball on the world stage but learned about their "homeland" all at the same time.
Shocking the world Team Israel made it past the qualifying round into the 2017 World Baseball Classic Tournament. While preparing for it they took a trip to Israel where they met young baseball players and toured the major tourists' points. Labeled the "underdogs" and the team of "has-beens" and "Wannabees", Team Israel ( along with their mascot – The Mensch on the Bench), Team Israel stunned everyone by first defeating South Korea, then Chinese Taipei and then The Netherlands. This trend continued until the Israel team – originally considered a joke – was defeated in the semifinals by Japan.
What is amazing about this journey isn't that some "second string" professional, baseball players went further than anyone ever thought they could in an international tournament but that they formed bonds… bonds amongst the team, bonds with the Israeli people, and bonds with a Country, Culture and a Religion that many of them never knew anything about before they were recruited. They also brought Israel – a country not known for excelling in sports – to the forefront. They also offered the country and its youth a newfound sense of excitement and hope.
Besides a terrific story of David slaying Goliath the giant, this film is a heartwarming tale of a country that is full of pride which is never more evident than when filmmakers Seth Kramer, Daniel A. Miller, and Jeremy Newberger offer the viewer stunning pictures of the Middle Eastern Country. Steeped in history and tradition the audience can almost feel the gravity of the visit for these men as they learn about the past and the people.
As a Jew, I felt almost a sense of pride as I watched these men not only put their heart and soul into something they believed in but to explore their birthright and the legacy some of them knew little about before 2017.
It is evident from the movie this team will never forget their experience nor will the world forget their efforts on the ball field.
If you like a good fairytale story, baseball or are Jewish (or more than one of these things) you will identify with Heading Home: The Tale of Team Israel.
Grade: A-
For more reviews please visit our film/television review section.
SPONSORED LINKS