Bloodshot (2020)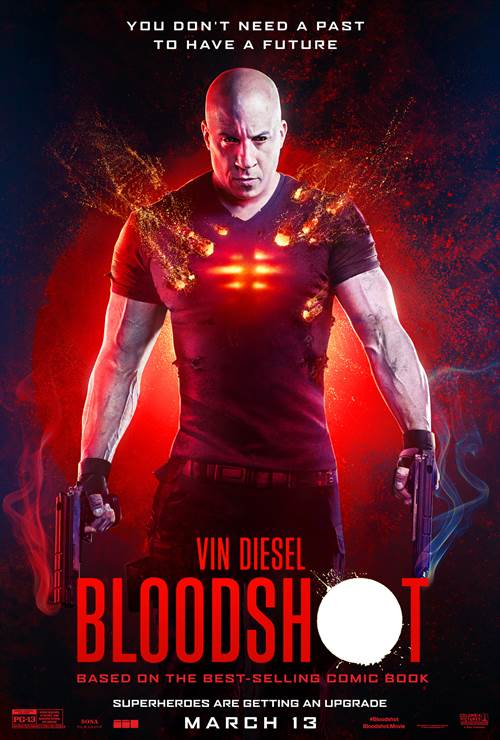 Share this:
| | |
| --- | --- |
| Director: | |
| Writers: | |
| Cast: | |
| Released: | Friday, March 13, 2020 |
| Length: | 109 minutes |
| Studio: | Columbia Pictures |
| Genre: | Action/Adventure |
| Rating: | Some material may be inappropriate for children under 13. |
Synopsis
Based on the bestselling comic book, Vin Diesel stars as Ray Garrison, a soldier recently killed in action and brought back to life as the superhero Bloodshot by the RST corporation. With an army of nanotechnology in his veins, he's an unstoppable force –stronger than ever and able to heal instantly. But in controlling his body, the company has sway over his mind and memories, too. Now, Ray doesn't know what's real and what's not – but he's on a mission to find out.​​​​​​​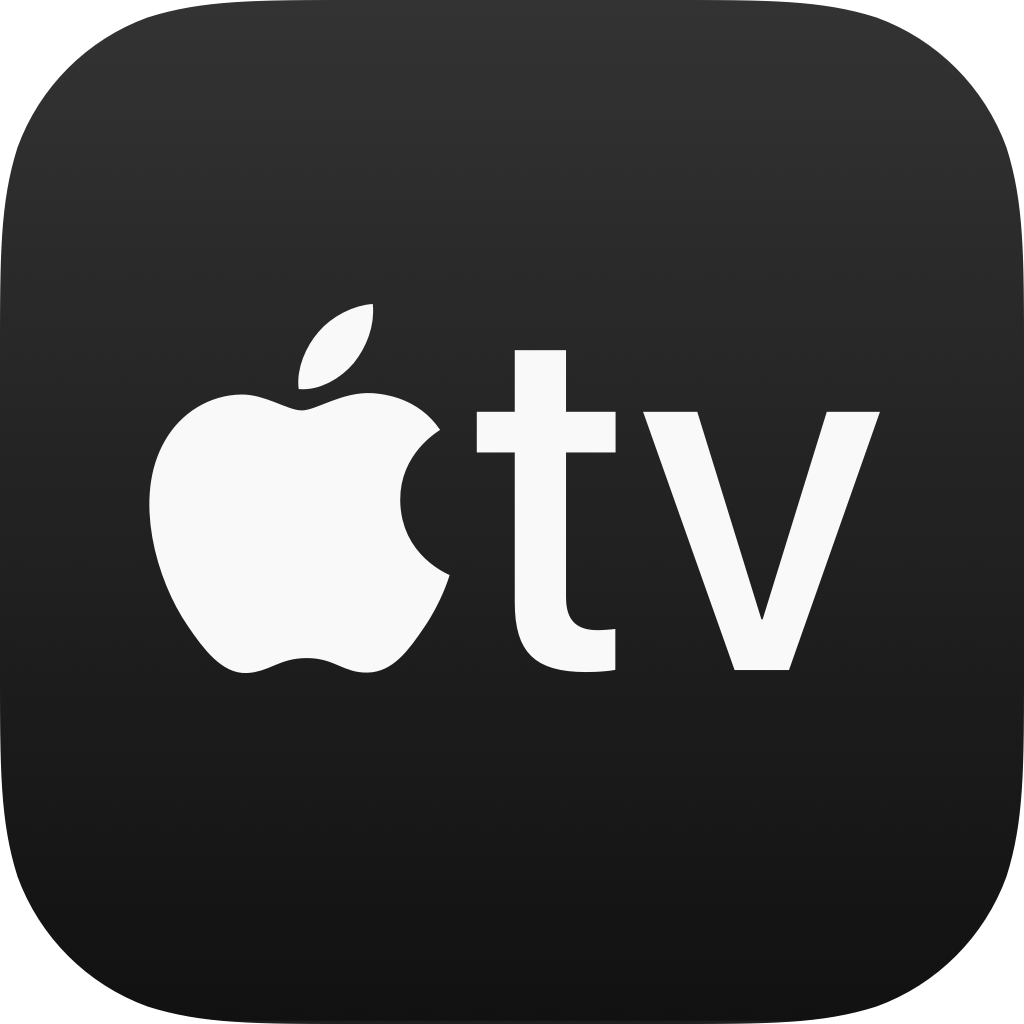 Download Bloodshot in Digital HD/4K from the iTunes store.
Bloodshot images are © Columbia Pictures. All Rights Reserved.
DEG's Weekly Watched at Home Top 20 List for May 14 Released
5/14/2020 4:49 PM EST
Following a historic first quarter, in which digital transactional home entertainment saw its biggest month ever, driven by stay-at-home orders keeping people in during the COVID-19 pandemic (access DEG: The Digital Entertainment Group's full Q1 report here), home entertainment continues its rapid pace. Peppered with titles new to the chart for May, the 'Watched at Home Top 20' list once again has...
More>>
Vin Diesel Bloodshot Film to be Released Early Digitally
3/18/2020 4:57 PM EST
Columbia Pictures is following the lead of other studios and releasing one of their films for early digital sale.The film, "Bloodshot", starring Vin Diesel, will be for sale through March 24 for $19.99. It opened last week, earning $9.1 million at the box office.Tom Rothman, Chairman of Sony Pictures Entertainment's Motion Picture Group, said, "Sony Pictures is firmly committed to theatrical exhib...
More>>
See BLOODSHOT Starring Vin Diesel Early In Florida
3/6/2020 4:35 PM EST
Ray Garrison (Vin Diesel; The Fast and The Furious Franchise) was a great soldier up until the day he was killed. However, thanks to a governmental secret project he is brought back to life to do their bidding. Columbia Pictures presents BLOODSHOT and, in conjunction with FlickDirect, want to give some lucky winners the chance to win electronic advance screening passes for Regal South Beach at 7:3...
More>>
Bloodshot Theatrical Review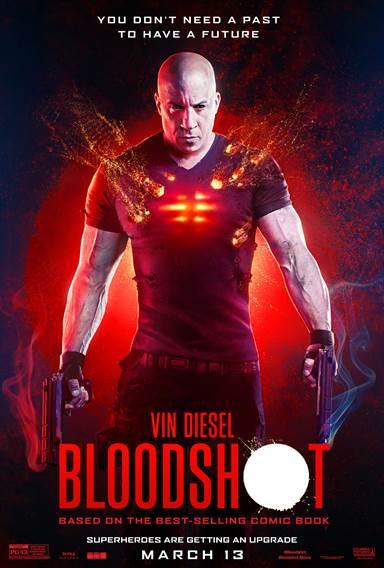 It seems if there is a comic book/graphic novel out in the world, then at some point we will see a big-screen adaptation. Marvel and DC Comics have had great success in the last ten years turning their superheroes and villains into major box office hits and now Valiant Comics is trying to duplicate the achievements of their counterparts with the Sony Pictures' release Bloodshot starring Vin Diesel (The Fast and the Furious series). While Bloodshot, a.k.a Ray isn't really that much of a superhero, he does have tremendous strength and healing abilities though I don't know how much that will help him (or the movie) at theaters.
Ray Garrison is on a military mission to save a hostage. As he does time and again, he kills the bad guy and returns home to his wife, Gina (Talulah Riley; Westworld). However, this time he wakes up alone and is attacked and taken hostage. When Ray doesn't know the answers to the questions he is asked Gina is brought into the room and Ray watches in horror as the terrorist kills her and then Ray. But Ray wakes up in a "facility" only to discover he has been brought back to life by some experimental program.
Even though his memory has been erased he gradually starts to remember his wife's murder and breaks out of the facility to hunt down and kill the assassin. However, what Ray doesn't know is that the memories are false and he is reprogrammed after each "mission" to target someone else that Dr. Emil Harting (Guy Pearce; L.A. Confidential) wants dead. As he pieces together what is happening, with help from another one of Harting "experiments", KT (Eliza Gonzalez; Baby Driver), he hunts Harting to end the cycle and set himself free.
There is no doubt that Vin Diesel is an action star and he showcases this talent throughout the film. However, he also tends to be rather stiff and emotionless and his portrayal of Bloodshot is no different. Pearce is always great playing a villain who seems like a good guy at first and he once again proves it as the friendly yet diabolical Harting. Gonzalez is decent as a badass former soldier who is also enhanced. She tends to be a bit more disgruntled and shows her emotions more than Diesel does. The rest of the cast is mere window dressing with the exception of Lamorne Morris (New Girl) who stands out playing Wilfred Wigans, the computer engineer who created part of the code used in the experiments.
While the action is fast and extremely well done, the script and plot are rather generic. There isn't anything special or unique to catch the audience's attention and keep it. It's fairly simple and straightforward yet ambiguous at times when discussing the technology or how and why Ray is doing what he is doing. There are several unanswered questions that leave the viewer unfulfilled.
Of course, the ending leaves itself open for a sequel I'm not sure it will get one or if it does, I suspect the studio will make changes before shooting begins. The CGI is well enough done as to not be distracting but the choreography of the action is probably one of the strongest parts of the movie. Fans of the graphic novel will be happy I'm sure to see Bloodshot but they might not be happy with some of the discrepancies between the novel and the movie.
If you like high tech, strong action sequences then you might enjoy Bloodshot. However, if you prefer a strong plot performed by strong actors then you may want to skip this feature.
Grade: C-
For more reviews please visit our film/television review section.
SPONSORED LINKS