Ratched (2020)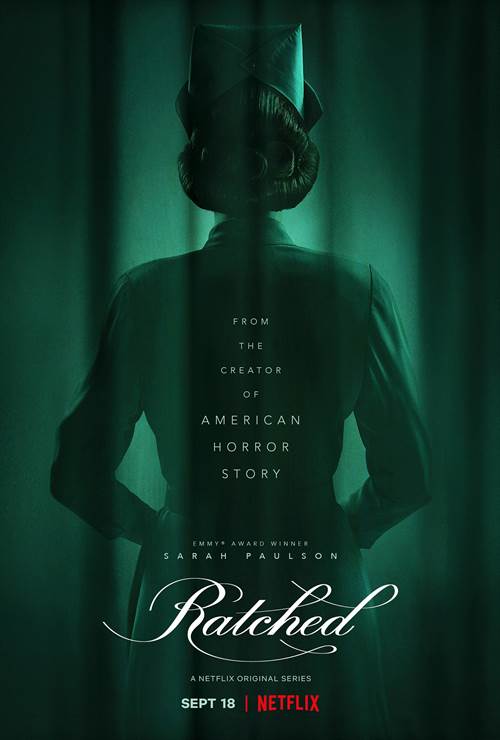 | | |
| --- | --- |
| Created By: | |
| Writers: | |
| Cast: | |
| Air Date: | Friday, September 18, 2020 |
| Studio: | Netflix |
| Genre: | Television |
| Rating: | This program is specifically designed to be viewed by adults and therefore may be unsuitable for children under 17. |
Ratched Synopsis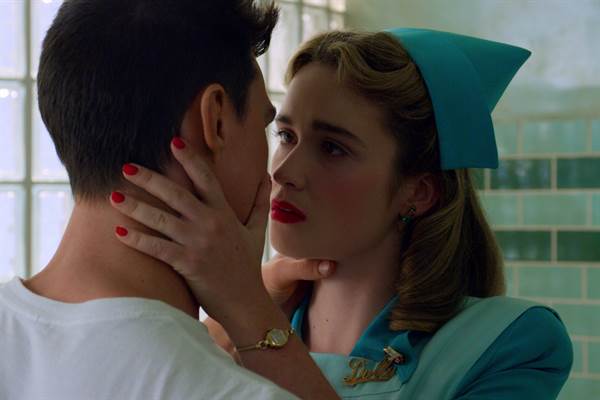 From Ryan Murphy and Ian Brennan, RATCHED is a suspenseful drama series that tells the origin story of asylum nurse Mildred Ratched. In 1947, Mildred arrives in Northern California to seek employment at a leading psychiatric hospital where new and unsettling experiments have begun on the human mind. On a clandestine mission, Mildred presents herself as the perfect image of what a dedicated nurse should be, but the wheels are always turning and as she begins to infiltrate the mental health care system and those within it, Mildred's stylish exterior belies a growing darkness that has long been smoldering within, revealing that true monsters are made, not born.
RATCHED was inspired by the iconic and unforgettable character of Nurse Ratched in One Flew Over The Cuckoo's Nest and was created by Evan Romansky. The series stars Sarah Paulson as Mildred Ratched, Cynthia Nixon as Gwendolyn Briggs, Judy Davis as Nurse Betsy Bucket, Sharon Stone as Lenore Osgood, Jon Jon Briones as Dr. Richard Hanover, Finn Wittrock as Edmund Tolleson, Charlie Carver as Huck, Alice Englert as Dolly, Amanda Plummer as Louise, Corey Stoll as Charles Wainwright, Sophie Okonedo as Charlotte and Vincent D'Onofrio as Gov. George Wilburn. The series is executive produced by Ryan Murphy, Ian Brennan, Sarah Paulson, Alexis Martin Woodall, Aleen Keshishian, Jacob Epstein, Jennifer Salt, Margaret Riley, Michael Douglas, Robert Mitas and Tim Minear.
Ratched images are © Netflix. All Rights Reserved.
The Cast of Ratched Discuss What It's Like Portraying Their Char...
9/17/2020 8:43 AM EST
One of the most highly anticipated series of the Fall 2020 television line up is Netflix's Ratched.  Based on the character, Nurse Mildred Ratched (Sarah Paulson; American Horror Story), from the 1962 novel and 1975 film adaptation of One Flew Over the Cuckoo's Nest, the show is sort of an origins story of the infamous fictional nurse. Created by the unstoppable juggernaut that is producer/writer/...
More>>
Ratched Series Review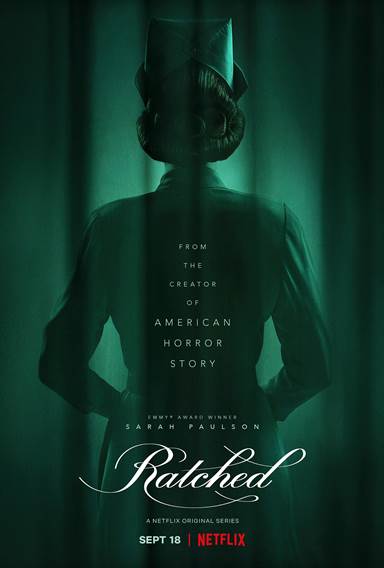 Ken Kesey (Sometimes a Great Nation) was an American novelist mainly known for his fictitious tale of patients and staff at a psychiatric hospital called One Flew Over the Cuckoo's Nest. Kesey claimed the inspiration for the work came to him while working the night shift at Menlo Park Veterans' Hospital, where he would speak to many of the patients some of whom were taking Hallucinogenic drugs. Published in 1962, the novel became a huge success prompting the creation of a Broadway play the following year and a feature film starring Jack Nicholson (The Shining) in 1975. This month Netflix is releasing a series based on one of the characters from the novel and the film, Nurse Ratched (Sarah Paulson; American Horror Story.)
The year is 1947 and a young man named Edmund Tolleson (Finn Wittrock; American Horror Story) commits a heinous crime. In an effort to determine if he is fit to stand trial he is transferred from jail to a psychiatric hospital in Northern California. At the same Mildred Ratched (Paulson), arrives at the same hospital, looking for a job as a nurse. She seems to be familiar with the "cutting edge" treatments Dr. Richard Hanover (Jon Jon Briones; Sons of Anarchy) is using to treat his patients and wants to be a part of his team.
Ratched eventually convinces Dr. Hanover to hire her where she keeps things neat and orderly, not only amongst the patients at the hospital but the staff as well. When she takes an interest in Tolleson, shortly after his arrival, more is revealed as to her motive for working at the hospital. It is safe to say, everything is not always as simple as it seems and Nurse Ratched manipulates and connives in order to get to her ultimate goal.
Ratched comes from the creative mind of Ryan Murphy (American Horror Story), who brings newcomer Evan Romansky along for the ride as they wrote, produced, and, in Murphy's case, directed some of the episodes. Murphy has been on fire the past ten years with shows like Glee, American Horror Story, Feud, and Scream Queens. He has been nominated for sixteen Primetime Emmys, winning six of them so it is no surprise that he would once again create/produce a quality and entertaining show. Teaming up with Netflix only adds to the appeal as they are known for high production values and quality work in both their feature films and limited television series.
The cast is made up of veteran actors, many who have worked with Murphy before. Paulson brings a wonderful blend of outwardly sugary sweetness mixed with stinging, vinegary venom hiding just beneath the surface. Cynthia Nixon plays Gwendolyn Briggs, a government official with a secret and the two ladies have some memorable scenes together. Briones portrays Hanover with a level of confidence one would expect from a brilliant doctor yet at moments he displays some insecurities that betrays his self-assuredness. Other well-known actors like Corey Stoll (House of Cards), Sharon Stone (Basic Instinct), Vincent D'Onofrio (Full Metal Jacket), and Rosanna Arquette (Pulp Fiction) round out this incredible cast.
As origin stories go, this one makes some interesting assumptions as to who Mildred Ratched really is yet doesn't steer away from plausibility in any way. Each episode reveals something new and always ends with the audience wanting more, which is all one can really ask of television dramas. Murphy has a "golden touch" with incredible success in the past and it looks as if Ratched won't break his streak. If I have any criticisms of the show they are that sometimes episodes lag a little in the middle and that there are some truly violent and gory scenes.
Ratched is worth it but it will be interesting to see if they can maintain the momentum in Season Two.
Grade: B -
For more reviews please visit our film/television review section.
SPONSORED LINKS