Horizon Line (2021)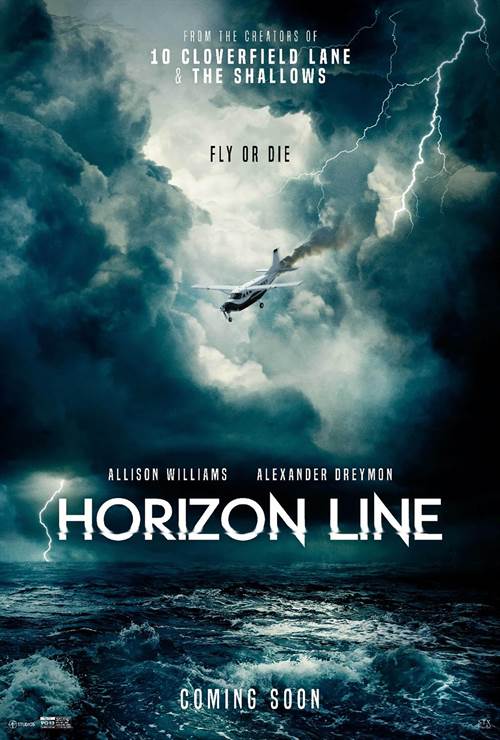 Share this:
| | |
| --- | --- |
| Director: | |
| Writers: | |
| Cast: | |
| Released: | Tuesday, January 12, 2021 |
| Length: | 92 minutes |
| Studio: | STX Entertainment |
| Genre: | Thriller |
| Rating: | Some material may be inappropriate for children under 13. |
Synopsis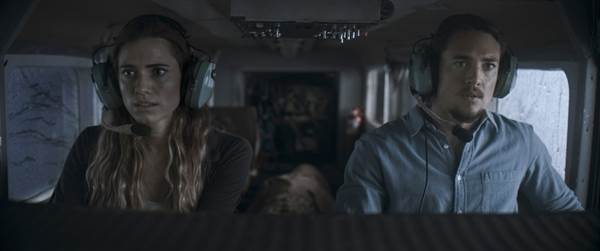 From the creators of 10 Cloverfield Lane and The Shallows, HORIZON LINE is a thrilling survival story about two former lovers, Sara (Allison Williams) and Jackson (Alexander Dreymon) who discover new altitudes of fear aboard a single-engine Cessna plane. It was supposed to be a routine and casual 99-minute flight to their friend's tropical island wedding. But within minutes after takeoff, their pilot suffers a fatal heart attack, leaving Sara and Jackson with no idea where they are, no comms, and no clue how to land the plane. With nothing but miles of ocean and sky in every direction, and a terrifying storm that's about to envelop them, Sara and Jackson have only one shot – and there's no going back.

Purchase DVD/Blu-ray/4K UHD physical copy of Horizon Line today at Amazon.com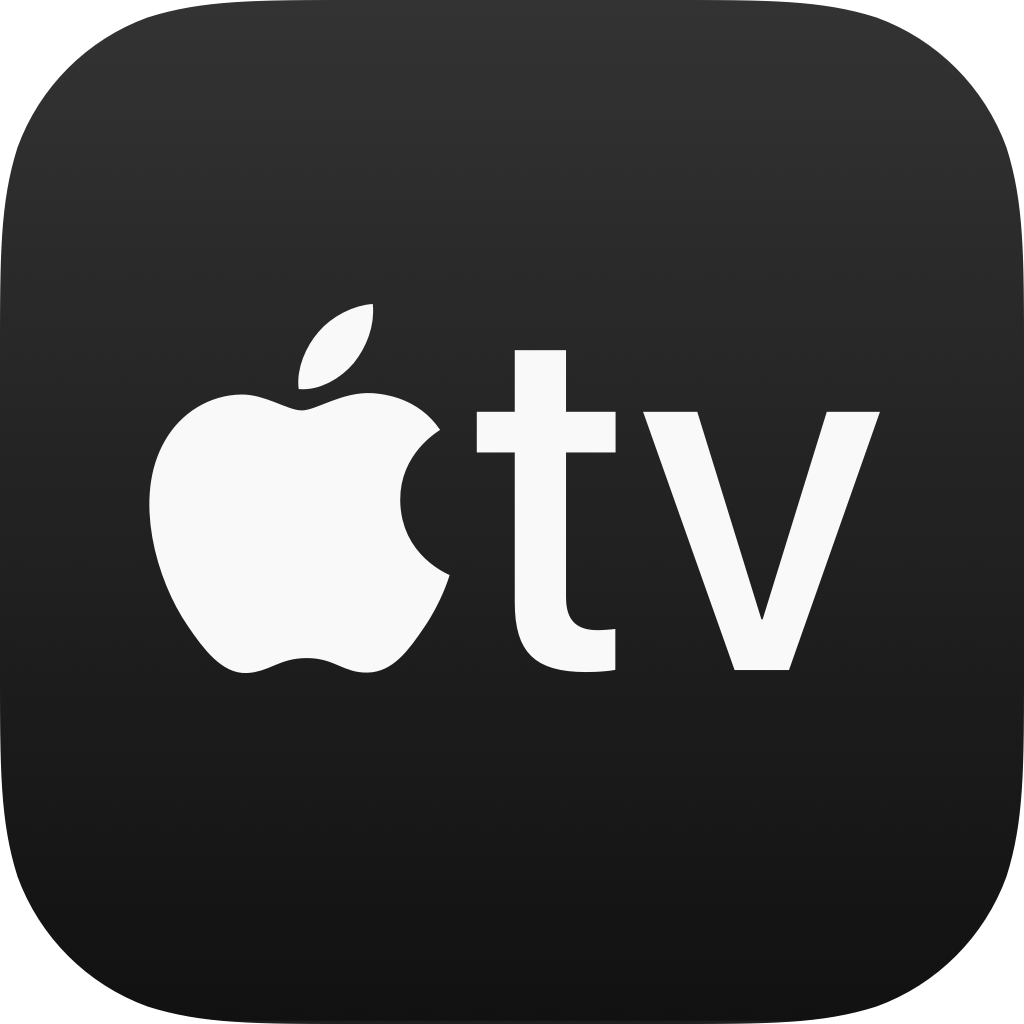 Download Horizon Line in Digital HD/4K from the iTunes store.
Horizon Line images are © STX Entertainment. All Rights Reserved.
Horizon Line Blu-ray Review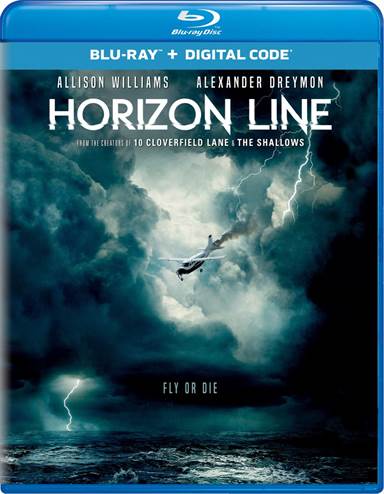 Hypothetically, what if you found yourself on a small, twin-engine plane without a pilot. Would you know what to do? Would you be able to fly the plane? What if you only had a few, informal lessons? Would it be enough? That is exactly the dilemma Sara (Allison Williams; Get Out) is faced with in the Mikael Marcimain (Call Girl) directed film, Horizon Line. The film was released by STX Films in January and in stores on Blu-ray in mid-February. While Horizon Line has some very good moments, it lacks in other ways, which unfortunately makes the movie an unintended comedy.
Sara and Jackson (Alexander Dreymon; The Last Kingdom) had a whirlwind romance for the year Sara spent in on a tropical Island. However, when she had to leave to start her new job, she didn't feel she could say goodbye so instead, she left Jackson at a bar and cut ties with him. However, when Sara's friend, Pascale (Pearl Mackie; Doctor Who), is getting married, Sara finds herself back on the Island dealing with awkward tension between her and Jackson. The tension becomes almost unbearable when Sara and Jackson hitch a plane ride with Freddy Wyman (Keith David; Pitch Black) and are confined to a small space for 90 minutes.
However, when Freddy has a heart attack and dies, Sara and Jackson find themselves over a vast ocean without autopilot to guide them and only minimal knowledge of flying. After trying to determine how far off course they are, they radio for help only to lose signal intermittently. Realizing they need to fly West to find land, they end up heading right into a vicious storm, Then Sara tries to climb above it but gets altitude sickness and veers the plane even further off course. Next, their fuel line has a leak and they rapidly lose gas. Trying to find any sign of land they locate a tiny island and manage to get to it just as the plane runs out of fuel and sinks. Of course, the island is really only a sand bar that will disappear with the rising tide. You can guess where this is all heading.
Williams is fairly strong in her role as Sara and she brings a level of maturity to the role. Dreymon is ok and the two actors have decent chemistry making their romance believable. David is a seasoned actor who brings years of experience to the film. As a director, Marcimain offers some beautiful shots of the tropical ocean but, perhaps due to budget constraints, there are scenes in the plane that one can definitely tell are fake.
The 1080p video quality is maybe a little too good, hence the aforementioned false background. The Island and ocean are both strikingly colorful with little artifacting and sharp details throughout. The DTS-HD Master Audio 5.1 is decent but doesn't pack a punch and never truly utilizes the surround sound. With so many ambient sounds – i.e. the airplane propellers/engines and the thunder from the massive storm they fly through – available, the audio could have been much richer and fuller. Where the combo pack really fails is the extras. Besides the Digital HD code, there are five minutes of deleted scenes (three scenes total), which don't add much.
Horizon Line has an interesting concept and starts off well, which piques the viewers' interest but by the third act (heck even before that), it falls apart. While Williams is good for the most part the script and story are lacking substance and there are only so many obstacles a character can endure before the audience finds them ridiculous. The film also has an abrupt end leaving the story hanging and unfinished creating frustration for the viewer.
There are things to like about the movie and perhaps Marcimain should have spent a little more time on those moments, but he doesn't, so we end up with a shallow (no pun intended) movie peppered with lost opportunities.
Grade: C
For more reviews please visit our film/television review section.
From the creators of 10 Cloverfield Lane and The Shallows, HORIZON LINE is a thrilling survival stor...
SPONSORED LINKS