Land (2021)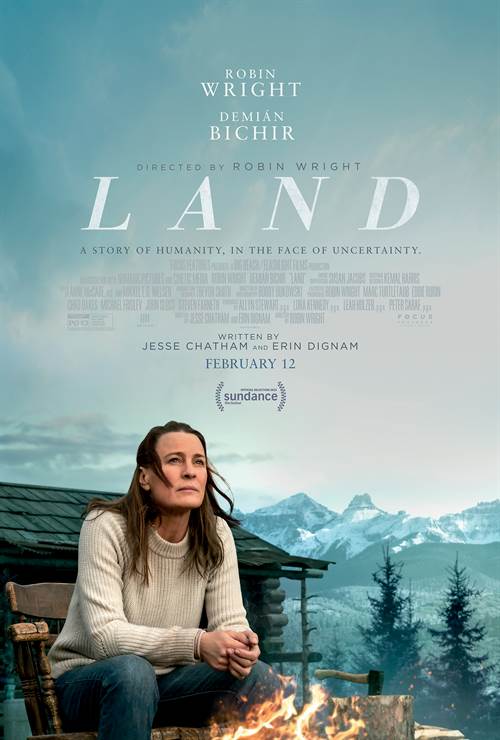 | | |
| --- | --- |
| Director: | |
| Writers: | |
| Cast: | |
| Released: | Friday, February 12, 2021 |
| Length: | 89 minutes |
| Studio: | Focus Features |
| Genre: | Drama |
| Rating: | Some material may be inappropriate for children under 13. |
Land Synopsis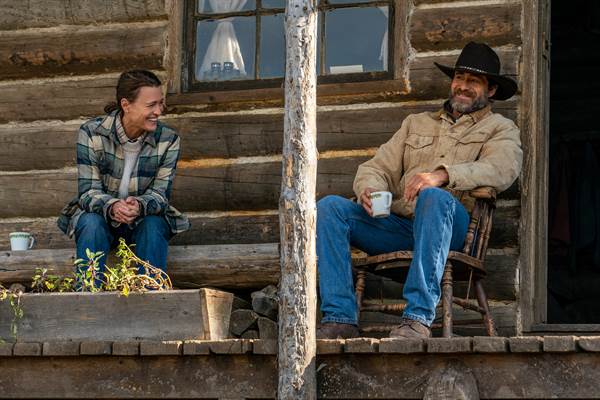 A story about healing and the transcendent power of human kindness, Land follows the journey of a woman searching for a new way to live in the wake of a life-altering loss. Edee Holzer (Robin Wright) removes herself from society to embark on a solitary existence in the remote mountain wilderness of Wyoming. Living off the grid without any prior wilderness experience, Edee is buffeted by the elements and unprepared for nature's formidable realities. She struggles mightily against odds that grow steeper by the day, but a timely encounter with a local man, Miguel Borras (Demián Bichir), opens the door to a deeper understanding of nature as he teaches her the skills she needs to survive. An unexpected friendship develops between two wounded souls and a bond that confers healing and grace.

Purchase DVD/Blu-ray/4K UHD physical copy of Land today at Amazon.com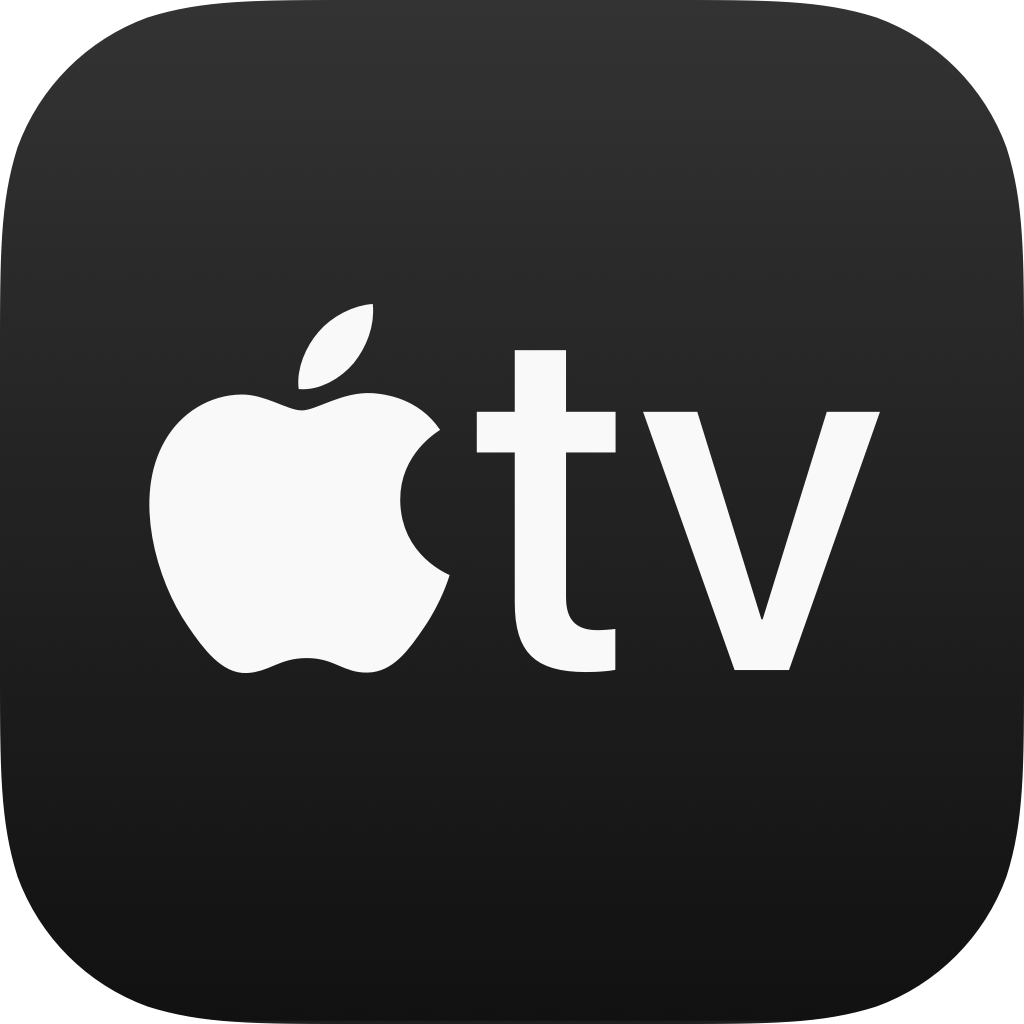 Stream Land in Digital HD/4K from the AppleTV store.
Listen to the Land soundtrack on Apple Music.
Land images are © Focus Features. All Rights Reserved.
Land Theatrical Review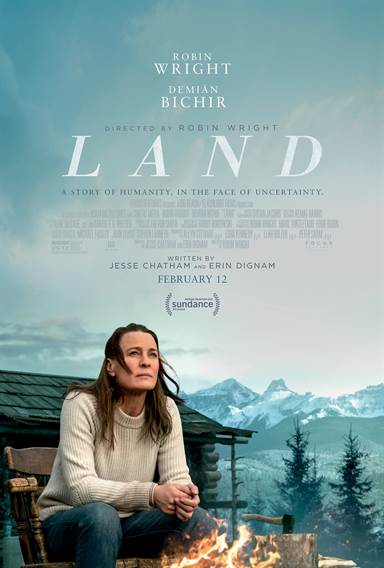 Majestic and beautiful, the Rocky Mountains can be a place of tranquility and peacefulness. It can also be isolating and lonely. While that might seem appealing for various reasons, it is dangerous, especially during the harsh winter months. Land, the new film starring and directed by Robin Wright (The Princess Bride, Wonder Woman), touches on all these aspects while telling an emotional story of one woman's loss and her need to leave everything and everyone behind. The ninety-minute movie taking the audience through Edee's (Wright) journey premiered last month at the Sundance film festival and will be released theatrically this week.
Edee, sitting in her therapist's office, seems resigned and despondent. Later that same sentiment is echoed as she sits with her sister, Emma (Kim Dickens; Gone Girl), and questions "why are we here?". Despite Emma's protests, Edee then packs her things, throws away her cell phone, and rents a rustic, wood cabin with no running water or electricity. She also asks the realtor to take her rental car back down the mountain leaving her utterly alone with no way to communicate with the outside world. Unequipped to live in the wilderness and unprepared for the hard winter, Edee ends up on the brink of starvation and freezing to death.
After a few days, two strangers come to the cabin, find Edee unconscious. Miguel (Demián Bichir; The Nun) and Alawa (Sarah Dawn Pledge; The Curtain) nurse Edee back to health and then, mostly, leave her alone when she requests it. Miguel occasionally looks in on Edee and teaches her how to hunt and fish and after a time, the two become friends while still remaining at a distance. When Miguel stops coming by Edee gets concerned and hikes miles into town. There she finds out what has kept him away.
Through Wright's performance, we experience Edee's suffering, grief, and hopelessness, while not knowing the full story of what brought her to the decision to live as a hermit in the mountains. We watch as she struggles to fight her demons as well as the elements in an attempt to stay alive both physically and emotionally. Bichir compliments Wright nicely as the "neighbor" who is concerned about Edee but who is not one to pry or overstep his bounds. Their unusual friendship and shared loss drive the story. Pledge and Dickens pretty much round out this minimal cast nicely.
For Wright's directorial debut, the film isn't too bad, with incredible vistas and intimate/personal moments giving the audience a sense of Edee and her surroundings. However, perhaps due to either Wright's inexperience or a less than excellent screenplay by Jesse Chatham and Erin Dignam (Loved), Land lacks a certain emotional substance, so we never fully encounter both Edee's and Miguel's anguish over losing their families. We also never truly get the full breadth of their connection or friendship as Miguel turns from mentor to platonic companion throughout the movie. At less than a mere ninety-minute running time, Land could have been even better by making the film longer (a sentiment I rarely express regarding movies) and delving more into Edee's psyche.
While Land may try to leave the audience with the question of whether or not Edee really wanted to "heal" or was simply looking for a unique way to end her life, it also allows the viewer moments of pause to wonder what someone else might do in her situation. Thankfully, Wright and the screenwriters didn't stumble backwards into the old "strangers meet and fall in love" plot device as it would have seemed forced and completely unbelievable.
Overall, a solid first effort for Wright, making me anxious to see what she will tackle next for her sophomore directing job.
Grade: B-
For more reviews please visit our film/television review section.
For today's home video review, FlickDirect's Austin Putnam talks about Robin Wright's LAND coming out today on Blu-ray combo pack!...
SPONSORED LINKS