We Are The Night (2011)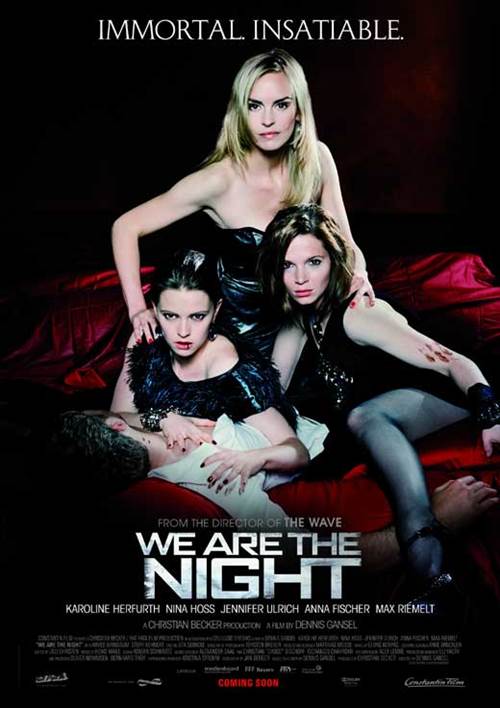 Share this:
| | |
| --- | --- |
| Director: | |
| Writers: | Jan Berger, Dennis Gansel |
| Cast: | |
| Released: | Friday, May 27, 2011 |
| Length: | 100 minutes |
| Studio: | IFC Films |
| Genre: | Horror |
| Rating: | |
Synopsis
One night, 18 year old LENA is bitten by LOUISE, leader of a female vampire trio that are as deadly as they are beautiful. Her newfound vampiric lifestyle is a blessing and a curse at the same time. At first, she enjoys limitless freedom, the luxury, the parties. But soon the murderous blood lust of her comrades in arms proves too much for her, and she falls dangerously in love with TOM, a young undercover cop. When she resolves to turn her back on the bloodsucking band of sisters, Louise's fury knows no bounds. Lena will have to choose between immortal love and immortal life...
Purchase DVD/Blu-ray/4K physical copy of We Are The Night today at
Download We Are The Night in Digital HD/4K from the iTunes store.
We Are The Night images are © IFC Films. All Rights Reserved.


We Are The Night Theatrical Review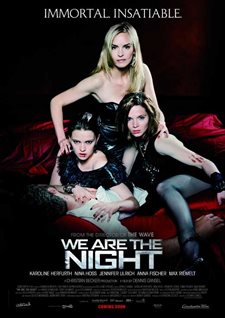 Nothing comes without a price and that's the moral behind the German horror film We Are the Night. Karoline Herfurth stars in this film about a trio of female vampires who are living out the ultimate night life in the clubs of Berlin.
Lena (Herfurth) is a 20-year-old Berlin native who is getting by as a petty thief. Her home life isn't much to speak of; her mother is on her own and has given up trying to set the proper example for her daughter. One night when Lena is out on one her runs she comes across and "underground" club. Inside is exactly what you would expect from this sort of gathering: loud music, excessive drug use and lots of people grinding up on one another. The club owner, a beautiful woman named Louise (Nina Hoss), sets her sights on Lena and strikes up a conversation with her after a romp on the dance floor.
Louise isn't just your average alpha female; she is a 250-year-old vampire who is the pseudo leader of a trio of vamps. There is also wild child Nora (Anna Fischer) and elegant Charlotte (Jennier Ulrich). As the effects of Louise's bite settle in Lena begins to notice the difference. She can see much better at night, has incredible strength and speed but of course has an insatiable hunger. She returns to the club to find Louise and her friends. They introduce her to their life of endless parties and decadence. As the realization of what kind of life she can now have Lena allows herself to become lost in that world.
But what seems glamorous at first quickly turns into a nightmare. After a night of partying the girls find themselves in an arboretum that is closed to the public. Some security guards find them and after some back and forth they join the girls. Louise promises Lena they will not hurt the men, but in the end they can't resist their hunger and the men wind up dead. Lena is horrified at their actions but the only person she can turn to is a police named Tom (Max Riemelt) who attempted to befriend her. There is little he can do though. The endless bloodletting finally catches up to them when the police track the women back to the hotel they are staying at.
A huge firefight results in the death of Nora while the rest of the women have no choice but to leave her behind to burn in the sun. With the death of their friend and Charlotte clearly no longer in love with their nightlife Louise quickly becomes unhinged. When Lena try's to leave Louise finally breaks and a showdown between these two is inevitable with lots of people getting caught in the crossfire.
The story is based on a screenplay called The Dawn and is directed by award winning film maker Dennis Gansel. Gansel won critical success in 2007 with his film The Wave. This film is the creation of over a decade of patience. Spawned from a concept the he came up with in college, it took that many years to find the right studio to back it. It doesn't hurt that his 2007 film was so successful. We Are the Night is clearly made with a love for the vampire genre at the same showing that while that life made be alluring it comes with high consequences. Every one of the actresses does a good job with their roles, Anna Fischer who plays Nora brings out the youthful excitement that is her character while Jennifer Ulrich as Charlotte coveys the boredom her character feels at having been robbed of a life she was already happy with.
If you are able to find We Are the Night at your local video store or online then you should definitely check it out. It is a fun ride that takes a unique look at the life of one of cultures favorite genres.
For more reviews please visit our film/television review section.
SPONSORED LINKS