The Big Parade (1925)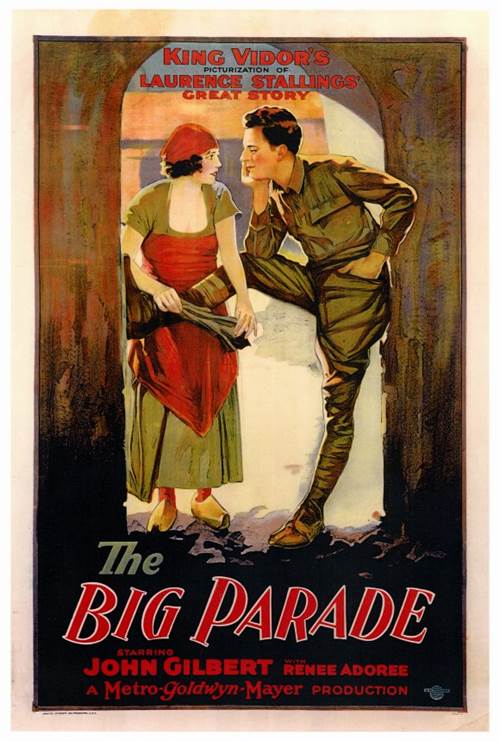 | | |
| --- | --- |
| Director: | |
| Writers: | |
| Cast: | |
| Released: | Thursday, November 5, 1925 |
| Length: | 141 minutes |
| Studio: | MGM Studios |
| Genre: | Drama |
| Rating: | |
The Big Parade Synopsis
The Big Parade was designed as a modest programmer concerning one young man's disillusionment in the face of war. When the MGM executives took a look at the projection-room rushes, they gave director King Vidor the go-ahead to film an all-out "spectacular," which ended up running 13 reels and costing a then-astronomical $382,000. Shorn of his matinee-idol mustache, John Gilbert is perfect as an all-American-boy who signs up for World War I service, dreaming of adventure and glory. The first half of the film is taken up with the jocular byplay between Gilbert and his army buddies Tom O'Brien and Karl Dane. These scenes seem to take forever, especially to those awaiting the big battle sequences that the MGM advertising copy had promised. But Vidor's slow buildup had its purpose; by lulling the audience into complacency, the director was able to shock the viewers with the horrors of war as suddenly and effectively as the doughboys had been shocked back in 1918. Gilbert survives the war, but returns home minus one leg the film's script was written by Laurence Stallings, himself a war vet and amputee. MGM head Louis Mayer was terrified that the scenes of a crippled Gilbert would offend his fans, so he ordered that "protection" footage be shot with Gilbert being merely wounded, but with both legs intact. So powerful were the climactic scenes between Gilbert and his parents, however, that not one preview audience ever demanded that the alternate ending be shown. The film's many highlights includes the cute scene in which Gilbert teaches French girl Renee Adoree how to chew gum; the famous shot of Adoree desperately clinging to Gilbert as he and his fellow soldiers march to the front; the chilling Belleau wood sequence, in which the soldiers, walking stealthily amidst the tall trees, are picked off one by one by snipers; and the heart-rending reunion sequence, in which Gilbert's mother Claire McDowell embraces her amputee son as she flashes back to the time that he took his first steps. The only concession to MGM formula was in having Gilbert depicted as a wealthy young man, living in a mansion the size of Rhode Island. Though its original impact has been blunted by years of imitations, The Big Parade remains an unforgettable movie experience.
The Big Parade images are © MGM Studios. All Rights Reserved.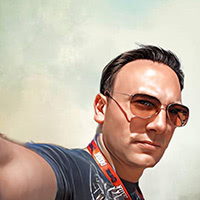 Physical Media: Blu-ray Review
This silent film from 1925 is pretty much the blueprint for most of the films in the genre that followed it.
SPONSORED LINKS