That Awkward Moment (2014)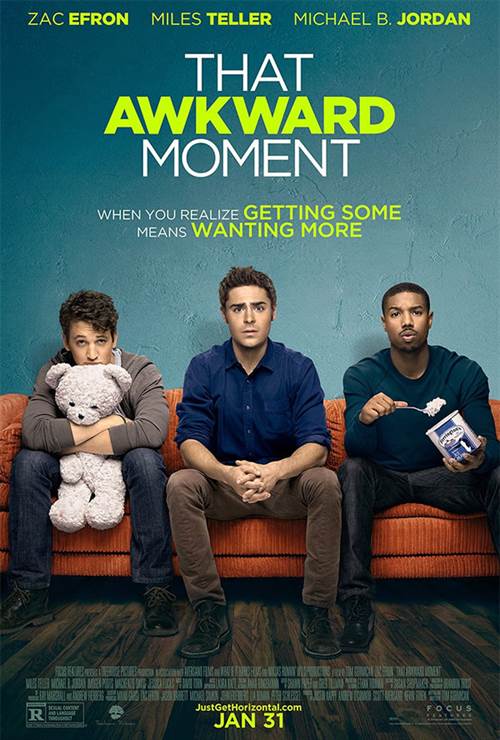 Share this:
| | |
| --- | --- |
| Director: | |
| Writers: | Tom Gormican |
| Cast: | |
| Released: | Friday, January 31, 2014 |
| Length: | 94 minutes |
| Studio: | Other |
| Genre: | Comedy |
| Rating: | Under 17 requires accompanying parent or adult guardian. |
Synopsis
Three best friends find themselves where we've all been - at that confusing moment in every dating relationship when you have to decide "So...where is this going?"
Purchase DVD/Blu-ray/4K physical copy of That Awkward Moment today at
Download That Awkward Moment in Digital HD/4K from the iTunes store.
That Awkward Moment images are © Other. All Rights Reserved.


That Awkward Moment Theatrical Review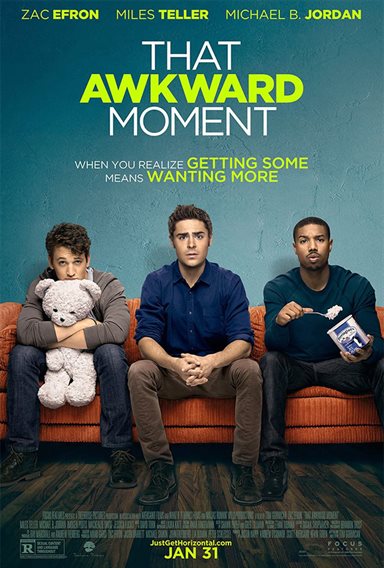 Here's a chick flick with a lot of face time with upcoming stars. It's called That Awkward Moment and features Zac Efron, Miles Teller and Michael B. Jordan. The film's a romancer that has a lot of appeal, except the storyline is quite hackneyed and very predictable. The saving grace here is the snappy comedy that keeps the script from becoming boring for us guys. Not the sharpest romantic comedy in theaters, but looking for a good date flick for a night out is a challenge right now anyway.

The story centers on Jason (Efron), Daniel (Teller) and Mikey (Jordan) three best friends who are living the good life in New York City. While Jason and Daniel are still single and work at the same company, Mikey's an emergency room a doctor. Mikey wakes up one day to find his wife Vera (Jessica Lucas) has decided to serve divorce papers because of their boring relationship. He tells his buddies and they get together at a bar and decide that Mikey needs cheering up.

First they make a pact that the trio will not 'date' any girls, they just want to mate and vacate. They agree and start looking around the bar for a sex 'slave' to do their bidding for the evening. Jason bumps into Ellie (Imogen Poots) and the chemistry between them starts to heat up. She's a hot number with a lot of smarts and charms Jason into a night at her place. In the meantime, Daniel has settled in with Chelsea (Mackenzie Davis) who has been the guys' fourth wheel and shoulder of comfort and the two decide to go to her place for a nightcap. Mikey, still down and striking out except for getting a girl's phone number, heads home alone. When a twinkle of romance starts to muddy up their agreement, a good measure of chaos begins.

With a nice bit of comedy the three do a good job of keeping the audience laughing at attempts to keep their bargain. Writer and director Tom Gormican keeps his film moving along at a fast pace with each of the relationships working to enjoy an imaginative sex life with very little obligation. He tells his story using a lot of familiar situations however, which tends to reduce the excitement of the moments they create. He loads his film with a lot of sexual situations to titillate and an abundant amount of F bombs and other expletives for shock and awe. Being the writer of the script and also at the helm of his first film it's hard to notice when you have created nothing more than a tedious 'same ol, same ol' at a different time and place.

The acting does save a measure of the film from dropping below average with Zac Efron (High School Musical) and Imogen Poots (Jayne Eyre) doing a good job of taking the lead romance characters and turning them into a fun romp. Without much new material however, they struggle at times to keep the audience from losing the strength of their performance. Both have an excellent chemistry together and are very believable in their roles. Their ability to bounce a good measure of comedic lines off each other and make their characters likeable shows progress for the maturing thespians.

Rising stars Miles Teller (Project X) and Mackenzie Davis are a hoot as the couple that wants to avoid a night of wild sex so they can remain drinking buddies. They remind me of Billy Crystal and Meg Ryan in When Harry Met Sally where the two best friends tries to avoid the inevitable. Teller has a very good penchant for comedy and he shows how well he can deliver the quick witty lines he's been handed. He and Davis are a good reason to see the film in light of this clichéd sitcom.

While I'm not impressed with The Awkward Moment due to the familiar theme and worn-out situations, there's not much out there right now for a night with good comedy romance. Daters will have to settle for dramatic themes until About Last Night bows in late February. For that reason, the comedy here does make for a passable dinner and entertainment while waiting around for better movies.

The Awkward Moment has been rated R for sexual content and language throughout. Be aware that there's one scene where the sex is very animated and may create your own 'awkward moment' if you bring along immature children or siblings.

FINAL ANALYSIS: A chick flick for those who just can't get enough of Zac Efron. (C-)
-- John Delia
For more reviews please visit our film/television review section.
Three best friends find themselves where we've all been - at that confusing moment in every dati...
SPONSORED LINKS
Comments

Courtesy of
Movie Hype App
movieguynathan
1/28/2014 7:15 PM EST
kidrod99
this is going to be funny
1/26/2014 1:21 AM EST
jordan5912
This looks So funny
1/4/2014 5:37 PM EST
nakeyiariggs
I wanna see..!!!
12/2/2013 11:19 PM EST
eubankseli95
Gonna be some funny ish.
11/26/2013 12:54 PM EST