Million Dollar Baby (2004)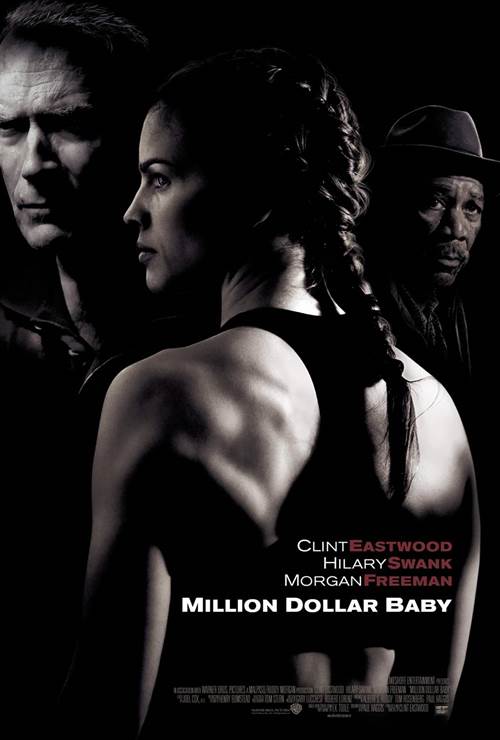 | | |
| --- | --- |
| Director: | |
| Writers: | |
| Cast: | |
| Released: | Wednesday, December 15, 2004 |
| Length: | 132 minutes |
| Studio: | Warner Bros. |
| Genre: | Drama |
| Rating: | Some material may be inappropriate for children under 13. |
Million Dollar Baby Synopsis
Frankie Dunn (Clint Eastwood) has trained and managed some incredible fighters during a lifetime spent in the ring. The most important lesson he teaches his boxers is the one that rules his life: above all, always protect yourself. In the wake of a painful estrangement from his daughter, Frankie has been unwilling to let himself get close to anyone for a very long time. His only friend is Scrap (MORGAN FREEMAN), an ex-boxer who looks after Frankie's gym and knows that beneath his gruff exterior is a man who has attended Mass almost every day for the past 23 years, seeking the forgiveness that somehow continues to elude him.

Then Maggie Fitzgerald (HILARY SWANK) walks into his gym.

Maggie's never had much, but there is one thing she does have that very few people in this world ever do: she knows what she wants and she's willing to do whatever it takes to get it. In a life of constant struggle, Maggie's gotten herself this far on raw talent, unshakable focus and a tremendous force of will. But more than anything, what she wants is for someone to believe in her.

The last thing Frankie needs is that kind of responsibility – let alone that kind of risk. He tells Maggie the blunt hard truth: she's too old and he doesn't train girls. But 'no' has little meaning when you have no other choice. Unwilling or unable to give up on her life's ambition, Maggie wears herself to the bone at the gym every day, encouraged only by Scrap. Finally won over by Maggie's sheer determination, Frankie begrudgingly agrees to take her on.

In turns exasperating and inspiring each other, the two come to discover that they share a common spirit that transcends the pain and loss of their pasts, and find in each other a sense of family they lost long ago. What they don't know is that soon they will both face a battle that's going to demand more heart and courage than any they've ever known.

Purchase DVD/Blu-ray/4K UHD physical copy of Million Dollar Baby today at Amazon.com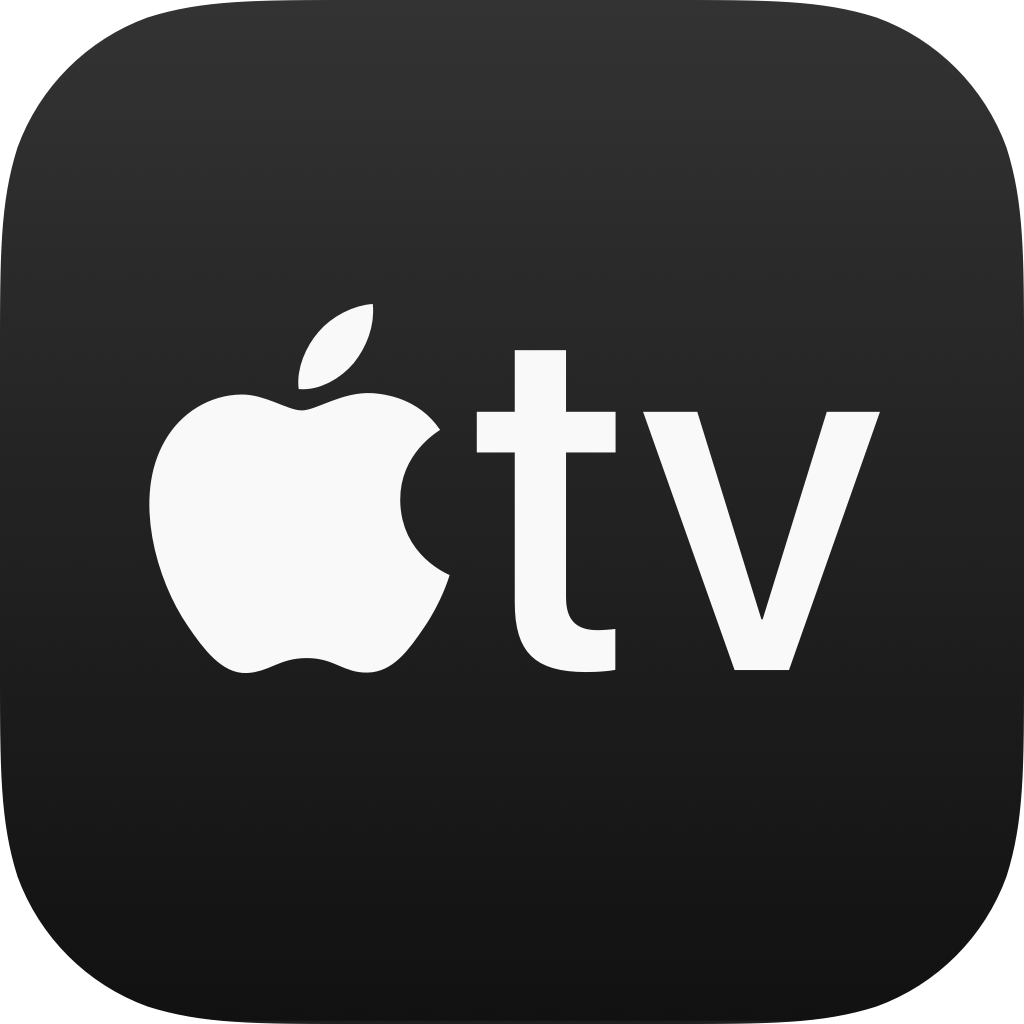 Stream Million Dollar Baby in Digital HD/4K from the AppleTV store.
Million Dollar Baby images are © Warner Bros.. All Rights Reserved.
Million Dollar Baby Blu-ray Review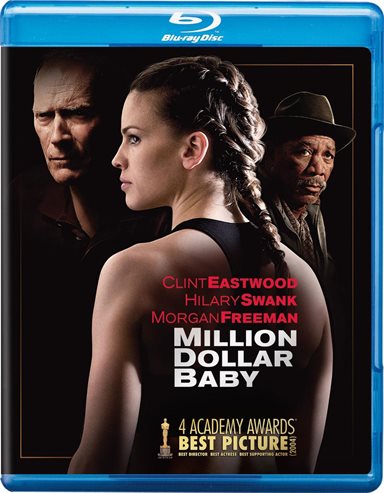 For the tenth anniversary of Clint Eastwood's multi-Oscar-winning
Million Dollar Baby
, Warner Home Video is reissuing the title on Blu-ray, having previously released it in November 2006, in the format's early days. However, Blu-ray fans will be disappointed to learn that, despite over seven years of advances in the technology and craft of high definition transfer and mastering, the video presentation on this 10th Anniversary Edition is identical to the previous disc, right down to the bitrate. All that's been added is a lossless soundtrack and two new extras.
Have you ever heard the old axiom that says, "slow and steady wins the race?" That's exactly true and an apt way of describing actor/director Clint Eastwood's (
Unforgiven
) 2004 film
Million Dollar Baby
, a film that garnered four of the most sought-after Oscars that year, among them Best Picture, Best Director, Best Actress (Hillary Swank,
P.S. I Love You
), and Best Supporting Actor (Morgan Freeman,
The Bucket List
). The film definitely paces itself well, a methodical and deliberate journey to the front of the pack, paralleling the first half of the film. Once it's in front, the pace picks up a bit more, and all of a sudden the Earth stops spinning, the film blindsides the audience, instantly changing the pace from one of "slow and steady" and "a good sprint" to a dead stop, as the heart is yanked out of the audience in a turn of events during the third act of the film that ultimately proves to be one of the most difficult and traumatic viewing experiences in a long time.
Maggie Fitzgerald (Swank) is a poor Missouri girl who labels herself and her family as "trash," but she has bigger dreams than living in a trailer or working in a diner for the rest of her life, living off of the scraps her customers leave behind. She's been in training for months, determined to become a professional female boxer. Frankie Dunn (Eastwood) is a boxing trainer and manager. Even though he's lost his most recent successful boxer to another manager, Maggie is determined to have Frankie take her to the top. She's good, she believes. After all, she was the undercard on a major fight and won, but Frankie tells her that being "girlie" and "tough" isn't good enough. Maggie is persistent nevertheless, receiving some help from Frankie's friend and former fighter Eddie "Scrap-Iron" Dupris (Freeman), a man who once lost an eye after a fight and lives in a small room in the back of a gym, replete with a cot and small television set. Frankie eventually and reluctantly agrees to train Maggie, but places her in the care of another manager. During her first fight, the manager fails to provide Maggie with the insights she needs to get herself back in the fight. He quits, leaving Frankie as her manager, and his advice allows Maggie to knock out her opponent almost immediately. Maggie becomes a fantastic fighter, so good, in fact that Frankie has to pay other managers off just to ensure she has an opponent. Eventually, Maggie will fight for the title against a boxer with a reputation for being nasty, and winning the fight just might take more out of Maggie and Frankie than they bargained for.
It's simply too difficult to discuss the true meaning behind the film as doing so would lead to a spoiler that would significantly reduce the impact of the entire movie for the first-time viewer. Needless to say, however, there are plenty of other areas on which to heap the praise. All four of the Oscars
Million Dollar Baby
won are unquestionably deserved. As such, the Academy has already given this film its due by awarding it the four statues, a reward far greater than any words I could bestow upon the film, my recommendation being that you simply see the film to understand. The movie's unexpected turn-of-events and melancholy first and third acts might be just the kind of material that suits the Academy, but more so than the tone of the movie is the sheer brilliance in which it sets everything up, the down home, anything-but-glitzy world that the movie resides in fits thematically with where the movie is taking us, almost anything other than drab and lifeless would make the film's final act simply overbearing and too much to handle. From Morgan Freeman's deadpan narration to the dark, depressing, dull, almost colorless interior of the gym, the shadows that cover so much of the image, all courtesy of the fantastically reserved yet powerful cinematography of Tom Stern,
Million Dollar Baby
does all it can from a visual and aural perspective to brace us for the film's final act, an act we can still barely stomach, one so heart and gut wrenching that it's almost too hard for the first-time viewer to sit through. While it is hard to imagine the movie causing in the viewer a desire to screen the film multiple times in a short period, the replay value is there, though it's obviously best absorbed with large gaps in between viewings. The performances alone, and the nuances and layers of meaning that can be found upon subsequent viewings make the movie worth owning, but it's too tough a watch to keep in a regular rotation.
Million Dollar Baby
's 2.35:1, 1080p high definition transfer puts up a good fight, but ultimately fails to come up on top. Reviewing these older catalogue titles can prove challenging. What may have been a solid picture a year-and-a-half ago, when there were far fewer Blu-ray discs with which to compare it, may only now be considered a mediocre one. Likewise, we'll undoubtedly see transfers that make this pair of current 5-star reference discs seem like average material at some point in the future. This transfer of
Million Dollar Baby
just doesn't hold its own against the best of the best, but a lower score doesn't mean the transfer is a total loss. The new disc replaces the DD 5.1 track with a lossless track encoded as DTS-HD MA 5.1. Whether the lossless presentation significantly changes the viewer's experience will largely depend on individual equipment, room acoustics and personal perception. I can certainly attest that the lossless presentation beautifully reproduces the subtle ambient noises at Frankie's gym, the cheers and excitement of Maggie's numerous bouts and the deep, ominous rumble that accompanies the entrance of Maggie's formidable German opponent in the Las Vegas match.
Special Features:
James Lipton Takes on Three: a candid discussion between Oscar winners Clint Eastwood, Morgan Freeman, and Hillary Swank with James Lipton, host of the television series Inside the Actor's Studio. The questions are direct and definitely not of the variety we generally see where the interviewer throws the cast and crew softballs to be hit out of the park. These questions are genuine and sometimes hard, a breath of fresh air in a world of pre-fabricated and generic making-of pieces.
Born to Fight: a lesser piece that looks at the world of boxing and why people around the globe are drawn to the sport with the primary cast discussing the topic at hand and how it integrates into the film.
Producers Round 15: an interesting and captivating look at the origins and development of Million Dollar Baby from conception to script to shooting to its release to critical acclaim.
Commentary with Producer Albert Ruddy: After some initial words on the difficulty of getting the film made (a subject addressed in more detail in the "On the Ropes" documentary), Ruddy settles into an enthusiastic explication of the film's action. He is the film's ultimate fan, analyzing the characters' motivations, discussing the world of boxing, and praising the quality of the performances and the general excellence of the work.
Million Dollar Baby: On the Ropes: In this retrospective documentary, Ruddy, screenwriter Paul Haggis, Eastwood, Hilary Swank, Morgan Freeman and producer Tom Rosenberg recall the experience of making Million Dollar Baby.
For a first-time purchaser of
Million Dollar Baby
, this 10th Anniversary Edition is the clear winner, because of the new extras and lossless sound. For anyone who already owns the disc, it's up to you whether those additions are enough to justify an upgrade. The video presentation holds up remarkably well, but it no doubt could have been improved with re-mastering. Down the line, we may see a new transfer, and current owners may decide to hold out for that possibility.
For more reviews please visit our film/television review section.
SPONSORED LINKS