Dark Blue (2009)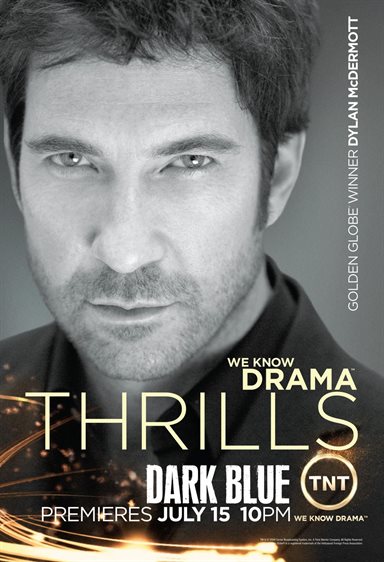 | | |
| --- | --- |
| Created By: | |
| Cast: | |
| Air Date: | Wednesday, July 15, 2009 |
| Studio: | Warner Horizon Television |
| Genre: | Television |
| Rating: | |
Synopsis
DARK BLUE takes place in the underbelly of Los Angeles, where criminals roam free under the veil of night or hide in the shadows of daylight. Wandering in and out of this seedy underworld is just another day at the office for Lt. Carter Shaw (McDermott) and his special undercover task force. They understand, better than anyone, that to bring down a criminal underworld one must first dive into its depths and get on the criminals' level.
Carter's team includes Ty Curtis (Hardwick), a recently married cop who struggles with juggling his real life and the relationships he has developed while undercover; Dean Bendis (Marshall-Green), a shoot-from-the-hip officer whose activities make fellow team members wonder if he has gone over to the other side; and Jaimie Allen (Aycox), a green patrol cop brought in because of her excellent skill in lying, especially when it comes to her own past.
As Carter and his team know all too well, being an undercover cop sometimes requires cutting ties – albeit temporarily – with those who mean the most. Adrift and isolated, an undercover officer is frequently faced with circumstances that strain the line between right and wrong. When such a thing happens, all that matters is loyalty to one's fellow officers and to the goal of bringing down the bad guys.
Purchase your copy of Dark Blue today at
Download Dark Blue from iTunes.
SPONSORED STORIES
Dark Blue images are © Warner Horizon Television. All Rights Reserved.
Dark Blue: The Complete First Season DVD Review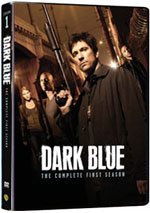 It seems that TNT, too, wants in on the game: the age of anything as simple and straightforward as Law & Order seems to be coming to a close, just in time for flailing NBC's cancellation of its police procedural flagship. Now, a cop show needs either a quirky outsider to join the straight-man police in their investigations, a la Castle and The Mentalist, or "grit" in the form of moral ambiguity, courtesy of The Shield, The Wire, and their ilk.

In this mentality, the pilot episode of TNT's foray into homegrown cop shows, Dark Blue, is no surprise. Be not shocked when team leader Carter Shaw (Dylan McDermott, In the Line of Fire, The Practice) is a terribly troubled insomniac who considers the idea of a life outside his secret line-walking police force a distant memory. Marvel not when undercover agent Dean Bendis (Logan Marshall-Green, Brooklyn's Finest, Across the Universe) appears to betray his unit, turns out not to have, but still kept secrets from his fellow officers. What's this, you say new team member Jaimie Allen (Nicki Aycox, Over There, Supernatural) has a dark, criminal past?

The mindless adherence to cliche in the setup of the characters would be maddening, were the execution of the series as a whole not so expert, or the directions of the plots so surprising. It is no simple matter of merely pushing the characters a little farther to get a little more "grit" out of them. Ty Curtis's (Omari Hardwick, Kick-Ass, The A-Team) conflicts with his boss, wife, and conscience are elevated above the norm by subtle portrayal. A brief fling between two characters begins in the obvious way, yet takes the characters to places you will not expect.

However, the most memorable element of the show is surely the criminals themselves. In a television landscape of vast criminal conspiracies, psychopaths, and genius serial killers, Dark Blue seems bent on putting the banality of evil on center stage. The criminals here are not terribly clever; they are mindlessly cruel, and the handicap of evidentiary requirements keeps the onus on our heroes to be clever. It is a careful balance, and a wonderful change from the usual "least incompetent wins" rule of television conflict.

Purchase Dark Blue: The Complete First Season from WBshop.com
For more reviews please visit our film/television review section.