Dark Blue (2009)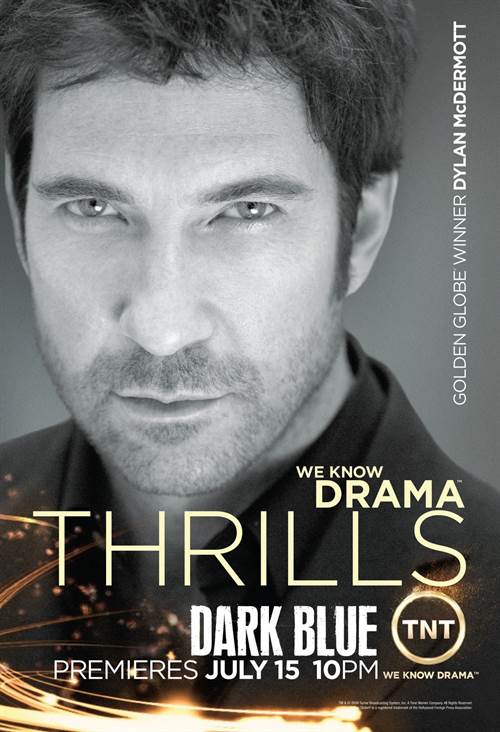 | | |
| --- | --- |
| Created By: | |
| Cast: | |
| Air Date: | Wednesday, July 15, 2009 |
| Studio: | Warner Horizon Television |
| Genre: | Television |
| Rating: | |
Dark Blue Synopsis
DARK BLUE takes place in the underbelly of Los Angeles, where criminals roam free under the veil of night or hide in the shadows of daylight. Wandering in and out of this seedy underworld is just another day at the office for Lt. Carter Shaw (McDermott) and his special undercover task force. They understand, better than anyone, that to bring down a criminal underworld one must first dive into its depths and get on the criminals' level.
Carter's team includes Ty Curtis (Hardwick), a recently married cop who struggles with juggling his real life and the relationships he has developed while undercover; Dean Bendis (Marshall-Green), a shoot-from-the-hip officer whose activities make fellow team members wonder if he has gone over to the other side; and Jaimie Allen (Aycox), a green patrol cop brought in because of her excellent skill in lying, especially when it comes to her own past.
As Carter and his team know all too well, being an undercover cop sometimes requires cutting ties – albeit temporarily – with those who mean the most. Adrift and isolated, an undercover officer is frequently faced with circumstances that strain the line between right and wrong. When such a thing happens, all that matters is loyalty to one's fellow officers and to the goal of bringing down the bad guys.
Dark Blue images are © Warner Horizon Television. All Rights Reserved.
SPONSORED LINKS