Tangled (2010)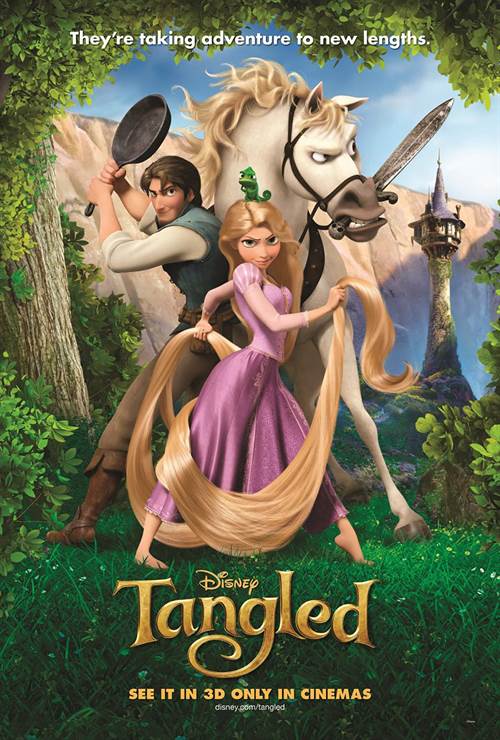 | | |
| --- | --- |
| Director: | |
| Cast: | |
| Released: | Wednesday, November 24, 2010 |
| Length: | 92 minutes |
| Studio: | Walt Disney Pictures |
| Genre: | Family |
| Rating: | Some material may not be suitable for children. |
Tangled Synopsis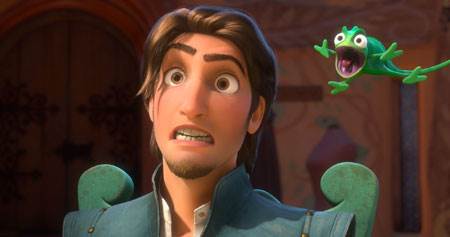 Walt Disney Pictures presents Tangled, one of the most hilarious, hair-raising tales ever told. When the kingdom's most wanted—and most charming—bandit Flynn Rider (voice of Zachary Levi) hides out in a mysterious tower, he's taken hostage by Rapunzel (voice of Mandy Moore), a beautiful and feisty tower-bound teen with 70 feet of magical, golden hair. Flynn's curious captor, who's looking for her ticket out of the tower where she's been locked away for years, strikes a deal with the handsome thief and the unlikely duo sets off on an action-packed escapade, complete with a super-cop horse, an over-protective chameleon and a gruff gang of pub thugs. In theaters this holiday season in Disney Digital 3D™, Tangled is a story of adventure, heart, humor and hair—lots of hair.

Purchase DVD/Blu-ray/4K UHD physical copy of Tangled today at Amazon.com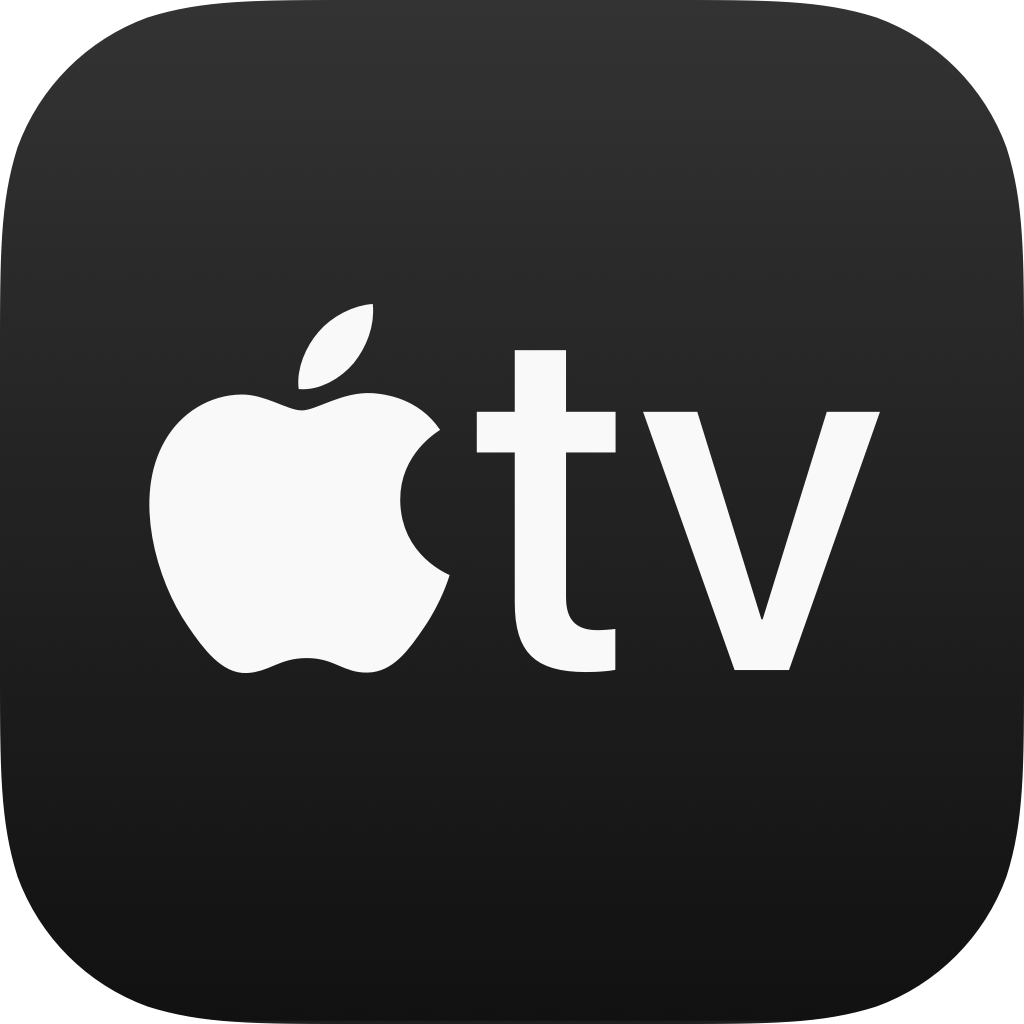 Download Tangled in Digital HD/4K from the iTunes store.
Tangled images are © Walt Disney Pictures. All Rights Reserved.
Disney's Tangled Passes $100 Million In Domestic Box Office Rece...
12/14/2010 11:04 PM EST
Disney's 50th animated feature film, Tangled, passed the $100 million mark at the domestic box office today.  Tangled, which began its theatrical run over the Thanksgiving holiday weekend, becomes the 68th title in the history of The Walt Disney Studios to reach this milestone. In addition, Tangled is the only film this year to earn an A+ CinemaScore, the highest rating to be given by moviegoing a...
More>>
Disney is All Tangled At This Year's Comic Con
7/24/2010 1:05 AM EST
At this year's San Diego Comic Con, FlickDirect had a chance to sit down with Nathan Greno and Byron Howard to talk about their new Disney film, Tangled, a modern-day take on the Rapunzel fairy tale first popularized by the Brothers Grimm. In the modern Disney CG version, there is a dashing rogue, Flynn Rider (Chuck's Zachary Levi), and Rapunzel is no shrinking violet locked in her tower -- voiced...
More>>
Tangled Blu-ray Review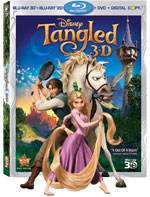 Disney has had a few "golden ages" of animated feature films throughout its existence. The first one was Snow White, followed by their next golden age that started with the Little Mermaid -- then peeked at the company's best-animated feature to date, The Lion King. It appears now with Tangled that we are on the verge of yet another "golden age" of Disney animation. We all know the classic tale of "Rapunzel". "Tangled" is, of course, based on that fairy tale, but Disney has definitely put its own spin on the story.
In the film, a pregnant queen has taken ill; and while her guards search for a cure, they come across a magical flower. It is used to help the queen recover, and Rapunzel (voiced by Mandy Moore) is born. It is later discovered by an elderly woman (voiced by Donna Murphy), who had been using the magical flower to prevent her from aging, that Rapunzel's hair retains the magic of the flower. So she decides to kidnap her and keep her locked away in a tower. The woman, named Gothel, raises Rapunzel as if she were her own child, and fills her "daughter's" head with notions of a world filled with bad people. All throughout her life, she longs to see the outside world. She meets Flynn Rider (voiced by Zachary Levi) when he seeks refuge in her tower after a robbery. But unlike the typical damsel in distress, Rapunzel surprises Flynn by attacking him and locking him up. She promises to release him and his belongings if he will take her to see the lights that are released every year on her birthday, and then return her home. He agrees, and their adventure begins.
Along the way, the pair meet some very interesting characters, and eventually, Gothel learns of the deceit of Rapunzel. Eventually, she is back in her tower, and realizes that she doesn't belong there. She wants to leave Gothel; and at the same time this is all going on, Flynn comes to the tower, and winds up getting stabbed by Gothel. Rapunzel knows she can heal Flynn, but he cuts her hair off before she gets a chance. He winds up dying in her arms, but once Rapunzel starts crying and her tears touch his face, Flynn gets a second chance at life. It is discovered that there is healing magic present in her tears. The two return to Rapunzel's real parents, and they eventually get married.
I have to say that it is refreshing to have a princess movie that doesn't require the princess to be saved by the Prince. In "Tangled", it is the man who needs to be rescued by a Princess. I like that Rapunzel's character was so self-sufficient. On top of that fact, I just thought this was a really fantastic movie. I really got into it and thought it was definitely a film that adults could watch without feeling like they are watching a "kid's" film.
The 3D Blu-ray of Tangled is simply one of the best 3D releases to date. As usual with Walt Disney Home Entertainment releases, this Blu-ray features the 3D and 2D copy of the film along with a DVD and digital copy.
The video is presented in the latest AVC codec framed at 1.78: is breathtaking. The colors are as vibrant as they can be, and Rapunzel's hair will draw gasps from family members as they tried to wrap their heads around the fact it is not real. The 3D effects never waver throughout the entire presentation and add great depth to the film.
The audio presented in a DTS-MA 7.1 master is top notch and allows you to hear every special effect present in the film -- along with every not of the amazing soundtrack created by Disney legend Alan Menken.
If you are a current fan of Disney animated feature films or a fan of them during their "golden ages", then Tangled is a film for you. You will not be disappointed.
Tangled 3D Blu-ray Extras:
Two original storybook openings: two alternate versions of the film's opening sequence described by the co-directors Nathan Greno and Byron Howard;
50th Animated Feature Countdown – A video montage celebrating Tangled as the 50th film to join The Walt Disney Studios' prestigious lineup of classic animated features.
Exclusive HD Content:
Untangled: The Making of a Fairy Tale: Exactly how long is Rapunzel's hair? How many lanterns were used? Where did Pascal's name come from? Which Disney animated feature first utilized CG animation? These and more will be answered when Mandy Moore and Zach Levi take viewers on a kooky behind-the-scenes tour to learn how the filmmakers styled this film's Golden Tresses.
Three deleted scenes with introductions by co-directors Byron Howard and Nathan Greno;
Extended songs with introductions by the co-directors: "When Will My Life Begin" & "Mother Knows Best";
Nine Tangled teasers: a collection of the most unique and quirky commercials made for the theatrical release of Tangled Some are spoofs based off of infomercials and/or breaking news, some are teasers and others are simply just funny filmstrips.
For more reviews please visit our film/television review section.
Walt Disney Pictures presents Tangled, one of the most hilarious, hair-raising tales ever told. When the kingdom's most wanted—and m...

Meet Flynn Rider! The ultra-confident FLYNN RIDER is his own biggest fan, and he has long relied on his wit, charm and good looks to get out of even t...
She may be controlling, manipulative and over-protective, but Mother Gothel is the only mother Rapunzel has ever known. By stealing Rapunze...

Walt Disney Pictures presents Tangled, one of the most hilarious, hair-raising tales ever told. When the kingdom's most wanted—and m...
Walt Disney Pictures presents Tangled, one of the most hilarious, hair-raising tales ever told. When the kingdom's most wanted—and m...
SPONSORED LINKS