The Wizard of Oz (1939)
Share this:
| | |
| --- | --- |
| Director: | |
| Writers: | Noel Langley, Florence Ryerson, Edgar Allan Woolf, L. Frank Baum, Irving Brecher, William H. Cannon, Herbert Fields, Arthur Freed, Jack Haley, E.Y. Harburg, Samuel Hoffenstein |
| Cast: | |
| Released: | Tuesday, August 15, 1939 |
| Length: | 103 minutes |
| Studio: | MGM Studios |
| Genre: | Sci-Fi/Fantasy, Drama/Suspense |
| Rating: | General audiences. All ages admitted. |
Synopsis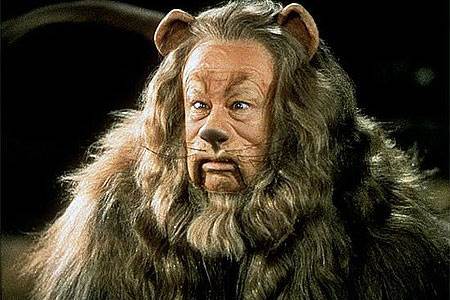 Dissatisfied with her life on her Auntie Em's (Clara Blandick) and Uncle Henry's (Grapewin) Kansas farm, Dorothy Gale (Garland) is attempting to run away when a twister strikes; Dorothy is knocked unconscious and, more amazingly, her entire house (with Dorothy and Toto inside) is lifted up into the funnel cloud and deposited squarely on top of the now-deceased Wicked Witch of the East in Munchkin City, in the County of the Land of Oz.
Purchase DVD/Blu-ray/4K physical copy of The Wizard of Oz today at
Download The Wizard of Oz in Digital HD/4K from the iTunes store.
The Wizard of Oz images are © MGM Studios. All Rights Reserved.


The Wizard of Oz 4K Ultra HD Review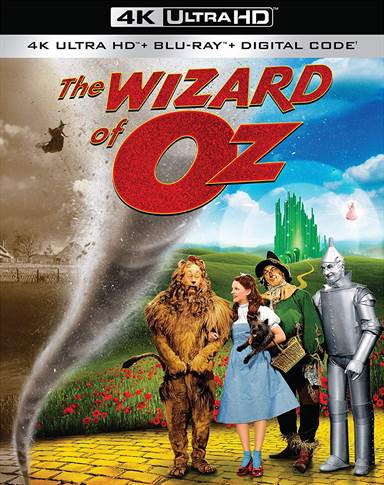 In 1939, the world was introduced to what would become arguably the most well-known film of all time, The Wizard of Oz. The film is ingrained in our memories and in our culture being shared from generation to generation. To commemorate the 80th Anniversary of this iconic film, Warner Bros. is releasing the 80th Anniversary Edition 4K Blu-ray.

For those who may not know, our main character is Dorothy Gale (Judy Garland; Meet Me in St. Louis), who lives with her family on a farm in Kansas. She lives with Her Aunt Em (Clara Blandick; Three on a Match) and Uncle Henry (Charley Grapwin; The Grapes of Wrath). She also lives with her adorable dog, Toto. She has a nasty neighbor named Miss Almira Gulch (Margaret Hamilton; A Slight Case of Murder), who Toto bites in the leg one day. Furious, Miss Gulch obtains an order from the sheriff to have Toto euthanized. After Gluch comes to claim him, she rides away, not knowing that Toto has escaped from her basket. Toto returns home, and Dorothy decides that she needs to run away in order to save Toto from being put down. She decides to return home after being told by a fortune teller that her Aunt Em was worried sick over her disappearance.
On her way back home, she gets caught up in a tornado. She makes it to her house but no one can hear her knocking on the door to let her in and she's forced to take shelter in her bedroom. She winds up getting knocked unconscious and upon waking, sees that her house is being carried away by the tornado. She finally makes a landing in Munchinland and on top of the Wicked Witch of the East. While she is hailed as a hero by Munchkinland's residents, the dead witch's sister, Wicked Witch of the West (also played by Hamilton) , declares that she will get revenge on Dorothy for the accident. Now, Dorothy must find the one man who can help her return home, The Wizard of Oz (Frank Morgan; Trouble for Two). Following the yellow brick road, she meets new friends - the Scarecrow (Ray Bolger; Babes in Toyland), the Tin Man (Jack Haley; Sing Your Way Home), and the Cowardly Lion (Bert Lahr; Ship Ahoy). Together, they overcome numerous obstacles and finally reach the Wizard of Oz. She now must leave her new friends behind and return to her home, only to awaken in her bedroom to find out that it was all just a dream.
The video resolution is Native 4K (2160p) with the original aspect ratio of 1.37:1. This release blows all the previous releases away in terms of quality. The details are sharp, there is very little graininess and the colors pop especially the yellow brick road. The DTS-HD Master Audio 5.1 is clean but doesn't really offer anything more than the previous Blu-ray release.

This 80th Anniversary Edition includes the following special features:

4K Disc
Audio Commentary - Not really anything new, as this footage has been released in other places, but it features John Fricke with Barbara Freed-Saltzman, Margaret Hamilton, Ray Bolger, Jack Haley, John Lahr, Jane Lahr, Hamilton Meserve, Dona Massin, William Tuttle, Buddy Ebsen, Mervyn LeRoy, and Jerry Maren.
The Wonderful Wizard of Oz: The Making of a Movie Classic - This is a documentary that was released on CBS television in 1990 to commemorate the film's 50th Anniversary. It is hosted by Angela Lansbury.

Blu-ray Disc features that were also released on the 75th Anniversary Blu-ray:
Audio Commentary - The same as the commentary on the 4K version.
The Making of The Wizard of Oz
The Wonderful Wizard of Oz Storybook - A short version of the story, read by Angela Lansbury.
We Haven't Really Met Properly… - Biographies about some of the film's stars including Frank Morgan (the Wizard), Ray Bolger (the Scarecrow), Bert Lahr (the Cowardly Lion), Jack Haley (the Tin Man), Billie Burke (Glenda the Good Witch), Margaret Hamilton (the Wicked Witch of the West), Charley Grapewin (Uncle Henry), Clara Blandick (Auntie Em), and Terry (Toto).
Music & Effects Track - The film version with the dialogue removed to focus on the music and effects.
Original Mono Track - the film's original version.
Sing-Along Tracks - Tracks included are "Over the Rainbow," "Munchkinland Medley," "Follow the Yellow Brick Road/You're Off to See the Wizard," "If I Only Had a Brain," "If I Only Had a Heart," "We're Off to See the Wizard," "If I Only Had the Nerve/We're Off to See the Wizard," "Optimistic Voices," "The Merry Old Land of Oz," and "If I Were King of the Forest."
Audio Jukebox - Features original recordings including "Over the Rainbow", the "Munchkinland Medley" (rehearsal and sequence recordings), another version of the "Munchkinland Medley" (voice tests), "If I Only Had a Brain," "We're Off to See the Wizard," "If I Only Had a Heart," "If I Only Had the Nerve," "Emerald City/The Merry Old Land of Oz," "If I Were King of the Forest," "The Jitterbug" and "Triumphal Return to Emerald City." Also available is underscoring for "Kansas," "Munchkinland," "The Road to Oz," "Emerald City," "The Witch's Castle," and the "Finale."
Leo is on the Air Radio Promo - An extended radio advertisement for the film.
Good News of 1939 Radio Show - Presented by Maxwell House Coffe, this is a full-length interview of the cast, hosted by Robert Young.
2/25/1950 Lux Radio Broadcast - A 1950 radio broadcast retelling of the film.
Stills Galleries
Trailers
There is a reason this movie is a classic and will remain so for many years to come. It has a talented cast, amazing songs and a wonderful story that includes darker moments and triumphs. I count this as one of my all-time favorite films and I think everyone should own a copy. As this latest release has the best quality, I suggest buying this one.
Grade: A
For more reviews please visit our film/television review section.
SPONSORED LINKS
Comments

Courtesy of
Movie Hype App
olivianicolefundel_2000
I LOVE THE WIZARD OF OZ
1/12/2017 12:47 PM EDT
samanthatrest
Yay
6/12/2013 2:08 AM EDT