Carrie Beck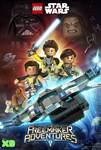 Lego Star Wars: The Freemaker Adventures (2016)
The Freemakers are sibling scavengers operating a salvage and repair shop on a space station at the distant edge of the Empire. When Force-sensitive 12-year old Rowan Freemaker discovers the Kyber Saber,...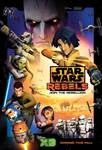 Star Wars: Rebels (2014)
A Long Time Ago, In A Galaxy Far, Far Away....Against the might of the Galactic Empire, an unlikely band of heroes emerges to renew the fight for freedom. Witness the epic debut of the riveting animated...