Lego Star Wars: The Freemaker Adventures (2016)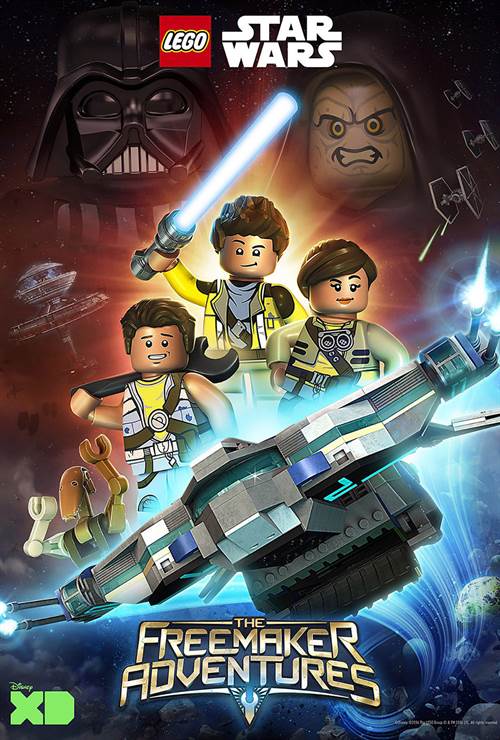 Share this:
| | |
| --- | --- |
| Created By: | |
| Cast: | |
| Air Date: | Monday, June 20, 2016 |
| Studio: | Walt Disney Pictures |
| Genre: | Television |
| Rating: | |
Synopsis
The Freemakers are sibling scavengers operating a salvage and repair shop on a space station at the distant edge of the Empire. When Force-sensitive 12-year old Rowan Freemaker discovers the Kyber Saber, an ancient artifact with a powerful connection to the Jedi, his world is turned upside down. Along with his quick-witted older sister Kordi, ace pilot brother Zander, and a refurbished battle droid named Roger, Rowan is thrown into an epic struggle against the Empire to restore peace to the galaxy.
Purchase DVD/Blu-ray/4K physical copy of Lego Star Wars: The Freemaker Adventures today at
Download Lego Star Wars: The Freemaker Adventures in Digital HD/4K from the iTunes store.
Lego Star Wars: The Freemaker Adventures images are © Walt Disney Pictures. All Rights Reserved.


Live Stream Star Wars: The Rise of Skywalker World Premier Event...
12/16/2019 3:05 PM EST
Tonight, the World Premiere of Star Wars: The Rise of Skywalker, the highly anticipated conclusion of the Skywalker saga-the iconic story that has spanned four decades over nine episodes and spawned legions of fans worldwide, will take place. The event will be live-streamed with moments powered by Verizon 5G starting tonight at 5:30 p.m. PT / 8:30 p.m. ET on StarWars.com!Verizon, Disney StudioLAB ...
More>>
David Benioff and D.B. Weiss Leave New Star Wars Trilogy Project
10/29/2019 9:51 AM EST
David Benioff and D.B. Weiss, from "Game of Thrones" fame, have decided to step away from their deal with Disney's Lucasfilm to do a trilogy in 2022."We love Star Wars. When George Lucas built it, he built us too. Getting to talk about Star Wars with him and the current Star Wars team was the thrill of a lifetime, and we will always be indebted to the saga that changed everything," they said in a ...
More>>
Kevin Feige Developing New Star Wars Film
9/26/2019 11:08 AM EST
It's been reported that Kevin Feige will be developing a "Star Wars" film. The news was confirmed by Disney."We are excited about the projects Kathy and the Lucasfilm team are working on, not only in terms of Star Wars, but also Indiana Jones and reaching into other parts of the company including Children of Blood and Bone with Emma Watts and Fox. With the close of the Skywalker Saga, Kathy is pur...
More>>
Ewan McGregor to Reprise Role of Obi-Wan Kenobi for Disney+
8/16/2019 2:54 PM EST
It's being reported that Ewan McGregor is currently in talks to join the cast of a yet-untitled TV series for Disney+. He would be reprising his role of Obi-Wan Kenobi.McGregor played Kenobi in The Phantom Menace (1999), Attack of the Clones (2002) and Revenge of the Sith (2005), playing a young version of the character.Obi-Wan Kenobi was originally played by Alec Guinness 1977's Star Wars: A New ...
More>>
Veteran Star Wars Alum Reunite at Galaxy's Edge Disneyland
5/30/2019 1:20 PM EST
Galaxy's Edge was launched this week at the Disneyland Resort in Anaheim, CA with a full-scale media blitz. In addition to a firework and a light show, some of our favorite Star Wars alum made an appearance. Mark Hamill, Harrison Ford, and Billy Dee Williams gathered on stage with George Lucas and Bob Iger.The new "land" is an immersive experience with vehicle replicas including the Millenium Falc...
More>>
Carrie Fisher to Make Appearance in The Rise of Skywalker
5/23/2019 1:38 PM EST
"Star Wars" fans will be seeing an unexpected character in the next film. J.J. Abrams has revealed that the late Carrie Fisher will be included in "Star Wars: The Rise of Skywalker."How can that be? Well, J.J. knew that a digital version of Fisher wouldn't be right but remembered that there was extra footage of Fisher from 2015's "The Force Awakens". He decided to incorporate that into the new fil...
More>>
Game of Thrones' David Benioff and D.B. Weiss to Head Up Next St...
5/14/2019 1:21 PM EST
It has been confirmed that Game of Thrones showrunners David Benioff and D.B. Weiss will head up the next Star Wars film. Walt Disney Company chairman Bob Iger confirmed the news today at the MoffetNathanson Media & Communications Summit."I haven't seen [Episode] 9 finished yet, but I'm confident based on the pieces that I've seen and the script that I've read that it's going to be extremely popul...
More>>
Walt Disney Studios Releases Film List Through 2027
5/7/2019 4:31 PM EST
The Walt Disney Studios have released their current film schedule through 2027. The calendar includes some changes that were made including some major additions.This summer alone will see the release of some major films including  Disney's Aladdin on May 24, Fox's Dark Phoenix on June 7, Pixar's Toy Story 4 on June 21, Fox's Stuber on July 12, and Disney's The Lion King on July 19. the rest of the...
More>>
Chewbacca Actor Peter Mayhew Dies at 74
5/2/2019 9:40 PM EST
Peter Mayhew, known to the world as the man behind the character of Star Wars' Chewbacca, has died at 74. The news was announced on his Twitter account today.Mayhew portrayed Chewbacca in Star Wars (1977), The Empire Strikes Back (1980), Return of the Jedi (1983), Revenge of the Sith (2005) and The Force Awakens (2015). His former Star Wars co-stars took to social media to express their feelings a...
More>>
Disney Announces New Rogue One Series for Disney + Streaming Ser...
11/8/2018 10:37 PM EST
Disney has finally announced the name of its upcoming streaming service. They will be calling it Disney + and it will launch in late 2019.Disney+ will feature original programming as well as existing Disney, Pixar, Marvel and Star Wars properties. After the acquisition of 21st Century Fox is final, the service will also stream programming from National Geographic. The company also announced that o...
More>>
The Crown Star Matt Smith Joins Cast of Star Wars: Episode IX
8/28/2018 3:19 PM EST
Rumor has it that Matt Smith has signed on to join the cast of Star Wars: Episode IX. Smith is best known for his roles in Doctor Who and The Crown where he played Prince Philip, Duke of Edinburgh and earned a Primetime Emmy nomination for the portrayal.Smith joins a cast that includes Daisy Ridley, John Boyega, Billy Dee Williams, Mark Hamill, Anthony Daniels, Oscar Isaac, Adam Driver, Keri Russe...
More>>
Kelly Marie Tran Writes About Dealing with Online Harassment
8/21/2018 4:30 PM EST
Kelly Marie Tran, who starred in "Star Wars: The Last Jedi" has taken to the New York Times to write an op-ed about her struggle with harassment she's received through social media. She wrote in the piece that it wasn't easy to deal with, and the fact that she deleted her Instagram account in June after racist and misogynistic comments confirms the difficulties."It wasn't their words, it's that I ...
More>>
LEGO Star Wars: The Freemaker Adventures, Vol. 2 DVD Review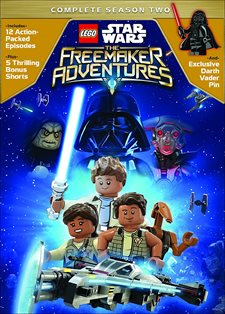 Lego is a huge corporation that has expanded their universe over the past several years, incorporating new ways to get their products out to the public. This endeavor has included branching out into movies and television and showcasing well-known and beloved characters. In 2016, they decided to lend their name to probably the most well-known franchise in movie history – Star Wars. Their Emmy nominated animated series, Star Wars: The Freemaker Adventures, introduced new characters for fans to enjoy and follow on their journey throughout the galaxy. This past year, saw the show expand, as the second season offered twelve great episodes that are available now on DVD.

As we meet up once again with the three Freemaker siblings, they have found a new home as they work with the Rebel fleet to fight against The Empire. Rowan (Nicolas Cantu; Sofia the First), Kordi (Vanessa Lengies; Glee), and Zander (Eugene Byrd; Sleepers) search the Universe looking for trash they can use to build new vehicles. However, like any good Star Wars plot, they must face the enemy including Imperial forces, Sith lords and a Hutt by the name of Graballa. And of course, they will face Darth Vader as they help the Rebels.

The Series, which takes place between The Empire Strikes Back and Return of the Jedi, not only brought staple characters from the original films to the small screen but this season introduces the audience to lesser known and never before seen ones like the aforementioned Graballa the Hut and a new droid, M-OC. Season two also showcases Rowan as he becomes more aware and senses the force. This newfound energy helps him envision a shipped called the Arrowhead, which he and his siblings attempt to create and power with something called Kyber Crystals.

The main cast is made up of three distinct individuals of varying ages who seem to mesh well vocally. They have great chemistry that makes their characters believable. Cantu does a great job for a young actor and Lengies and Byrd offer a more mature and seasoned overtone to their roles. Together, they are a good team bringing these siblings to life. There are litanies of supporting cast that seem to do a good job for the most part.

Unlike Season One Season two was not given the Blu-ray treatment and is only offered on DVD and digital download. While the latter allows for some higher resolution video and audio quality, the former presents the standard fare. The graphics are well done for the most part. The DVD has an exclusive Darth Vader pin and five shorts which is nothing more than segments of Season Two, Episode One. The pin is cute and shrink-wrapped on a card that also has a code for 100 Disney Movie Rewards, which is a nice little bonus.

Lego has infused their movie and television properties with lots of fun and some great jokes and Lego Star Wars: The Freeman Adventures is no exception. The second Season offers more plot than the first one but the series overall is enjoyable and fun. Once again, Lego has created entertainment that the whole family can enjoy and, especially if you are a star wars fan, you should get to know this series and consider buying both Seasons One and Two.

Grade: B
For more reviews please visit our film/television review section.
SPONSORED LINKS