Lego Star Wars: The Freemaker Adventures (2016)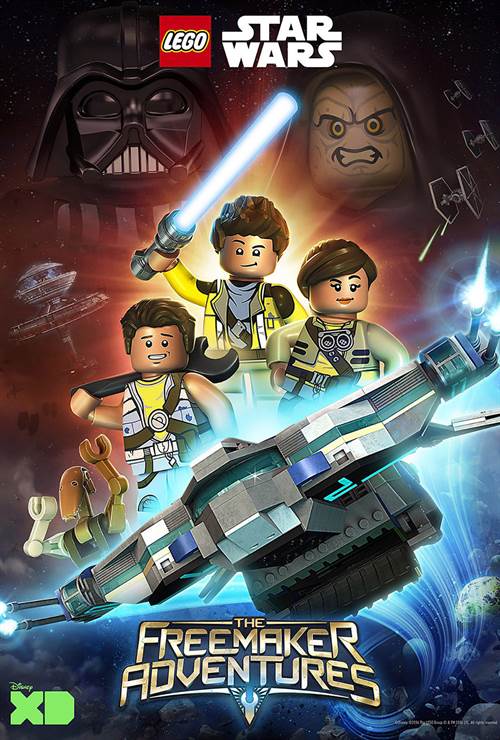 | | |
| --- | --- |
| Created By: | |
| Cast: | |
| Air Date: | Monday, June 20, 2016 |
| Studio: | Walt Disney Pictures |
| Genre: | Television |
| Rating: | |
Lego Star Wars: The Freemaker Adventures Synopsis
The Freemakers are sibling scavengers operating a salvage and repair shop on a space station at the distant edge of the Empire. When Force-sensitive 12-year old Rowan Freemaker discovers the Kyber Saber, an ancient artifact with a powerful connection to the Jedi, his world is turned upside down. Along with his quick-witted older sister Kordi, ace pilot brother Zander, and a refurbished battle droid named Roger, Rowan is thrown into an epic struggle against the Empire to restore peace to the galaxy.

Purchase DVD/Blu-ray/4K UHD physical copy of Lego Star Wars: The Freemaker Adventures today at Amazon.com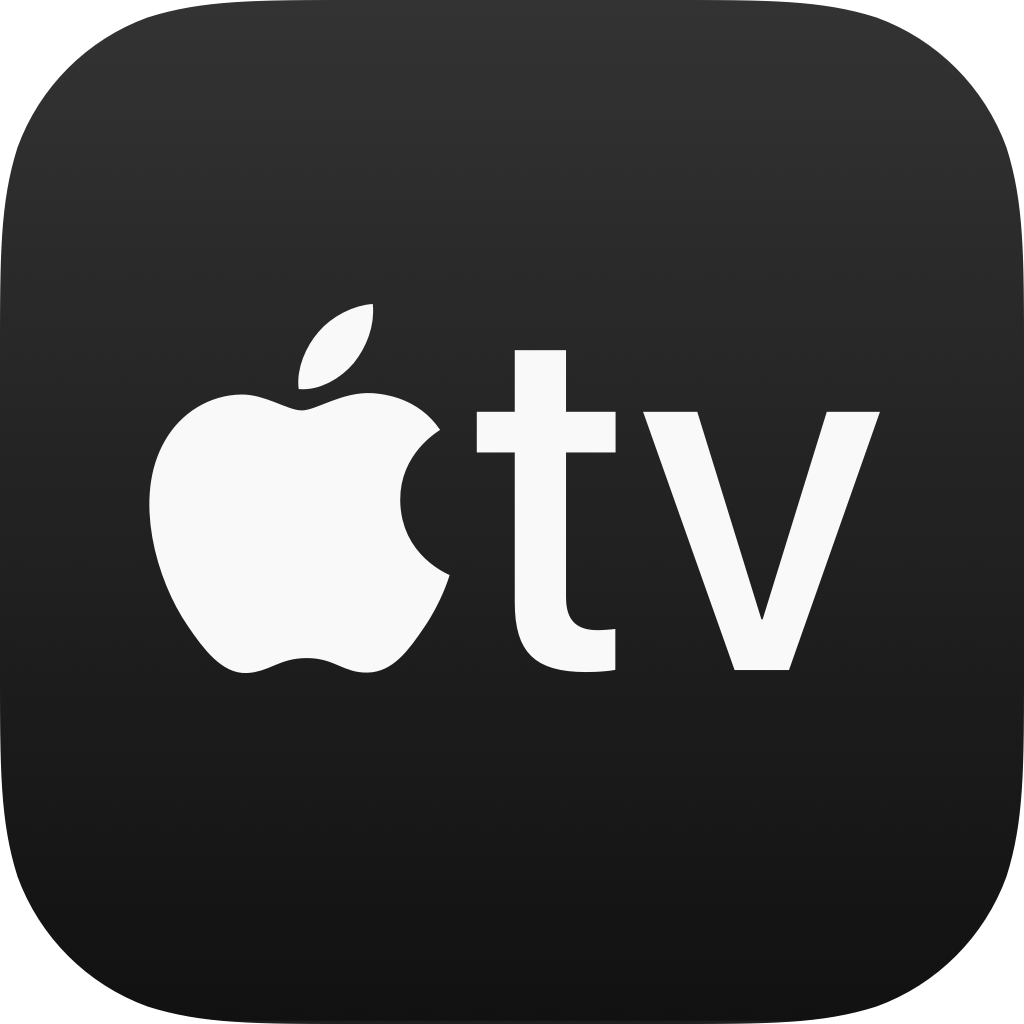 Stream Lego Star Wars: The Freemaker Adventures in Digital HD/4K from the AppleTV store.
Lego Star Wars: The Freemaker Adventures images are © Walt Disney Pictures. All Rights Reserved.
Hayden Christensen Talks Vader in Upcoming Obi-Wan Series
3/10/2022 4:01 PM EST
In May, we will finally get to see the much anticipated Disney+ series "Obi-Wan Kenobi". The series will mark the return of "Star Wars" film stars Ewan McGregor and Hayden Christensen, both set to reprise their roles as Obi-Wan Kenobi and Anakin Skywalker/Darth Vader, respectively.Christensen recently spoke about the upcoming series, warning, "We're going to see a very powerful Vader."Series write...
More>>
The Book of Boba Fett Begins Wednesday December 29 on Disney Plus
12/27/2021 1:49 PM EST
Just a reminder for all you Star Wars fans that "The Book of Boba Fett" will be premiering on Disney+ this Wednesday, December 29."The Book of Boba Fett," a thrilling Star Wars adventure teased in a surprise end-credit sequence following the Season 2 finale of "The Mandalorian," finds legendary bounty hunter Boba Fett and mercenary Fennec Shand navigating the galaxy's underworld when they return t...
More>>
Book of Boba Fett Red Carpet Premier Postponed
12/22/2021 3:05 PM EST
Due to the rise of Covid cases, the red carpet premier of Disney Plus' "The Book of Boba Fett" has been postponed."Out of an abundance of caution, we will be postponing the 'Boba Fett' fan event. It will be relocated to the 8th of February in celebration of the finale," the studio said in a statement.The premier was to take place at the El Capitan Theatre in Hollywood on January 4. "The Book of Bo...
More>>
Ivanna Sakhno Cast in Star Wars Ahsoka
11/29/2021 5:11 PM EST
Ivanna Sakhno (Pacific Rim: Uprising) has been cast in the upcoming Disney+ series "Star Wars: Ahsoka", a spinoff from "The Mandalorian".Sakhno will star alongside Rosario Dawson and Natasha Liu Bordizzo."Star Wars: Ahsoka" is executive produced by Jon Favreau and Dave Filoni and written by Filoni. Production is set to begin in March 2022....
More>>
Obi-Wan Kenobi Series Confirmed for 2022 Release
11/12/2021 1:47 PM EST
It has been confirmed by Disney that their Obi-Wan Kenobi series will debut on Disney+ next year. There's no word yet on a specific date, however.A sizzle reel shown to the press showed some concept art as well as behind-the-scenes footage with Ewan McGregor and Hayden Christensen. In the footage, McGregor says, "Have another swing at each other, might be quite satisfying for everybody".He added, ...
More>>
Star Wars Rogue Squadron Production Delayed
11/8/2021 3:56 PM EST
"Rogue Squadron", a "Star Wars" film that was slated to be released in December 2023, will now be delayed. It has been removed from Disney's production schedule.Director Patty Jenkins is said to have some scheduling conflicts, so the production that was supposed to start in 2022 won't be happening.Jenkins directed "Wonder Woman" and "Wonder Woman 1984", as well as 2003's "Monster". She also has a ...
More>>
Disney+ Brings Back Hayden Christensen As Anakin Skywalker In Ah...
10/25/2021 9:43 AM EST
Hayden Christensen, the actor who portrayed Jedi Knight, Anakin Skywalker in both Attack of the Clones and Revenge of the Sith. Christensen will return to his role in Ahsoka, the upcoming live-action series on Disney Plus.  The series will star Rosario Dawson as Ahsoka Tano, the former apprentice of Anakin Skywalker.Disney will have to be creative, Christensen's casting in Ahsoka is set around the...
More>>
The Book of Boba Fett Set for a December Release Exclusively on ...
9/29/2021 3:15 PM EST
Disney+ has announced that the new series "The Book of Boba Fett" will be premiering on Wednesday, December 29.The Lucasfilm, Star Wars universe series finds legendary bounty hunter Boba Fett and mercenary Fennec Shand navigating the Galaxy's underworld when they return to the sands of Tatooine to stake their claim on the territory once ruled by Jabba the Hutt and his crime syndicate.Temuera Morri...
More>>
Star Wars: The Empire Strikes (Symphonic Suite from the Original...
8/14/2021 12:53 PM EST
Composer John Williams was born in 1932 in Queens, New York.  Over the span of a seventy-year career, he became a composer, conductor, pianist, and trombonist and has won an astounding twenty-five Grammys.  He has also been nominated for fifty-two Academy awards, placing him just behind Walt Disney for the most Oscar nominations.  His 1977 score for Star Wars was chosen as the greatest film score ...
More>>
Star Wars: The Bad Batch Gets a Season 2 Renewal From Disney+
8/5/2021 2:05 PM EST
"Fans have enthusiastically embraced the action and drama of "Star Wars: The Bad Batch," and we are excited to see the Star Wars animated universe continue to expand on Disney+. As the dedicated streaming home for the Star Wars franchise, we can't wait for the second season of this fan-favorite animated series," said Michael Paull, President of Disney+ and ESPN+.Executive producer Dave Filoni said...
More>>
Loki Writer Michael Waldron to Write New Star Wars Film
1/7/2021 1:44 PM EST
It's being said that Michael Waldron ("Doctor Strange In The Multiverse Of Madness") has been chosen to pen a new "Star Wars" feature film. This would be just one part of the recent deal that Waldron and Walt Disney Studios struck.The writer was also involved in the Disney+ series "Loki", as a head writer and executive producer. There is a chance that this new deal could also bring him back for "L...
More>>
LEGO Star Wars Holiday Special Coming to Disney Plus
10/15/2020 1:12 PM EST
On November 17, Disney+ will be bringing us the "LEGO Star Wars Holiday Special". November 17th is also known as the fan-favorite holiday Life Day first introduced in the 1978 "Star Wars Holiday Special"."The LEGO Star Wars Holiday Special" reunites Rey, Finn, Poe, Chewie, Rose, and the droids for a joyous feast on Life Day. Rey sets off on a new adventure with BB-8 to gain a deeper knowledge of t...
More>>
LEGO Star Wars: The Freemaker Adventures, Vol. 2 DVD Review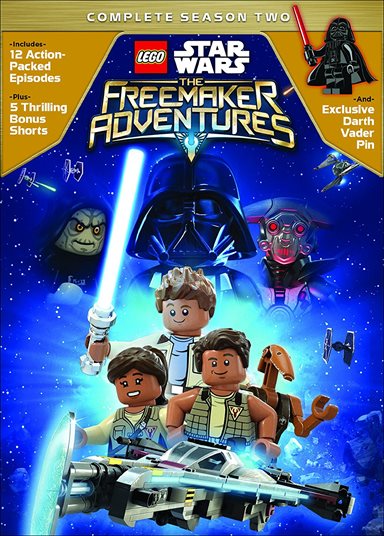 Lego is a huge corporation that has expanded their universe over the past several years, incorporating new ways to get their products out to the public. This endeavor has included branching out into movies and television and showcasing well-known and beloved characters. In 2016, they decided to lend their name to probably the most well-known franchise in movie history –
Star Wars
. Their Emmy nominated animated series,
Star Wars: The Freemaker Adventures
, introduced new characters for fans to enjoy and follow on their journey throughout the galaxy. This past year, saw the show expand, as the second season offered twelve great episodes that are available now on DVD.
As we meet up once again with the three Freemaker siblings, they have found a new home as they work with the Rebel fleet to fight against The Empire. Rowan (Nicolas Cantu; Sofia the First), Kordi (Vanessa Lengies; Glee), and Zander (Eugene Byrd; Sleepers) search the Universe looking for trash they can use to build new vehicles. However, like any good Star Wars plot, they must face the enemy including Imperial forces, Sith lords and a Hutt by the name of Graballa. And of course, they will face Darth Vader as they help the Rebels.
The Series, which takes place between The Empire Strikes Back and Return of the Jedi, not only brought staple characters from the original films to the small screen but this season introduces the audience to lesser known and never before seen ones like the aforementioned Graballa the Hut and a new droid, M-OC. Season two also showcases Rowan as he becomes more aware and senses the force. This newfound energy helps him envision a shipped called the Arrowhead, which he and his siblings attempt to create and power with something called Kyber Crystals.
The main cast is made up of three distinct individuals of varying ages who seem to mesh well vocally. They have great chemistry that makes their characters believable. Cantu does a great job for a young actor and Lengies and Byrd offer a more mature and seasoned overtone to their roles. Together, they are a good team bringing these siblings to life. There are litanies of supporting cast that seem to do a good job for the most part.
Unlike Season One Season two was not given the Blu-ray treatment and is only offered on DVD and digital download. While the latter allows for some higher resolution video and audio quality, the former presents the standard fare. The graphics are well done for the most part. The DVD has an exclusive Darth Vader pin and five shorts which is nothing more than segments of Season Two, Episode One. The pin is cute and shrink-wrapped on a card that also has a code for 100 Disney Movie Rewards, which is a nice little bonus.
Lego has infused their movie and television properties with lots of fun and some great jokes and Lego Star Wars: The Freeman Adventures is no exception. The second Season offers more plot than the first one but the series overall is enjoyable and fun. Once again, Lego has created entertainment that the whole family can enjoy and, especially if you are a star wars fan, you should get to know this series and consider buying both Seasons One and Two.
Grade: B
For more reviews please visit our film/television review section.
SPONSORED LINKS