Star Wars: The Rise of Skywalker (2019)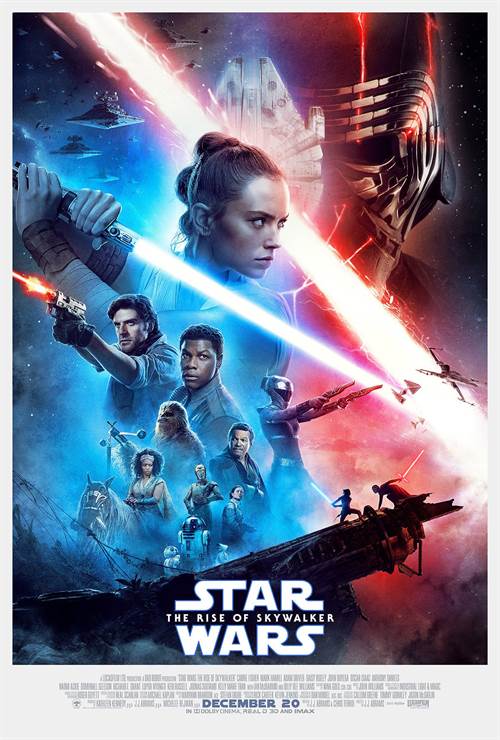 Share this:
| | |
| --- | --- |
| Director: | |
| Writers: | |
| Cast: | |
| Released: | Friday, December 20, 2019 |
| Length: | 155 minutes |
| Studio: | Walt Disney Pictures |
| Genre: | Sci-Fi/Fantasy, Action/Adventure |
| Rating: | Some material may be inappropriate for children under 13. |
Synopsis
The battle between the Jedi and the Sith comes to a thrilling conclusion in this final chapter of the Skywalker Saga. A year following the events of The Last Jedi, the remaining members of the Resistance are forced to confront their past while taking on the First Order one more time.

Purchase DVD/Blu-ray/4K UHD physical copy of Star Wars: The Rise of Skywalker today at Amazon.com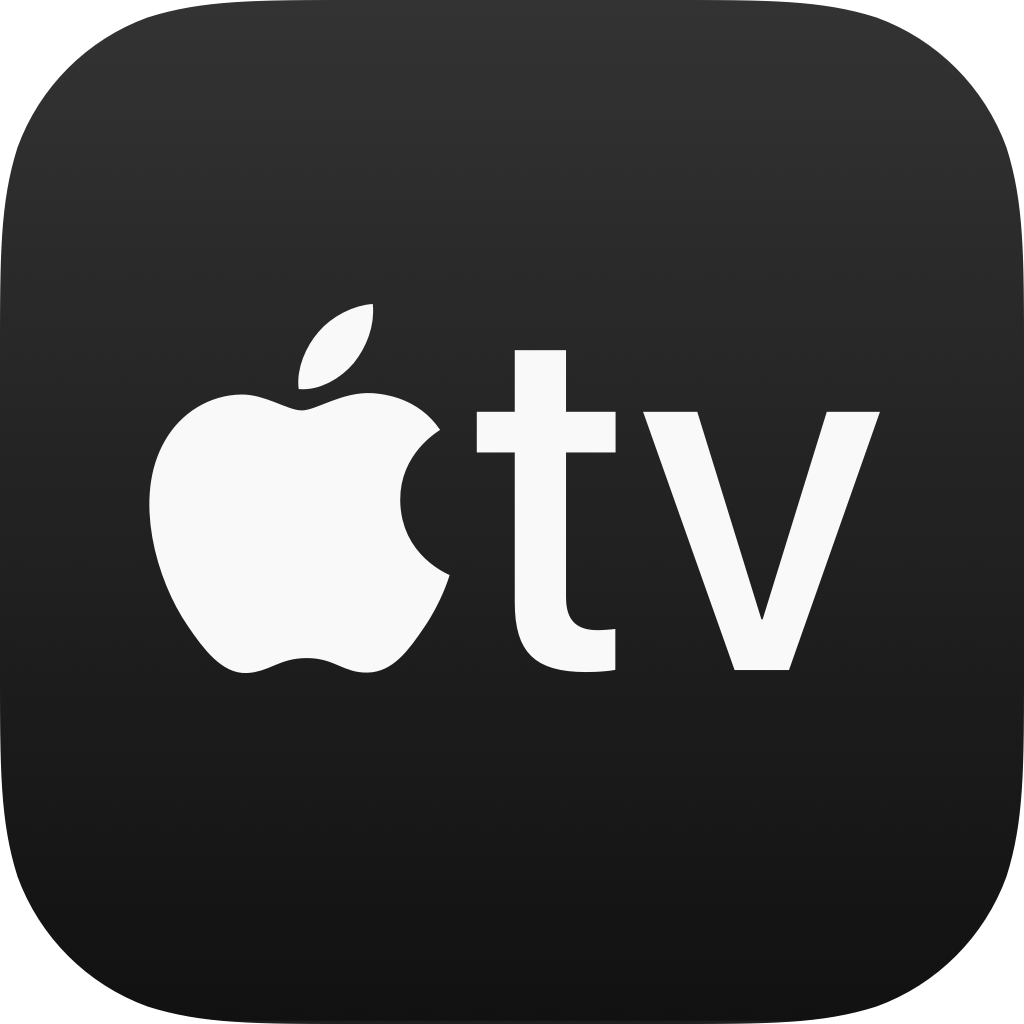 Download Star Wars: The Rise of Skywalker in Digital HD/4K from the iTunes store.
Listen to the Star Wars: The Rise of Skywalker soundtrack on Apple Music.
Star Wars: The Rise of Skywalker images are © Walt Disney Pictures. All Rights Reserved.
Ivanna Sakhno Cast in Star Wars Ahsoka
11/29/2021 5:11 PM EST
Ivanna Sakhno (Pacific Rim: Uprising) has been cast in the upcoming Disney+ series "Star Wars: Ahsoka", a spinoff from "The Mandalorian".Sakhno will star alongside Rosario Dawson and Natasha Liu Bordizzo."Star Wars: Ahsoka" is executive produced by Jon Favreau and Dave Filoni and written by Filoni. Production is set to begin in March 2022....
More>>
Obi-Wan Kenobi Series Confirmed for 2022 Release
11/12/2021 1:47 PM EST
It has been confirmed by Disney that their Obi-Wan Kenobi series will debut on Disney+ next year. There's no word yet on a specific date, however.A sizzle reel shown to the press showed some concept art as well as behind-the-scenes footage with Ewan McGregor and Hayden Christensen. In the footage, McGregor says, "Have another swing at each other, might be quite satisfying for everybody".He added, ...
More>>
Star Wars Rogue Squadron Production Delayed
11/8/2021 3:56 PM EST
"Rogue Squadron", a "Star Wars" film that was slated to be released in December 2023, will now be delayed. It has been removed from Disney's production schedule.Director Patty Jenkins is said to have some scheduling conflicts, so the production that was supposed to start in 2022 won't be happening.Jenkins directed "Wonder Woman" and "Wonder Woman 1984", as well as 2003's "Monster". She also has a ...
More>>
Disney+ Brings Back Hayden Christensen As Anakin Skywalker In Ah...
10/25/2021 9:43 AM EST
Hayden Christensen, the actor who portrayed Jedi Knight, Anakin Skywalker in both Attack of the Clones and Revenge of the Sith. Christensen will return to his role in Ahsoka, the upcoming live-action series on Disney Plus.  The series will star Rosario Dawson as Ahsoka Tano, the former apprentice of Anakin Skywalker.Disney will have to be creative, Christensen's casting in Ahsoka is set around the...
More>>
The Book of Boba Fett Set for a December Release Exclusively on ...
9/29/2021 3:15 PM EST
Disney+ has announced that the new series "The Book of Boba Fett" will be premiering on Wednesday, December 29.The Lucasfilm, Star Wars universe series finds legendary bounty hunter Boba Fett and mercenary Fennec Shand navigating the Galaxy's underworld when they return to the sands of Tatooine to stake their claim on the territory once ruled by Jabba the Hutt and his crime syndicate.Temuera Morri...
More>>
Star Wars: The Empire Strikes (Symphonic Suite from the Original...
8/14/2021 12:53 PM EST
Composer John Williams was born in 1932 in Queens, New York.  Over the span of a seventy-year career, he became a composer, conductor, pianist, and trombonist and has won an astounding twenty-five Grammys.  He has also been nominated for fifty-two Academy awards, placing him just behind Walt Disney for the most Oscar nominations.  His 1977 score for Star Wars was chosen as the greatest film score ...
More>>
Star Wars: The Bad Batch Gets a Season 2 Renewal From Disney+
8/5/2021 2:05 PM EST
"Fans have enthusiastically embraced the action and drama of "Star Wars: The Bad Batch," and we are excited to see the Star Wars animated universe continue to expand on Disney+. As the dedicated streaming home for the Star Wars franchise, we can't wait for the second season of this fan-favorite animated series," said Michael Paull, President of Disney+ and ESPN+.Executive producer Dave Filoni said...
More>>
Loki Writer Michael Waldron to Write New Star Wars Film
1/7/2021 1:44 PM EST
It's being said that Michael Waldron ("Doctor Strange In The Multiverse Of Madness") has been chosen to pen a new "Star Wars" feature film. This would be just one part of the recent deal that Waldron and Walt Disney Studios struck.The writer was also involved in the Disney+ series "Loki", as a head writer and executive producer. There is a chance that this new deal could also bring him back for "L...
More>>
LEGO Star Wars Holiday Special Coming to Disney Plus
10/15/2020 1:12 PM EST
On November 17, Disney+ will be bringing us the "LEGO Star Wars Holiday Special". November 17th is also known as the fan-favorite holiday Life Day first introduced in the 1978 "Star Wars Holiday Special"."The LEGO Star Wars Holiday Special" reunites Rey, Finn, Poe, Chewie, Rose, and the droids for a joyous feast on Life Day. Rey sets off on a new adventure with BB-8 to gain a deeper knowledge of t...
More>>
Black Mirror Director Toby Haynes to Take Over on Rogue One Spinoff
9/23/2020 9:57 AM EST
"Black Mirror's" Tony Haynes has taken over as director for the upcoming Disney+ "Rogue One" spinoff series. Tony Gilroy has departed the project because of travel restrictions that are in place due to COVID-19.Haynes already had connections to the project, as he was going to direct some future episodes. He is also located in the UK, where the series is being shot. The series will follow the backs...
More>>
New Animated Series Star Wars The Bad Batch Coming to Disney Plu...
7/13/2020 1:52 PM EST
Disney+ has announced that they will be adding a new animated series to its lineup - "Star Wars: The Bad Batch". The series will premiere in 2021.The series follows the elite and experimental clones of the Bad Batch (first introduced in "The Clone Wars") as they find their way in a rapidly changing galaxy in the immediate aftermath of the Clone War. Members of Bad Batch - a unique squad of clones ...
More>>
New Star Wars Feature Film Coming from Academy Award Winner Taik...
5/4/2020 1:45 PM EST
It has been announced that Academy Award® winner Taika Waititi will be directing and co-writing a new "Star Wars" feature film for theatrical release. Waititi recently won Best Adapted Screenplay for "Jojo Rabbit" and directed the widely-acclaimed first season finale episode of "The Mandalorian" on Disney+. Academy Award nominee Krysty Wilson-Cairns will co-write with Waititi.In addition, Emmy®-no...
More>>
Star Wars: The Rise of Skywalker 4K Ultra HD Review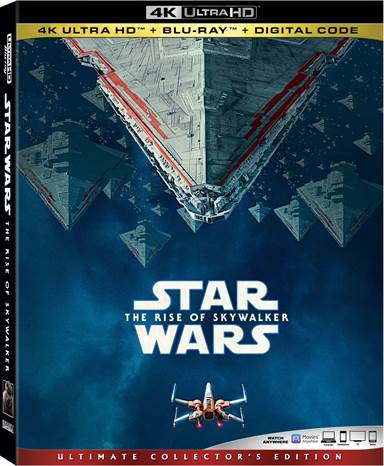 Hardly an introduction is needed. When you are suddenly surrounded by the first triumphant notes of its iconic theme song followed by its inwardly scrolling vertical marquee you already know where you are being transported. To a different universe filled with exotic alien creatures, heroic stories of the past written in an epic war between good and evil. The Skywalker Saga, the center of the Star Wars story, began long ago in a galaxy far, far away and ends with "The Rise Of Skywalker". It's fast-paced. It's fun. It's on as grand a stage and scale in anticipation and execution that a film can achieve. But is it any good?

The story picks up a few years after the end of 'The Last Jedi'. Luke Skywalker has become one with the Force, the resistance is fledgling against The First Order headed now by Supreme leader Kylo Ren. Rey, still searching for her place in all of this as a Jedi, trains with Princess Leia. Out of seemingly nowhere (and with little explanation), the dead Emperor Palpatine has returned. Kylo Ren seeks out the emperor in an effort to usurp his power and influence while simultaneously tempting Rey to join him on the dark side of the force.
Rey, in her quest to understand who she is and what she is meant for, goes on a similar mission to bring down the emperor joined by the "good guys" Poe, Finn, and droids BB-8 and C-3P0. As their paths crisscross across the stars, Rey and Ren share in each other's struggles against the good and evil pulling within both of them, leading to an ultimate showdown with the emperor to decide the fate of the universe.

The bulk of the movie mostly involves a "fetch quest" with the heroes searching for "Sith Holocrons". This, in turn, leads the way to the planet "Exogol" where Palpatine has been hiding along with Sith loyalists who have built him a grand Star Destroyer armada and Army dubbed "The Final Order". Throughout the film we get some great cameos from classic characters (Lando Calrissian, Wedge) and some emotional moments of loss, finding oneself, and ultimate redemption.

As a stand-alone-film, The Rise Of Skywalker is very good. Everything you would want from a big-budget blockbuster is here. Nary a second goes by your eyes and ears aren't delighted to some new planet's scenery coupled with a lightsaber duel or frantic chase through a star destroyer. It is Star Wars through and through. Everything it was meant to be - a fun space adventure kids and adults can enjoy - is here and it's as satisfying.

Put through the larger lens of the entire Star Wars 9 film (!) arc, however, it falls flat. There is no explanation of how Palpatine has returned after seemingly being killed by Darth Vader to complete his character arc in Return of the Jedi. We get a prequel era quote from the emperor "The Dark Side Of The Force Is A Pathway to many abilities some consider to be unnatural" Oh Ok… Snoke, the main villain of the last two films is reduced to a puppet who is seemingly a clone of ...well that isn't explained either. Rey learns of her lineage but it feels forced as opposed to a "wow" moment like learning (spoiler alert!). Vader is Luke's father in The Empire Strikes Back.

What could have been an epic final battle between good and evil is reduced to a couple of voice-overs and a final undoing that is less than climatic. The weight and gravity of the entire saga just isn't there - and with this being "the end"...that's a real shame.
With the 4K technology at its finest, you would expect nothing less than an incredible video quality and you would be right. Every Detail is clean and the black tones are deep and rich. The Dolby Atmos audio certainly does this franchise justice with epic lightsaber battles attaching you from every surround speaker and explosions literally "rocking your world". The dialogue is crisp and John William's score is once again at home in the background of the film.
There are hours of extras (most of which are on the Blu-ray disc) with a few being reserved for Digital HD only. They include:
The Skywalker Legacy
Pasaana Pursuit: Creating the Speeder Chase
Aliens in the Desert
D-O: Key to the Past
Warwick & Son
Cast of Creatures
Digital Exclusives
The Maestro's Finale

A good film that could have been great, The Rise Of Skywalker will both leave you satisfied yet longing for more. Perhaps, with books, action figures, theme parks, and more to keep you occupied within the Star Wars Universe that was the point. Until the next reboot….
"No one is ever really gone" - Luke Skywalker

Grade: A-
-- Eric English
Read More Star Wars: The Rise of Skywalker Reviews
For more reviews please visit our film/television review section.
The story of a generation comes to an end. Watch the D23 Special Look for Star Wars: #TheRiseofSkywa...

The battle between the Jedi and the Sith comes to a thrilling conclusion in this final chapter of th...

Special guest correspondent Miriam Tapia filled in for Allison Rose to ask Naomi Ackie about working...
Daisy talks about Josh visiting the set of Star Wars, Rey's origin, getting questioned by fans, if s...

Check out this special look at how Star Wars has impacted pop culture over 4 decades. See the conclu...

The battle between the Jedi and the Sith comes to a thrilling conclusion in this final chapter of th...
SPONSORED LINKS