Star Wars: Episode III - Revenge of the Sith (2005)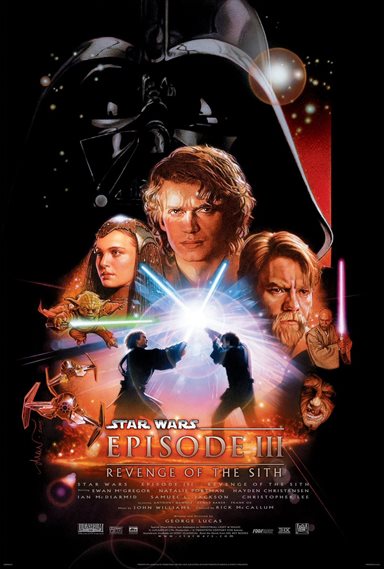 | | |
| --- | --- |
| Director: | |
| Cast: | |
| Released: | Thursday, May 19, 2005 |
| Length: | 138 minutes |
| Studio: | 20th Century Fox |
| Genre: | Sci-Fi/Fantasy, Action/Adventure |
| Rating: | Some material may be inappropriate for children under 13. |
Synopsis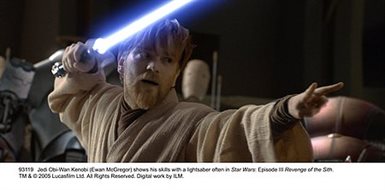 In one of the final battles of the ongoing Clone War Obi wan Kenobi and Anakin Skywalker engage Dooku in attempt to rescue Lord Palpatine. Prodded by Palpatine Anakin beheads an unarmed Dooku to begin his decent to the darkside. Obi-Wan Kenobi is then sent to take down the leader of the droid army, General Grevious, and end the Clone Wars. Meanwhile the secrets of the Dark Side of the Force are too much for Anakin to deny as the Evil Lord Sidious tempts him to turn against his master and his allies.
Purchase your copy of Star Wars: Episode III - Revenge of the Sith today at
Download Star Wars: Episode III - Revenge of the Sith in Digital HD from the iTunes store.
Star Wars: Episode III - Revenge of the Sith images are © 20th Century Fox. All Rights Reserved.


Disney Announces New Rogue One Series for Disney + Streaming Ser...
11/8/2018 10:37 PM EDT
Disney has finally announced the name of its upcoming streaming service. They will be calling it Disney + and it will launch in late 2019.Disney+ will feature original programming as well as existing Disney, Pixar, Marvel and Star Wars properties. After the acquisition of 21st Century Fox is final, the service will also stream programming from National Geographic. The company also announced that o...
More>>
The Crown Star Matt Smith Joins Cast of Star Wars: Episode IX
8/28/2018 3:19 PM EDT
Rumor has it that Matt Smith has signed on to join the cast of Star Wars: Episode IX. Smith is best known for his roles in Doctor Who and The Crown where he played Prince Philip, Duke of Edinburgh and earned a Primetime Emmy nomination for the portrayal.Smith joins a cast that includes Daisy Ridley, John Boyega, Billy Dee Williams, Mark Hamill, Anthony Daniels, Oscar Isaac, Adam Driver, Keri Russe...
More>>
Kelly Marie Tran Writes About Dealing with Online Harassment
8/21/2018 4:30 PM EDT
Kelly Marie Tran, who starred in "Star Wars: The Last Jedi" has taken to the New York Times to write an op-ed about her struggle with harassment she's received through social media. She wrote in the piece that it wasn't easy to deal with, and the fact that she deleted her Instagram account in June after racist and misogynistic comments confirms the difficulties."It wasn't their words, it's that I ...
More>>
Star Wars: Episode IX Begins Production Next Week
7/27/2018 4:45 PM EDT
Star Wars: Episode IX will begin filming next week in London's  Pinewood Studios. On August 1, J.J. Abrams will be returning to work on the final installment of the saga.Returning cast members include Daisy Ridley, Adam Driver, John Boyega, Oscar Isaac, Lupita Nyong'o, Domhnall Gleeson, Kelly Marie Tran, Joonas Suotamo, and Billie Lourd. Joining the cast of Episode IX are Naomi Ackie and Richard E...
More>>
Keri Russell to Join Star Wars Cast
7/9/2018 2:11 PM EDT
Keri Russell is said to be in talks to star in the upcoming "Star Wars: Episode IX". The film will be written and directed by J.J. Abrams, who worked on "Star Wars: The Force Awakens".Russell and Abrams also worked together for the 2006 film "Mission: Impossible III". Through her work with this "MI" and her FX series, "The Americans", Russell has shown that she's up for more of a hands-on film rol...
More>>
Han Solo Film to Debut at Cannes Film Festival
4/6/2018 11:13 AM EDT
It was announced that the Solo: A Star Wars Story film will be premiering at the Cannes Film Festival, which runs from May 8 to May 19.The film, which will debut at the festival on May 15, stars Alden Ehrenreich as Han Solo, Donald Glover as Lando Calrissian, and Emilia Clarke and Woody Harrelson. This isn't the first time a Star Wars film will be debuted at the festival - 2002's Attack of the Clo...
More>>
Jon Favreau to Pen New Star Wars Live-Action Series
3/8/2018 10:34 AM EDT
Lucasfilm has announced that they will be working alongside Jon Favreau for a new live-action Star Wars series. The series, for which Favreau will be a writer, will be part of Disney's new direct-to-consumer platform. "If you told me at 11 years old that I would be getting to tell stories in the Star Wars universe, I wouldn't have believed you. I can't wait to embark upon this exciting adventure",...
More>>
David Benioff and D.B. Weiss to Pen New Star Wars Series of Films
2/6/2018 7:38 PM EDT
David Benioff and D.B. Weiss, the creators of Game of Thrones, will be writing and producing a new series of Star Wars films. The announcement was made today by Disney.Kathleen Kennedy, president of Lucasfilm, said, "David and Dan are some of the best storytellers working today. Their command of complex characters, depth of story and richness of mythology will break new ground and boldly push Star...
More>>
New Star Wars Trilogy Announced with Rian Johnson to Direct
11/9/2017 10:20 PM EDT
Disney CEO Bob Iger has announced that Rian Johnson will be developing a new trio of Star Wars films. An official statement claimed that the new trilogy will  "introduce new characters from a corner of the galaxy that Star Wars lore has never before explored."Lucasfilm president Kathleen Kennedy, said, "We all loved working with Rian on The Last Jedi. He's a creative force, and watching him craft ...
More>>
Colin Trevorrow Leaves Star Wars: Episode IX
9/5/2017 11:52 PM EDT
Lucasfilm has announced that they will be changing directors for left Star Wars: Episode IX. The announcement went as follows:Lucasfilm and Colin Trevorrow have mutually chosen to part ways on Star Wars: Episode IX. Colin has been a wonderful collaborator throughout the development process but we have all come to the conclusion that our visions for the project differ. We wish Colin the best and wi...
More>>
Star Wars Fans Invited to "Find the Force" As Unprecedented Augm...
8/31/2017 12:18 PM EDT
Disney and Lucasfilm announced today that they are releasing "Find the Force", a global augmented reality (AR) event rolling out on Force Friday II (September 1) to commemorate the worldwide launch of new products inspired by "Star Wars: The Last Jedi".Kathleen Kennedy, President of Lucasfilm, commented about the event saying, "Force Friday II is a major milestone in the countdown to Star Wars: Th...
More>>
Disney Developing Obi-Wan Kenobi Film
8/17/2017 3:45 PM EDT
It has been reported that Disney is currently developing an Obi-Wan Kenobi stand alone film with the hope that "Billy Elliot's" Stephen Daldry will direct. There isn't any word on who the writer will be or plot details.Disney is also currently working on a Han Solo film due out May 2018....
More>>
Star Wars: Episode III - Revenge of the Sith Theatrical Review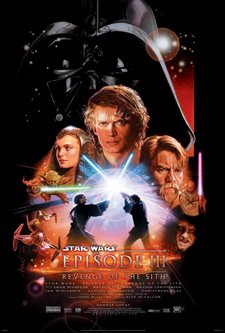 Duality. Good vs. Evil. Light vs. Dark. What series of films better exemplifies these themes than George Lucas' iconic Star Wars? From the moment the infamous "opening crawl" graced the big screen in 1977, Star Wars has captivated audiences with its mixture of action, adventure, spirituality (The Force) and romance. The overarching story focuses on Anakin Skywalker a Jedi Knight (the guardians of peace and justice in the galaxy) who succumbs to the dark side of the force to become the evil Lord Darth Vader. Any child of the 80's can act out the rest of the original trilogy complete with their own light saber sound effects.

Out of a need to explain the back story of one of the most recognizable movie villains of all time Lucas began releasing the "prequels" to the original trilogy in 1997. The first two films ("The Phantom Menace" and "Attack of the Clones") were met by a critical panning and rocking of the core fan base. With the 6th and final film (3rd of the new prequel generation) Lucas transcends his critics of recent years and delivers a forceful punch to complete his outer space saga. In answering the questions which fans have been asking for 30 years he proves that there is still good in Star Wars.

Anakin Skywalker (played by a more mature Hayden Christensen) is now a Jedi. However a secret marriage to his now pregnant wife Padme (miscast, but ravishing Natalie Portman), and a lack of respect (or is it fear of his power) amongst his peers leads him to question his place in the galaxy. His relationship with his mentor Obi Wan Kenobi (a heroic Ewan McGregor) begins to break down when he is denied the rank of "Master" for killing one of the evil Sith Lords Count Dooku (blink and you missed him Christopher Lee). Dreams of the death of wife lead him to seek council from his friend and father figure Chancellor Palpatine (a determined and powerful Ian McDiarmid). After revealing his true identity (is this a secret to anyone?) Palpatine seduces Anakin to use his powers for evil. And boy does he!

The second half of the film surrounds the downfall of Anakin Skywalker into a murderous tyrant aimed and wiping out the Jedi. With the help of "Order 66" (a call to the genetically engineered to follow any orders Clone Troopers) Anakin kills anyone in his path including children. This sequence alone probably warranted the PG-13 rating (every other film in the Star Wars saga has been PG).

The final battle between Obi-Wan and Anakin Skywalker is inter-cut with a battle between the evil Sith Lord Darth Sidious and his sarcastically referred to "little green friend" Yoda (voice of Frank Oz). By far the most intense light saber battle you have ever or will ever witness, the Obi Wan Anakin duel is what the fans have been waiting for and it delivers.

What works
As always Industrial Light and Magic blows us away with outstanding CGI characters, lush living digital landscapes, and sound design worthy of your 6.1 surround system. The effects are complemented by the explosive score of the ever brilliant John Williams. If you thought "Duel of The Fates" was cool wait till you hear "A Hero Falls" Williams virtually defined the power and emotion of what is happening on screen and truly is the heart of the film.

As stated before the final battles are worth the price of admission alone and some credit must go to long time stunt coordinator Nick Gillard (who makes a cameo appearance).

Ewan McGreggor as Obi-Wan Kenobi has been solid throughout the prequels and deserves his top billing in this film. His final plea to bring Anakin back to light side is a highlight of the saga and you can truly see the pain on McGreggors face when Anakin Skywalker truly dies and Darth Vader is born.

Finally unleashed, Lord Sidious shows how truly evil he is. From his slithery light saber duel with Mace (Shaft) Windu in which he ultimately fakes Anakain into killing his friend, to the final showdown with an overmatched and overconfident Yoda. He truly exemplifies the Dark Side of the force.

What doesn't

Natalie Portman was just never the right choice to play the mother of Luke and Leia. While she is fantastic in many other films (Garden State) this genre just seems not suited for her. Her chemistry with Christiensen is non existent which was essential for the less than spectacular lines she was given by Lucas to create a romance between the two. And you left with no real feeling of sadness when she ultimately dies giving birth to Luke and Leia.

General Grievous as a villain who for those who are unfamiliar with "The Clone Wars" cartoon series has an unexplainable hacking cough. Ok, Ok, he's supposed to be some sort of predecessor to Darth Vader (we all know his asthmatic breathing problems) but the cough is neither cool nor necessary and detracts from the character. He has some cool moments (like his light saber duel with Obi-Wan) but Obi Wan made short work of this utterly disposable character.

In the end we are back, figuratively, to the beginning. A circle complete, a changed perception of the man beneath the mask, and one hell-uv-a 6 movie marathon. The saga truly is the story of the good and evil in all of us. Light vs. Dark. Good vs. Evil. Duality.
-- Eric English
For more reviews please visit our film/television review section.
Star Wars: Episode III - Revenge of the Sith images © 20th Century Fox. All Rights Reserved.
SPONSORED LINKS
Comments

Courtesy of
Movie Hype App
soccersebas01
This movie is so good
2/7/2016 7:51 PM EDT
victour
Awesome!!!!!!!!
2/5/2016 8:02 PM EDT
gunner22
Havent watched this in a while but the guy that plays Anakin is thexworst part of any acting ever
11/2/2013 11:45 AM EDT
tez
Star Wars lll
10/15/2013 8:25 PM EDT