Star Wars: Episode III - Revenge of the Sith (2005)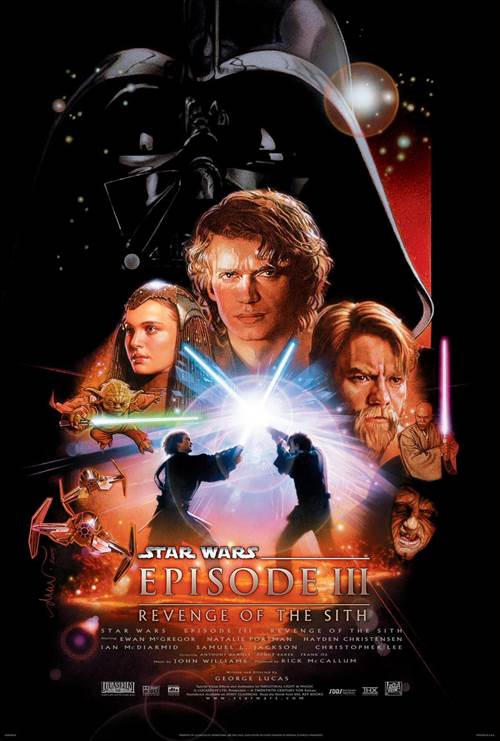 | | |
| --- | --- |
| Director: | |
| Writers: | |
| Cast: | |
| Released: | Thursday, May 19, 2005 |
| Length: | 138 minutes |
| Studio: | 20th Century Fox |
| Genre: | Sci-Fi/Fantasy, Action/Adventure |
| Rating: | Some material may be inappropriate for children under 13. |
Star Wars: Episode III - Revenge of the Sith Synopsis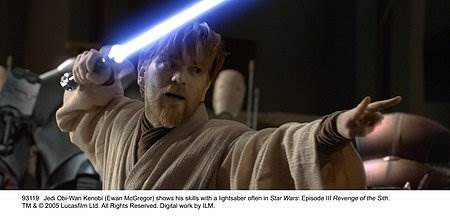 In one of the final battles of the ongoing Clone War Obi wan Kenobi and Anakin Skywalker engage Dooku in attempt to rescue Lord Palpatine. Prodded by Palpatine Anakin beheads an unarmed Dooku to begin his decent to the darkside. Obi-Wan Kenobi is then sent to take down the leader of the droid army, General Grevious, and end the Clone Wars. Meanwhile the secrets of the Dark Side of the Force are too much for Anakin to deny as the Evil Lord Sidious tempts him to turn against his master and his allies.
Star Wars: Episode III - Revenge of the Sith images are © 20th Century Fox. All Rights Reserved.
Cast Announced for Disney+ Series The Acolyte
11/7/2022 10:41 AM EST
Disney+ has announced the cast for their upcoming Star Wars series "The Acolyte". The project hails from Lucasfilm. Joining the previously announced Amandla Stenberg ("The Hate U Give") are Emmy Award-winner Lee Jung-jae ("Squid Game"), Manny Jacinto...
| Full Article
Rogue One: A Star Wars Story Coming to IMAX for Special Event
8/18/2022 3:16 PM EST
Today, Lucasfilm announced that they will be showcasing the feature film "Rogue One: A Star Wars Story" and exclusive, special footage from "Andor,"  Lucasfilm's newest, upcoming series for Disney+, in 150 IMAX theaters across the U.S. and Canada for...
| Full Article
Hayden Christensen Talks Vader in Upcoming Obi-Wan Series
3/10/2022 4:01 PM EST
In May, we will finally get to see the much anticipated Disney+ series "Obi-Wan Kenobi". The series will mark the return of "Star Wars" film stars Ewan McGregor and Hayden Christensen, both set to reprise their roles as Obi-Wan Kenobi and Anakin Skyw...
| Full Article
The Book of Boba Fett Begins Wednesday December 29 on Disney Plus
12/27/2021 1:49 PM EST
Just a reminder for all you Star Wars fans that "The Book of Boba Fett" will be premiering on Disney+ this Wednesday, December 29."The Book of Boba Fett," a thrilling Star Wars adventure teased in a surprise end-credit sequence following the Season 2...
| Full Article
Book of Boba Fett Red Carpet Premier Postponed
12/22/2021 3:05 PM EST
Due to the rise of Covid cases, the red carpet premier of Disney Plus' "The Book of Boba Fett" has been postponed."Out of an abundance of caution, we will be postponing the 'Boba Fett' fan event. It will be relocated to the 8th of February in celebra...
| Full Article
Ivanna Sakhno Cast in Star Wars Ahsoka
11/29/2021 5:11 PM EST
Ivanna Sakhno (Pacific Rim: Uprising) has been cast in the upcoming Disney+ series "Star Wars: Ahsoka", a spinoff from "The Mandalorian".Sakhno will star alongside Rosario Dawson and Natasha Liu Bordizzo."Star Wars: Ahsoka" is executive produced by J...
| Full Article
Obi-Wan Kenobi Series Confirmed for 2022 Release
11/12/2021 1:47 PM EST
It has been confirmed by Disney that their Obi-Wan Kenobi series will debut on Disney+ next year. There's no word yet on a specific date, however.A sizzle reel shown to the press showed some concept art as well as behind-the-scenes footage with Ewan ...
| Full Article
Star Wars Rogue Squadron Production Delayed
11/8/2021 3:56 PM EST
"Rogue Squadron", a "Star Wars" film that was slated to be released in December 2023, will now be delayed. It has been removed from Disney's production schedule.Director Patty Jenkins is said to have some scheduling conflicts, so the production that ...
| Full Article
Disney+ Brings Back Hayden Christensen As Anakin Skywalker In Ah...
10/25/2021 9:43 AM EST
Hayden Christensen, the actor who portrayed Jedi Knight, Anakin Skywalker in both Attack of the Clones and Revenge of the Sith. Christensen will return to his role in Ahsoka, the upcoming live-action series on Disney Plus.  The series will star Rosar...
| Full Article
The Book of Boba Fett Set for a December Release Exclusively on ...
9/29/2021 3:15 PM EST
Disney+ has announced that the new series "The Book of Boba Fett" will be premiering on Wednesday, December 29.The Lucasfilm, Star Wars universe series finds legendary bounty hunter Boba Fett and mercenary Fennec Shand navigating the Galaxy's underwo...
| Full Article
Star Wars: The Empire Strikes (Symphonic Suite from the Original...
8/14/2021 12:53 PM EST
Composer John Williams was born in 1932 in Queens, New York.  Over the span of a seventy-year career, he became a composer, conductor, pianist, and trombonist and has won an astounding twenty-five Grammys.  He has also been nominated for fifty-two Ac...
| Full Article
Star Wars: The Bad Batch Gets a Season 2 Renewal From Disney+
8/5/2021 2:05 PM EST
"Fans have enthusiastically embraced the action and drama of "Star Wars: The Bad Batch," and we are excited to see the Star Wars animated universe continue to expand on Disney+. As the dedicated streaming home for the Star Wars franchise, we can't wa...
| Full Article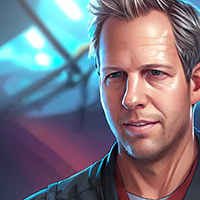 Movie / Film Review
Duality. Good vs. Evil. Light vs. Dark. What series of films better exemplifies these themes than George Lucas' iconic Star Wars? From the moment the infamous "opening crawl" graced the big screen in 1977, Star Wars has captivated audiences with its mixture of action, adventure, sp...
SPONSORED LINKS