LEGO Star Wars Holiday Special (2020)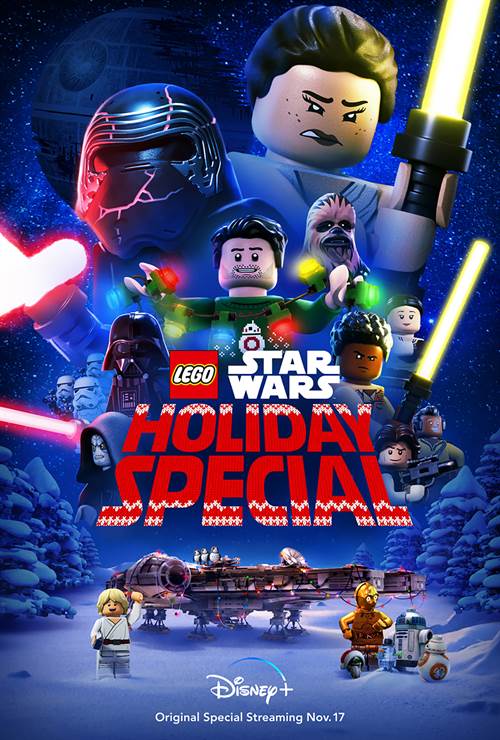 Share this:
| | |
| --- | --- |
| Director: | |
| Writers: | |
| Cast: | |
| Released: | Tuesday, November 17, 2020 |
| Length: | 44 minutes |
| Studio: | Walt Disney Pictures |
| Genre: | Family, Animation |
| Rating: | General audiences. All ages admitted. |
Synopsis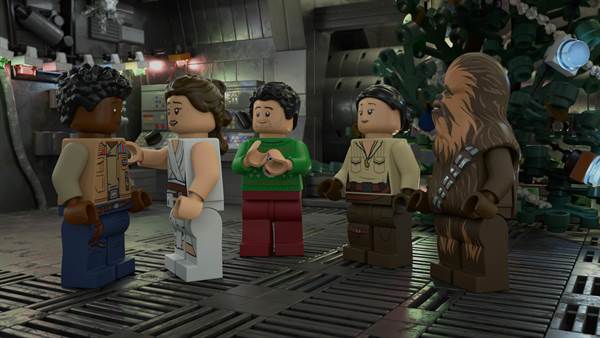 "The LEGO Star Wars Holiday Special" reunites Rey, Finn, Poe, Chewie, Rose and the droids for a joyous feast on Life Day. Rey sets off on a new adventure with BB-8 to gain a deeper knowledge of the Force. At a mysterious Jedi Temple, she is hurled into a cross-timeline adventure through beloved moments in Star Wars cinematic history, coming into contact with Luke Skywalker, Darth Vader, Yoda, Obi-Wan and other iconic heroes and villains from all nine Skywalker saga films. But will she make it back in time for the Life Day feast and learn the true meaning of holiday spirit?
Listen to the LEGO Star Wars Holiday Special soundtrack on Apple Music.
LEGO Star Wars Holiday Special images are © Walt Disney Pictures. All Rights Reserved.
Ivanna Sakhno Cast in Star Wars Ahsoka
11/29/2021 5:11 PM EST
Ivanna Sakhno (Pacific Rim: Uprising) has been cast in the upcoming Disney+ series "Star Wars: Ahsoka", a spinoff from "The Mandalorian".Sakhno will star alongside Rosario Dawson and Natasha Liu Bordizzo."Star Wars: Ahsoka" is executive produced by Jon Favreau and Dave Filoni and written by Filoni. Production is set to begin in March 2022....
More>>
Obi-Wan Kenobi Series Confirmed for 2022 Release
11/12/2021 1:47 PM EST
It has been confirmed by Disney that their Obi-Wan Kenobi series will debut on Disney+ next year. There's no word yet on a specific date, however.A sizzle reel shown to the press showed some concept art as well as behind-the-scenes footage with Ewan McGregor and Hayden Christensen. In the footage, McGregor says, "Have another swing at each other, might be quite satisfying for everybody".He added, ...
More>>
Star Wars Rogue Squadron Production Delayed
11/8/2021 3:56 PM EST
"Rogue Squadron", a "Star Wars" film that was slated to be released in December 2023, will now be delayed. It has been removed from Disney's production schedule.Director Patty Jenkins is said to have some scheduling conflicts, so the production that was supposed to start in 2022 won't be happening.Jenkins directed "Wonder Woman" and "Wonder Woman 1984", as well as 2003's "Monster". She also has a ...
More>>
Disney+ Brings Back Hayden Christensen As Anakin Skywalker In Ah...
10/25/2021 9:43 AM EST
Hayden Christensen, the actor who portrayed Jedi Knight, Anakin Skywalker in both Attack of the Clones and Revenge of the Sith. Christensen will return to his role in Ahsoka, the upcoming live-action series on Disney Plus.  The series will star Rosario Dawson as Ahsoka Tano, the former apprentice of Anakin Skywalker.Disney will have to be creative, Christensen's casting in Ahsoka is set around the...
More>>
The Book of Boba Fett Set for a December Release Exclusively on ...
9/29/2021 3:15 PM EST
Disney+ has announced that the new series "The Book of Boba Fett" will be premiering on Wednesday, December 29.The Lucasfilm, Star Wars universe series finds legendary bounty hunter Boba Fett and mercenary Fennec Shand navigating the Galaxy's underworld when they return to the sands of Tatooine to stake their claim on the territory once ruled by Jabba the Hutt and his crime syndicate.Temuera Morri...
More>>
Star Wars: The Empire Strikes (Symphonic Suite from the Original...
8/14/2021 12:53 PM EST
Composer John Williams was born in 1932 in Queens, New York.  Over the span of a seventy-year career, he became a composer, conductor, pianist, and trombonist and has won an astounding twenty-five Grammys.  He has also been nominated for fifty-two Academy awards, placing him just behind Walt Disney for the most Oscar nominations.  His 1977 score for Star Wars was chosen as the greatest film score ...
More>>
Star Wars: The Bad Batch Gets a Season 2 Renewal From Disney+
8/5/2021 2:05 PM EST
"Fans have enthusiastically embraced the action and drama of "Star Wars: The Bad Batch," and we are excited to see the Star Wars animated universe continue to expand on Disney+. As the dedicated streaming home for the Star Wars franchise, we can't wait for the second season of this fan-favorite animated series," said Michael Paull, President of Disney+ and ESPN+.Executive producer Dave Filoni said...
More>>
Loki Writer Michael Waldron to Write New Star Wars Film
1/7/2021 1:44 PM EST
It's being said that Michael Waldron ("Doctor Strange In The Multiverse Of Madness") has been chosen to pen a new "Star Wars" feature film. This would be just one part of the recent deal that Waldron and Walt Disney Studios struck.The writer was also involved in the Disney+ series "Loki", as a head writer and executive producer. There is a chance that this new deal could also bring him back for "L...
More>>
LEGO Star Wars Holiday Special Coming to Disney Plus
10/15/2020 1:12 PM EST
On November 17, Disney+ will be bringing us the "LEGO Star Wars Holiday Special". November 17th is also known as the fan-favorite holiday Life Day first introduced in the 1978 "Star Wars Holiday Special"."The LEGO Star Wars Holiday Special" reunites Rey, Finn, Poe, Chewie, Rose, and the droids for a joyous feast on Life Day. Rey sets off on a new adventure with BB-8 to gain a deeper knowledge of t...
More>>
Black Mirror Director Toby Haynes to Take Over on Rogue One Spinoff
9/23/2020 9:57 AM EST
"Black Mirror's" Tony Haynes has taken over as director for the upcoming Disney+ "Rogue One" spinoff series. Tony Gilroy has departed the project because of travel restrictions that are in place due to COVID-19.Haynes already had connections to the project, as he was going to direct some future episodes. He is also located in the UK, where the series is being shot. The series will follow the backs...
More>>
New Animated Series Star Wars The Bad Batch Coming to Disney Plu...
7/13/2020 1:52 PM EST
Disney+ has announced that they will be adding a new animated series to its lineup - "Star Wars: The Bad Batch". The series will premiere in 2021.The series follows the elite and experimental clones of the Bad Batch (first introduced in "The Clone Wars") as they find their way in a rapidly changing galaxy in the immediate aftermath of the Clone War. Members of Bad Batch - a unique squad of clones ...
More>>
New Star Wars Feature Film Coming from Academy Award Winner Taik...
5/4/2020 1:45 PM EST
It has been announced that Academy Award® winner Taika Waititi will be directing and co-writing a new "Star Wars" feature film for theatrical release. Waititi recently won Best Adapted Screenplay for "Jojo Rabbit" and directed the widely-acclaimed first season finale episode of "The Mandalorian" on Disney+. Academy Award nominee Krysty Wilson-Cairns will co-write with Waititi.In addition, Emmy®-no...
More>>
LEGO Star Wars Holiday Special Review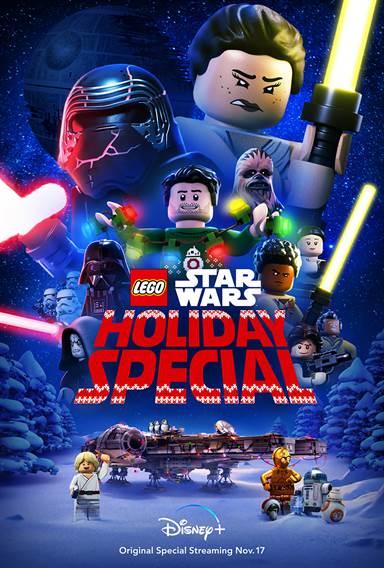 Star Wars is so much more than just a series of films produced over four decades. It is a multi-million-dollar franchise and a culture all its own. It has nine core movies, numerous spin-off films, cartoons, toys, books, television series, videogames, dolls and so much more. Lego toys are almost three decades older than the Star Wars films but just like the movies, the little plastic pieces have a subculture of enthusiasts leading to numerous merchandising opportunities. When the two powerhouses team up to create a stop motion holiday special, expectations are high. Luckily, fans who subscribe to Disney+ will be able to enjoy this forty-five-minute adventure beginning today.
Just like the 1978 Star Wars Holiday Special, the group is getting ready to celebrate life day. However, this new version includes the stars from the most recent sequels, including Rey (Helen Sadler; True Blood), Finn (uncredited), Poe (Jake Green; The Catch), and BB-8. As the movie begins, we see Rey and Finn both becoming very frustrated because as much as Rey, a Jedi Master, tries Finn isn't able to break through to master the skills of a Jedi. Even after consulting all the ancient texts, Rey can't seem to find the answer as to how to help Finn harness and control the force.
As the crew of the Millennium Falcon prepares for the party, Rey learns that she must leave to find the answers she seeks in a hidden temple. Once there, she discovers an object that allows her to travel between time and space. At first, she is a little confused by what is happening but then she realizes, by watching former Jedi Masters training their pupils, she can learn how to train Finn in the ways of the force. Suddenly, Rey is popping in and out of time and place watching and learning. However, when Darth Vader (Matt Sloan; Chad Vader: Day Shift Manager) follows her and takes the object, all hell breaks loose forcing Rey to fight him so she can put everything back in order.
While the cast is very good for the most part, some of the voices don't sound like the original characters while others are spot on. Of course, in the cases of C-3PO (Anthony Daniels; Square Deal), Lando Calrissian (Billy Dee Williams; Diary of a Single Mom), and Rose Tico (Kelly Marie Tran; Sorry for Your Loss), the real actors from the films voiced their Lego versions. Thus, lending even more legitimacy to the project.
As Rey jumps through time, we see references/snippets from all nine movies in the saga, as well as some other poignant instances, which Star Wars fans will undoubtedly recognize. Small children likely won't understand many of these moments and references but they will enjoy the story and the characters, nonetheless. In terms of the Holiday theme, other than some decoration and cheesy/ugly holiday sweaters, there isn't much of a holiday feel to the film, almost as if the holiday idea was an afterthought.
Despite the lack of true holiday spirit and some confusing time jump moments, The LEGO Star Wars Holiday Special has some great references, a few good one-liners, some well-placed character cameos, and moments that will make the adults in the room laugh and applaud. (Since I don't want to give anything away, I won't reveal any spoilers). If you enjoy the Star Wars franchise, you definitely need to watch this special, even if you only watch it once. The writers incorporated the other films almost seamlessly, if only in just brief glances.
Even though the idea behind this special is for little kids to enjoy, the adults in the room won't be bored as there are plenty of "nuggets" for more mature audience members to laugh at and reminisce.
You can watch The LEGO Star Wars Holiday Special starting today, November 17th, 2020, on Disney+
Grade: B

For more reviews please visit our film/television review section.
"The LEGO Star Wars Holiday Special" reunites Rey, Finn, Poe, Chewie, Rose and the droids for a joyo...
SPONSORED LINKS