David Warshofsky
The Master (2012)
Haunted by his past, WW-II veteran and drifter Freddie Quell crosses paths with a mysterious movement called The Cause, led by Lancaster Dodd, aka The Master, and his wife Peggy. Their twisted relationship...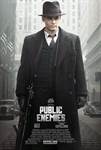 Public Enemies (2009)
No one could stop Dillinger and his gang. No jail could hold him. His charm and audacious jailbreaks endeared him to almost everyone - from his girlfriend Billie Frechette (Cotillard) to an American public...