Derek Luke
13 Reasons Why (2017)
The late Hannah Baker explains why she committed suicide to her high school peers through a collection of cassette tapes she left behind.
Miracle at St. Anna (2008)
The story of four black American soldiers who are members of the US Army as part of the all-black 92nd "Buffalo Soldier" Division stationed in Tuscany, Italy during World War II. They experience...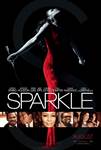 Sparkle (2012)
Musical prodigy, Sparkle (Jordin Sparks) struggles to become a star while overcoming issues that are tearing her family apart. From an affluent Detroit area and daughter to a single mother (Whitney Houston),...