Search Results For Joanna Cassidy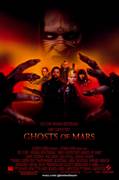 Ghosts of Mars (2001)
Carpenter's Ghosts of Mars is a harrowing tale of rescue and escape from a colonized Mars 175 years into the future. Mars, 2176 AD. Long inhabited by human settlers, has become the dark and...
Who Framed Roger Rabbit (1988)
It's 1947 Hollywood, and Eddie Valiant (Bob Hoskins), a down-on-his-luck detective, is hired to find proof that Marvin Acme, gag factory mogul and owner of Toontown, is playing hanky-panky with femme...