Joe Grifasi
13 Going on 30 (2004)
This comedy fantasy is about a gawky girl, Jenna, who is picked on by her peers and classmates for being too eager to be liked and popular. Locked in a closet on her 13th birthday (after an embarassing...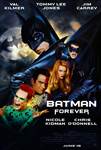 Batman Forever (1995)
Riddle me this, riddle me that, you'll adventure on the wings of bat! Brace for excitement as Val Kilmer (Batman), Tommy Lee Jones (Two-Face), Jim Carrey (the Riddler), Nicole Kidman (Dr. Chase Meridian)...