Nick Lathouris Furiosa (2024)
No synopsis is available.Download the Movie Hype App to be alerted when it is.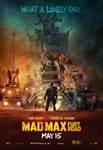 Mad Max: Fury Road (2015)
Haunted by his turbulent past, Mad Max believes the best way to survive is to wander alone. Nevertheless, he becomes swept up with a group fleeing across the Wasteland in a War Rig driven by an elite Imperator,...