Stephen Herek
101 Dalmatians (1996)
Unleashing every ounce of Disney magic, 101 Dalmatians thrilled audiences of all ages with fast-paced adventure and comedy featuring a brilliant performance by five-time Academy Award nominee Glenn Close...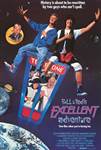 Bill & Ted's Excellent Adventure (1989)
Bill (Alex Winter) and Ted (Keanu Reeves) have spent so much time forming their rock band that they're flunking history. Ted's dad threatens to send him to military school if he doesn't pass. Luckily,...