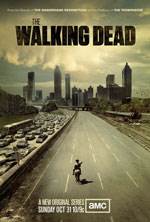 New York, NY/Los Angeles, CA - October 25, 2010 - In anticipation of the premiere of AMC's new drama series, "The Walking Dead," on Sunday October 31 at 10 p.m., AMC and FOX international networks plan to stage a worldwide zombie invasion stunt. "The Walking Dead's" international broadcaster, Fox International Channels (FIC), will kick-off the stunts with overseas invasions beginning at daybreak in Taipei and Hong Kong on Tuesday, October 26, and moving across the globe where the stunt culminates at the show's Los Angeles premiere.

A week prior to the unprecedented global premiere of the show, AMC and FIC have planned to target one day multi-city events that will occur during morning commute peak hours. Taking direction from "The Walking Dead's" legendary make-up artist Greg Nicotero, hundreds of zombies will consecutively take over major cities worldwide during a 24-hour period. The planned global outbreaks will center in and around the world's major landmarks, including the Brooklyn Bridge in New York City, the Lincoln Memorial in Washington D.C., Big Ben in London, the Prado Museum in Madrid, the Bosphorus Bridge in Istanbul, the Acropolis in Athens and more. They will begin at daybreak in Taipei and Hong Kong, followed by Istanbul, Madrid, Munich, London, Sao Paolo, Buenos Aires, New York City and Los Angeles, among others. Attacking a total of 26 cities, each outbreak will be documented and shared with fans the world over as it happens.


"The Walking Dead" Global Zombie Invasion Attacks

New York City, USA
Washington DC, USA
Boston, USA
Chicago, USA
San Francisco, USA
Los Angeles, USA
Taipei, Taiwan
Hong Kong
Istanbul, Turkey
Athens, Greece
Sofia, Bulgaria
Estonia, Tallinn
Belgrade, Serbia
Munich, Germany
Madrid, Spain
Rome, Italy
Johannesburg, S. Africa
London, UK - Westminster
Lisbon, Portugal
Sao Paolo, Brazil
Buenos Aires, Argentina
Santiago, Chile
Caracas, Venezuela
Bogota, Colombia
Mexico City, Mexico
Guatemala City, Guatemala

"The Walking Dead" premieres on AMC on Halloween, Sunday, October 31 at 10 p.m. ET/9 p.m. For the first time ever, the series will begin to premiere globally a few hours after AMC's U.S. launch. Similar to a theatrical film release, all FIC markets will launch the first episode during the same week, before the release of the second episode in the US. "The Walking Dead" will debut in 120 countries, air in 33 languages and be viewed in 250 million households when it premieres.

"The Walking Dead", AMC's original series, is based on the comic book series written by Robert Kirkman and published by Image Comics. Kirkman serves as an executive producer on the project and three-time Academy Award-nominee Frank Darabont (The Shawshank Redemption, The Green Mile) serves as writer, director and executive producer. Gale Anne Hurd (The Terminator, Aliens, Armageddon, The Incredible Hulk), chairman of Valhalla Motion Pictures, serves as Executive Producer. David Alpert from Circle of Confusion serves as Executive Producer. Charles "Chic" Eglee (Dexter, The Shield, Dark Angel) serves as Executive Producer.

About AMC
AMC reigns as the only network to ever win the Golden Globe® Award for Best Television Series - Drama three years in a row and the only basic cable network to win back-to-back Primetime Emmy® Awards for Outstanding Drama Series. Whether commemorating favorite films from every genre and decade from the most comprehensive library or creating acclaimed original productions, the AMC experience is an uncompromising celebration of great stories. AMC's original stories include the Emmy® Award-winning dramas Mad Men and Breaking Bad, and insightful non-scripted programming such as AMC News. AMC further demonstrates its commitment to the art of storytelling with curated movie franchises like AMC Hollywood Icon and AMC Complete Collection. Available in more than 95 million homes (Source: Nielsen Media Research), AMC is a subsidiary of Rainbow Media Holdings LLC, which includes sister networks IFC, Sundance Channel, WE tv and Wedding Central. AMC is available across all platforms, including on-air, online, on demand and mobile. AMC: Story Matters HereSM.