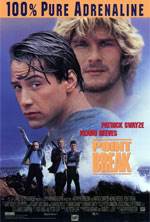 There could possibly be a Point Break remake on the horizon. This wouldn't be the first time that a comeback was planned for the film. In 2007, a sequel was planned, but due to the health and subsequent death of Patrick Swayze, the project fell by the wayside.

Now, there are reports surfacing that a remake of the film, not a sequel, is in the works. Very few details are available, but supposedly Singapore based producers RGM Entertainment are behind the project and are currently developing a script with write Kurt Wimmer. Wimmer wrote films Salt, Total Recall, The Thomas Crowne Affair.

No word yet on who will be asked to star in the film or who will direct.