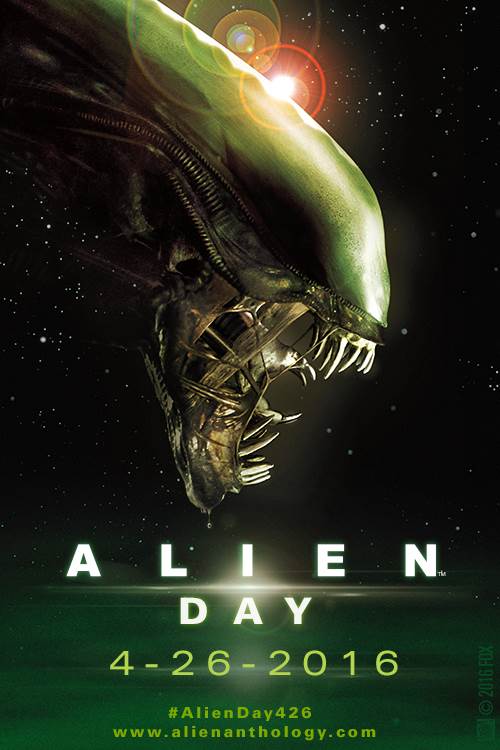 On April 26, Twentieth Century Fox Consumer Products announced today a global celebration of the Alien franchise culminating with a special 24 hour, fan-focused social media event. The event, Alien Day (#AlienDay426), will include nationwide screenings, never-before-seen consumer product activations and the kickoff of the Alien: Ultimate Trivia Challenge, allowing fans to test their ALIEN knowledge - with the chance to win memorable prizes every 42.6 minutes on Twitter.

A particular item of interest will, of course, be the merchandising. Fans will be clamoring for event specific wares, and won't be disappointed. One of the most exciting releases will be the Reebok Alien Stomper Sneakers. Reebok will release an exact replica of the Alien High-Top Stompers worn by Sigourney Weaver as Ellen Ripley. They will also be releasing the mid top version worn by Lance Henrikson as the Android Bishop, and will be released by Reebok in limited edition to mark Alien Day. The iconic movie sneakers will be available beginning April 26th at Reebok.com and select Reebok stores worldwide.

In addition, the Alamo Drafthouse is producing a nationwide screening program on April 26th returning the Alien franchise to theaters across the country. In over 20 cities, including Austin, New York, Los Angeles and Dallas, participating Alamo locations as well as partner venues will showcase a double-feature presentation of Alien and Aliens. In Alamo locations, each pre-ordered ticket includes a Mondo-designed Alien T-shirt, released exclusively for the event screenings. Additionally, the screenings will be accompanied by exclusive Alien merchandise-including apparel, accessories, posters and records-from pop-culture company Mondo. Tickets go on sale tomorrow, to find a full list of participating theaters, visit http://AlamoAliens.com.

Also, don't forget - the highly-anticipated Alien: Covenant, directed by Ridley Scott and starring Michael Fassbender, will be released in August 2017 by Twentieth Century Fox.