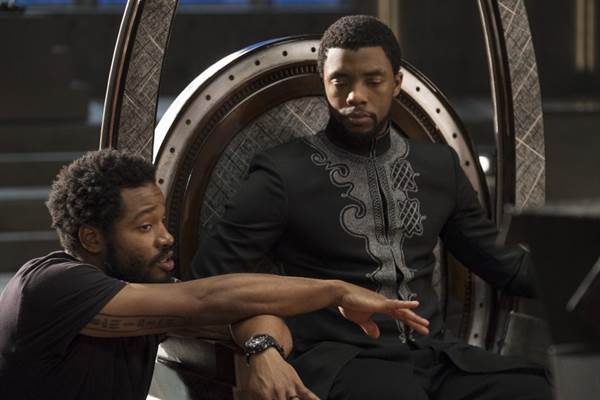 This past Tuesday, November 27th, 2018, Black Panther returned to theaters for a special screening for Giving Tuesday at nonprofit art-house theaters nationwide. This release was presented by Film Comment, a publication of the Film Society of Lincoln Center, and was supported by the Art House Convergence. After the film, a live-streamed Q&A with director Ryan Coogler was broadcast to the theaters where audiences members could ask Ryan anything in real time about the film (except the sequel).
Some of the things covered in the discussion with Ryan Coogler was the following:
The backstory at the beginning of the film wasn't thought of until late in the game. Some final cuts didn't even have that scene included.
The film was a team effort. He looked for the best people and used them. Coogler would not take credit alone for the final product.
Marvel has stated they want the character of The Black Panther to be Marvel's version of James Bond. One thing Coogler noticed about James Bond was locations were important and South Korea played a big part in the film for that reason.
Coogler lived for art houses cinema when he was young. He would take long drives just to find one because he loved how films were presented in them - always have their own identity and unique look.
Each budget he has had for every film he has done, Fruitvale Station, Creed, and Black Panther always was not a worry and it allowed him to just concentrate on story and filming.
He stated that if someone asked Coogler during Fruitvale Station if he was interested in doing Black Panther he would have told them to take a hike. Each movie he is completely devoted to and in "the zone"
He is still learning today on every film. Some of the things he learned on each film he carried over to the next. Some of the themes and camera angles from Fruitvale Station were carried over to Creed then Black Panther. He also said to him he is still telling the same story, just getting better at t
A question was asked about his 2-3 biggest challenges working on a large budget film. His answer - stamina for 14-16 hour days. Uprooting everyone's lives to make the film happen. When working with so many actors at once, making sure every actor and actresses needs were taken care of was a challenge and a priority.
The Killmonger (Michael B. Jordan; Creed) character was always designed to have an audience have empathy for him. He is also described by Coogler as being one side of a coin, the other side was T'Challa (Chadwick Boseman; Gods of Egypt)
With Black Panther taking on social issues and being different in tone from the rest of the MCU was a bit of a concern. However, Disney was supportive of the film from script level all the way to the final cut. They were ok with the undertones. Coogler was shocked when this happened because he didn't know the studio too well yet. Now that he has gotten to know Disney he expects them to allow certain elements.
The production office was littered with panels from the Black Panther comics. One artist, in particular, came in one night and saw his panels on the wall. With no one looking he went and signed all his artwork. The next morning the production staff was so excited they started ripping down some of the artwork to take home and put in frames.
Sylvester Stallone taught Coogler during the production of Creed that action films, just like musicals, need to move the story along during their respective action or a musical sequence. No action sequence should ever be put in for the sake of it.
One of the final questions asked got a little political - "Does the role of the superhero give therapy (a release) to people during these polarizing political times." Coogler responded he is unsure because we are living it right now. However, he can look back at films of the 1970s and definitely see how they fit the time period and politics of that time. This could be the same with Superhero films in the future, but right now he just isn't sure.
No questions were allowed to be asked about Black Panther 2 or anything about any other upcoming Marvel Cinematic Universe films, however all-in-all it was a very fun discussion that brought much insight into the filming of the amazing and hopefully Oscar-winning film, Black Panther.