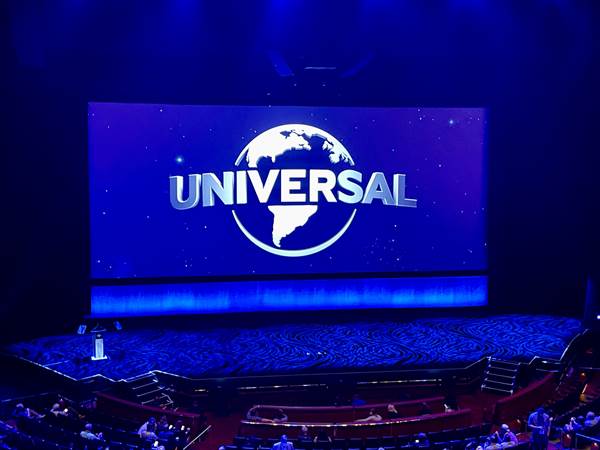 Day three of Cinemacon brought out some real treats for the convention goers. The morning started off with an early breakfast, before a presentation by Neon on their upcoming slate of films for 2021 which included Titane, Flee, and Spencer. The one film highlighted most was Spencer, a story of Princess Diana, with Kristen Stewart (Adventureland). Aside from the trailer they showed a clip from the film which demonstrated Kristen Stewart's amazing acting skills. The film is being released on November 5th, 2021, and is directed by Pablo Larraín (Jackie). If Jackie and the short clip that was previewed are any indications, Spencer, will certainly be up for an Oscar next year.
Following the Neon breakfast presentation, Cinemacon attendees were invited to Celine Dion's Colosseum to watch a special screening of the latest Marvel film coming to theaters this labor day weekend, Shang-Chi and the Ten Rings. The film was certainly a treat for the Cinemacon audience and received thunderous applause when it was finished. If you would like to read our take on Shang-Chi and the Ten Rings please visit our review section.
Throughout the rest of the day trade show floors were open, new popcorn bucket designs were shown off, a bounty of candy was available to be sampled, and meetings were held behind closed doors to discuss how to get the industry back to the place it was in 2019.
Rounding out the day was a presentation from Universal Studios and Focus Features. This included new footage from Halloween Kills, a look at Sing 2, a darker/ horror-like trailer for Last Night in Soho, a new Blumhouse film entitled The Black Phone, brand new footage cut specially for Cinemacon was show for the Viking action/thriller Northman, a Jay-Lo musical called Mary Me co-starring Owen Wilson (Loki), and a film that will most likely be mentioned in the awards circuit for 2021, Dear Evan Hanson. To everyone's pleasant surprise a behind-the-scenes look was shown for next year's blockbuster film, Jurassic Park: Dominion.
Immediately following the presentation was an evening social event sponsored by Moviefone at the Omnia Night club at Cesar's Palace in Las Vegas.
Be sure to tune into FlickDirect's Twitter channel (@flickdirect) today for the final day of our live coverage from Cinemacon 2021.