Loki (2021)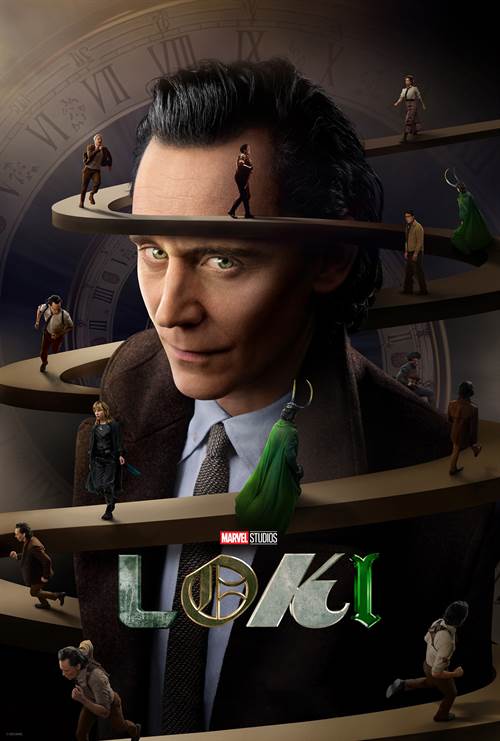 Share this:
| | |
| --- | --- |
| Director: | |
| Writers: | |
| Cast: | |
| Air Date: | Wednesday, June 9, 2021 |
| Studio: | Walt Disney Pictures |
| Genre: | Television |
| Rating: | This Television Show Is Not Yet Rated |
Synopsis
Marvel Studios' "Loki" features the God of Mischief as he steps out of his brother's shadow in a new Disney+ series that takes place after the events of "Avengers: Endgame." Tom Hiddleston returns as the title character, joined by Owen Wilson, Gugu Mbatha-Raw, Sophia Di Martino, Wunmi Mosaku, and Richard E. Grant. Kate Herron directs "Loki," and Michael Waldron is head writer.
Loki images are © Walt Disney Pictures. All Rights Reserved.
Disney+ Renews Loki for a Second Season
7/14/2021 9:39 AM EST
Marvel's "Loki" has been renewed for a second season on Diseny+. The announcement was made mid-credits in the Season 1 finale where we see Loki's case file stamped with the words "Loki will return in season 2."The series stars Tom Hiddleston, who has now played the character for a decade, Owen Wilson, Gugu Mbatha-Raw, Sophia Di Martino, Wunmi Mosaku, and Richard E. Grant.This would mark the first ...
More>>
Marvel Releases Love Letter To The MCU and Teases Phase Four
5/3/2021 3:39 PM EST
Today, Marvel Studios released a sizzle reel, narrated by Stan Lee, that gives fans a look back at what has happened in the Marvel Cinematic Universe as well as what's to come in phase four.Aside from the trailers that have already been released in the recent weeks for the Marvel Cinematic Universe, viewers are also treated to their first look at footage from Eternals starring Angelina Jolie (whic...
More>>
Loki and Star Wars The Bad Batch Among New Series Coming Soon to...
2/24/2021 4:35 PM EST
Disney+ has announced their lineup of programming for the next few months, including more "star Wars" and Marvel content."Star Wars: The Bad Batch" will premiere on May 4 ("May the Fourth Be With You"). It follows the story of the experimental clones of the Bad Batch in the aftermath of the Clone War."Loki" will make its debut on June 11. The series will star Tom Hiddleston and will take place aft...
More>>
Loki Review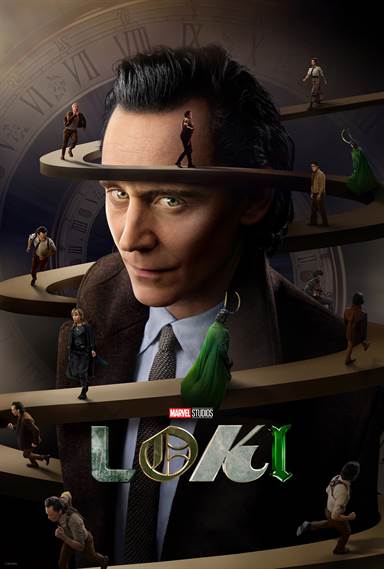 Marvel Studios always seem to have a plan when it comes to the MCU and all the characters in it. After Avengers: Endgame they moved into a whole new phase, including more movies and limited series television shows. These shows highlight some of the characters who never really got their moments onscreen. Premiering on Disney+, the first two shows, WandaVision and The Falcon and the Winter Soldier, were praised by critics and loved by most of the fans of the MCU. This week the third of these series, Loki, premieres on Disney+ and it very well may be the best of all three shows.
If you don't remember, Loki (Tom Hiddleston; Kong: Skull Island), grabbed the Tesseract during the chaos and promptly disappeared. Well, we finally find out where he went. He ended up in the Gobi Dessert not knowing where he was and unable to understand the natives. Suddenly, Armed guards arrive through a magical portal, arrest Loki and "reset" time. That is when Loki finds himself in real trouble. It seems by escaping, he veered off his timeline disrupting the future. Hence, the officers who arrested him were from the TVA – Time Variance Authority – who brought Loki to stand trial for his crime against time.
However, Mobius M. Mobius (Owen Wilson; Wedding Crashers), an analyst in the TVA, would like to instead to use Loki to catch…well, Loki. It seems there is another Loki out there, killing TVA guards, and jumping through time to elude detection. Mobius hopes that this Loki will help the TVA capture this deadly version of himself by giving the Authority insight into how Loki thinks and what he would do in a given situation. While Loki is initially resistant, he eventually agrees to help them, hoping for leniency when he is sentenced.
Hiddleston seamlessly slides back into the Asgardian God role as the annoying, obnoxious adopted brother of Thor. He portrays this unlikable trickster with a certain charm, making him interesting and complicated. Wilson, who, ironically, tends to portray trickster-like characters in movies, shows a different side as the mildly gullible, straight-laced bureaucrat. The supporting cast, including Sophia Di Martino (Yesterday), Richard E. Grant (Can You Ever Forgive Me?), and Gugu Mbatha-Raw (Belle), are excellent while remaining in the background giving Hiddleston and Wilson the room to shine.
Of course, the Marvel Cinematic Universe and Disney would settle for no less than topnotch production values and Loki is no exception. Special effects are well done and in no way look cheesy or fake. The dialogue is well written with moments of hilarity layered between all the serious moments. The story unfolds slowly but doesn't seem boring or off-putting. In fact, the opposite is true; the longer one watches the show, the more they become engrossed in the characters and the plot.
If WandaVision was about magical powers (and supposedly a must-see if one plans to see the Doctor Strange sequel next Spring) and The Falcon and the Winter Soldier was mostly for action junkies, then Loki is the thinking man's series. It seems to have a somewhat complicated plot, which may or may not make sense by the end of the six episodes.
The real question, however, is why make these limited series? Do they serve some other purpose or are they merely placeholders while the next round of movies are filmed? Whichever answer is correct, each of these shows gives the viewer a little bit of insight into some of the MCU characters and makes us all wonder what is coming next. With a Black Widow movie and the aforementioned Doctor Strange sequel coming up there is much to look forward to but in the meantime, take some time to watch Loki. You won't be disappointed.
Grade: B+
For more reviews please visit our film/television review section.
Tom Hiddleston is on the clock. Catch up on Loki's journey through the MCU. Marvel Studios' "Lok...

Marvel Studios' "Loki" features the God of Mischief as he steps out of his brother's shadow in a new...

Marvel Studios' "Loki" features the God of Mischief as he steps out of his brother's shadow in a new...
SPONSORED LINKS