Halloween Kills (2021)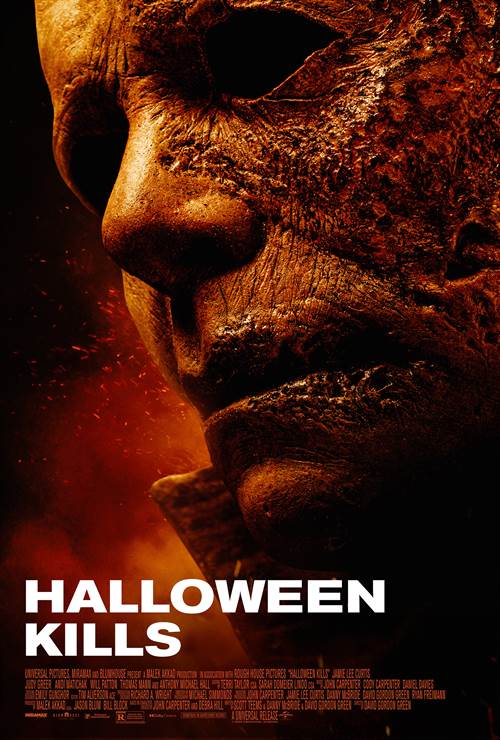 Share this:
| | |
| --- | --- |
| Director: | |
| Writers: | |
| Cast: | |
| Released: | Friday, October 15, 2021 |
| Studio: | Universal Pictures |
| Genre: | Horror |
| Rating: | This Film Is Not Yet Rated |
Synopsis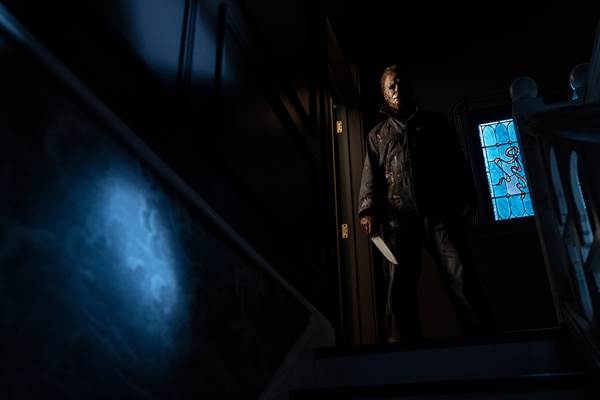 In 2018, David Gordon Green's Halloween, starring icon Jamie Lee Curtis, killed at the box office, earning more than $250 million worldwide, becoming the highest-grossing chapter in the four-decade franchise and setting a new record for the biggest opening weekend in history for a horror film starring a woman.

And the Halloween night when Michael Myers returned isn't over yet.

Minutes after Laurie Strode (Curtis), her daughter Karen (Judy Greer), and granddaughter Allyson (Andi Matichak) left masked monster Michael Myers caged and burning in Laurie's basement, Laurie is rushed to the hospital with life-threatening injuries, believing she finally killed her lifelong tormentor.

But when Michael manages to free himself from Laurie's trap, his ritual bloodbath resumes. As Laurie fights her pain and prepares to defend herself against him, she inspires all of Haddonfield to rise up against their unstoppable monster.

The Strode women join a group of other survivors of Michael's first rampage who decide to take matters into their own hands, forming a vigilante mob that sets out to hunt Michael down, once and for all.

Evil dies tonight.
Halloween Kills images are © Universal Pictures. All Rights Reserved.
Halloween Kills To Debut Day-and-Date In Theatres and on Peacock
9/9/2021 10:04 PM EST
With the scariest night of the year just around the corner, Jamie Lee Curtis is set to reprise the role of Laurie Strode in the newest Halloween film, Halloween Kills. The film will debut day-and-date in theatres and on Peacock on October 15, Universal announced on Thursday.Alongside Curtis, Nick Castle will return as the psycho killer, Michael Myers, while David Gordon Green is directing the foll...
More>>
Universal Pictures Announces Two New Halloween Films
7/19/2019 3:19 PM EST
Universal Pictures has announced that they will be adding two more films to their Halloween franchise - Halloween Kills and Halloween Ends, from Trancas International Films, Miramax and Blumhouse Productions.The most recent release of the franchise, last year's Halloween, was the highest-grossing installment in the classic horror franchise at more than $250 million worldwide.   Halloween Kills was...
More>>
Atom Tickets Announces Halloween as Their Top Horror Pre-Sell
10/19/2018 2:47 PM EST
Atom Tickets has announced that Halloween, which opens today, is their top horror pre-seller so far this year.Between October 8-11, the site conducted a poll of 1,000 movie fans and discovered the following:*70% of Atom users have seen one or more of the Halloween movies *Latinx movie fans are twice as likely to see the movie than other racial groups*48% of Atom's Latinx audience said they have se...
More>>
Halloween 4: The Return of Michael Myers Maze Coming to Universa...
8/14/2018 1:27 PM EST
The news coming from Universal's Halloween Horror Nights just keeps on coming! The latest addition to the event's lineup will now include a Halloween 4: The Return of Michael Myers maze that will open on Friday, September 14.Based on the fourth film of the franchise, the maze will allow guests to travel through the suburban town of Haddonfield, Illinois on Halloween night where Myers has escaped S...
More>>
Jamie Lee Curtis to Reprise Role in New Halloween Film
9/16/2017 12:16 AM EST
Universal Pictures has announced that they will be releasing another Halloween film starring Jamie Lee Curtis.Curtis returns as Laurie Strode, who comes to her final confrontation with Michael Myers, the masked figure who has haunted her since she narrowly escaped his killing spree on Halloween night four decades ago. Horror Legend John Carpenter will executive produce and serve as creative consul...
More>>
Fathom Events Brings The Horror Classic, Halloween, Back Into Th...
10/30/2015 1:38 PM EST
On October 25th, 1978 John Carpenter's Halloween premiered in Kansas, City Missouri and took the country by storm. The film then continued to have multiple sequels as well as a reboot. Now, in 2015, Fathom Events, along with SpectiCast, brought it back to the silver screen for one night only, October 29th, 2015, for fans around the United States.In case you are unfamiliar with the property Hallowe...
More>>
Sequel In The Works To Rob Zombie's Halloween
11/13/2008 4:52 PM EST
During the recent "Halloween: 30 Years of Terror" convention in Pasadena, California, Malek Akkad confirmed rumors that there will indeed be a sequel released for 2007's "Halloween", created by Rob Zombie. Tyler Mane will return as Michael Myers, but no other word on any other casting news has been released.Shooting for the film beings in march of 2009....
More>>
Rob Zombie's Halloween Remake Update
1/10/2007 11:02 AM EST
Rob Zombie announced Tuesday some new actors added to the roster for his upcoming movie remake, Halloween.Cast so far: Dr. Loomis - Malcolm McDowell Young Michael Myers - Daeg Faerch Adult Michael Myers - Tyler Mane Deborah Myers - Sheri Moon Zombie Mason Strode - Pat Skipper Cynthia Strode - Dee Wallace Stone Ronnie White - William Forsythe Big Joe - Ken Foree ...
More>>
In 2018, David Gordon Green's Halloween, starring icon Jamie Lee Curtis, killed at the box office, e...

#HalloweenKillsFrom John Carpenter - The Master of HorrorJuly 8, 2020We write this to you heartbroke...

In 2018, David Gordon Green's Halloween, starring icon Jamie Lee Curtis, killed at the box office, e...
SPONSORED LINKS