Adventureland (2009)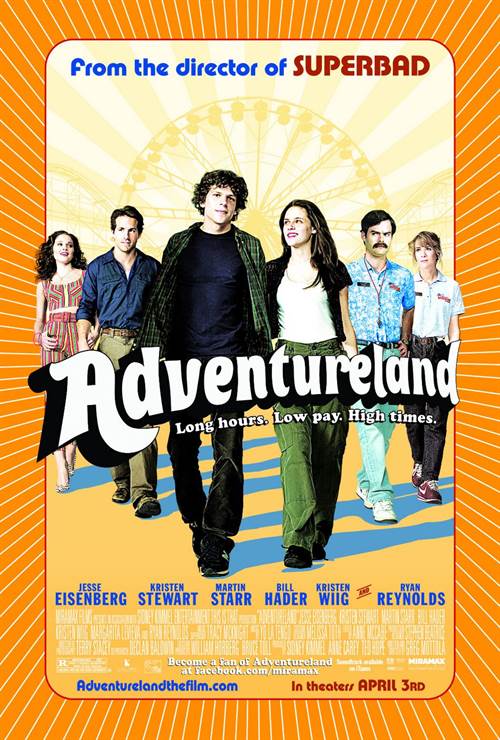 | | |
| --- | --- |
| Director: | |
| Writers: | |
| Cast: | |
| Released: | Friday, April 3, 2009 |
| Length: | 107 minutes |
| Studio: | Miramax |
| Genre: | Comedy, Drama |
| Rating: | Under 17 requires accompanying parent or adult guardian. |
Adventureland Synopsis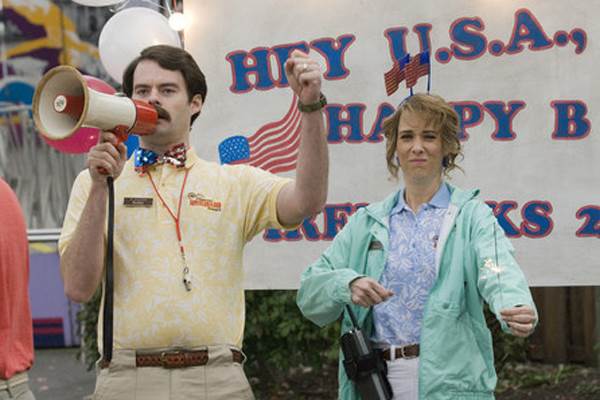 It's the summer of 1987, and James Brennan (Jesse Eisenberg), an uptight recent college grad, can't wait to embark on his dream tour of Europe. But when his parents (Wendie Malick and Jack Gilpin) announce they can no longer subsidize his trip, James has little choice but to take a lowly job at a local amusement park. Forget about German beer, world-famous museums and cute French girls-James' summer will now be populated by belligerent dads, stuffed pandas, and screaming kids high on cotton candy. Lucky for James, what should have been his worst summer ever turns into quite an adventure as he discovers love in the most unlikely place with his captivating co-worker Em (Kristen Stewart), and learns to loosen up..

The film stars Jesse Eisenberg ("The Squid and the Whale"), Kristen Stewart ("Twilight, "Into the Wild"), Ryan Reynolds ("Just Friends," "Van Wilder"), Martin Starr ("Knocked Up," "Superbad"), and "Saturday Night Live" cast members Kristen Wiig ("Knocked Up") and Bill Hader ("Superbad," "Tropic Thunder").

Greg Mottola, fresh off the hit film "Superbad," is directing his script drawn from his own job-from-hell experience. Ted Hope and Anne Carey of This is that corporation ("The Savages," "Nothing is Private") are producing, along with Sidney Kimmel of Sidney Kimmel Entertainment Executive producers are William Horberg and Bruce Toll.

The creative team includes director of photography Terry Stacey ("The Nanny Diaries," "Dexter"), production designer Stephen Beatrice ("Then She Found Me," "Sherrybaby"), costume designer Melissa Toth ("No Reservations," "Eternal Sunshine of the Spotless Mind"), and editor Anne McCabe ("Maria Full of Grace," "You Can Count on Me").

Purchase DVD/Blu-ray/4K UHD physical copy of Adventureland today at Amazon.com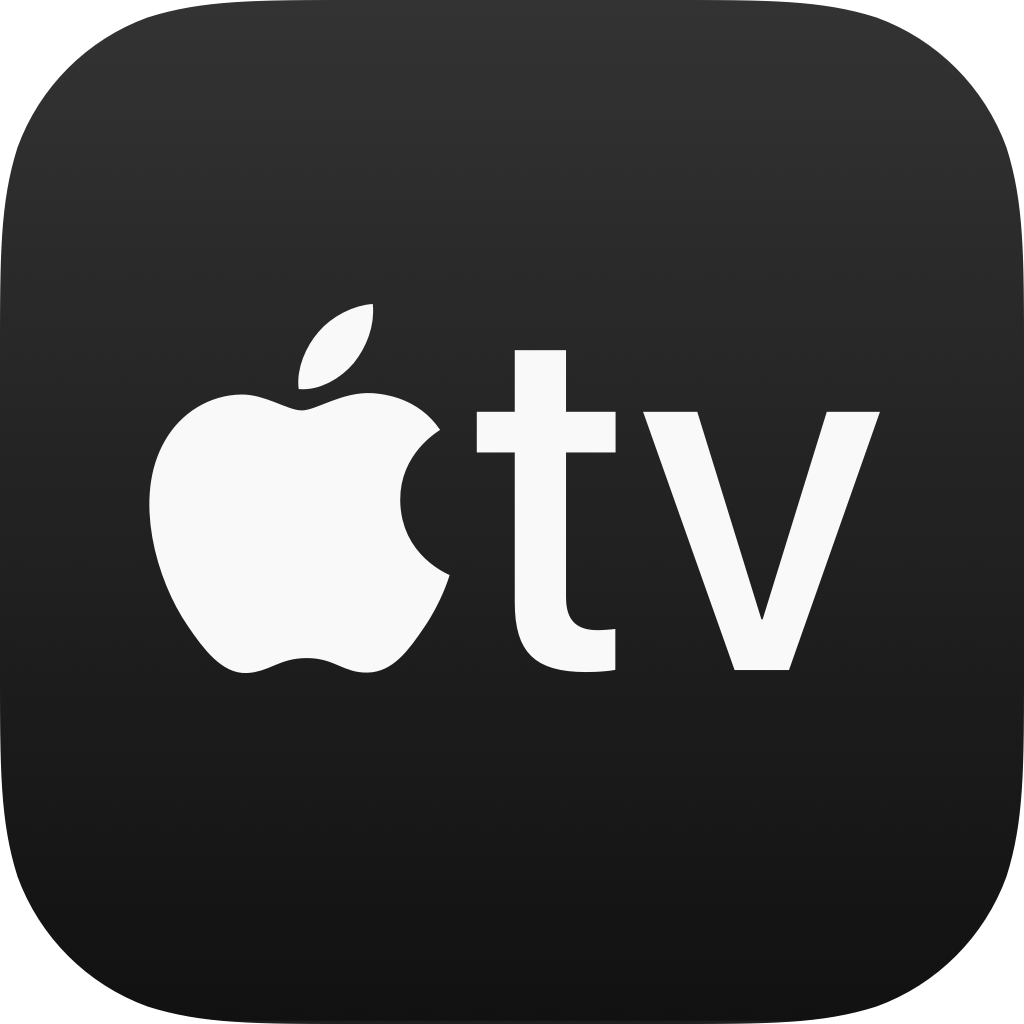 Stream Adventureland in Digital HD/4K from the AppleTV store.
Adventureland images are © Miramax Films. All Rights Reserved.
Adventureland Blu-ray Review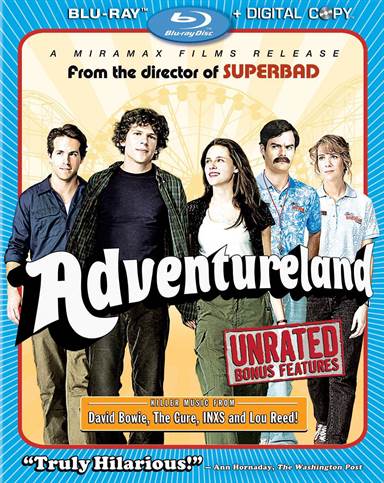 Billed as a comedy "From the director of SUPERBAD", "Adventureland" doesn't take the gross out route with its subtle humor and is really more of a coming of age drama. If you are expecting "Van Wilder" (the movie features eternal frat boy Ryan Reynolds) or something along the lines of Judd Apatow fallace joke infused fare, (as the marketers of the film would like you to believe) Adventureland is not your film. Though it is a decent ride through one summer of adventure, romance and yes some humor thrown in for good measure.

Taking place in the late 1980's, the film focuses on a recent college grad, James (Jesse Eisenberg) who, after his father is laid off from work won't be able to attend grad school in the fall or go on his dream trip to Europe. Seeking summer employment to pay his own way with no previous experience proves to be a catch 22 for James and he ends up working as a glorified carnie at "Adventureland" amusement park. (Writer/Director Greg Mottola draws inspiration from his own summers working in family entertainment theme parks) All the games are rigged, the rides frequently break down, and the only thing the employees seem to have going for them is the marijuana stash that James brings to the table. "Hey, James... you still have anymore of those baby joints?"

He quickly meets up with Em (Kristen Stewart), a fellow Adventureland employee who he begins to fall for. Em has lots of her own problems including having an affair with a married man, Adventureland mechanic and part time musician Mike Connell (Ryan Reynolds). Not knowing of the pairs romantic trysts, James often confides in Mike about his growing feelings for Em. When the popular, homecoming queen type "Lisa P" shows up things get even more involved for James as she begins to take notice of his innocent charms.

Other characters who get in the mix include park operators Paulette (Kristen Wigg) and Bobby (SNL veteran Bill Hader) who hire James on the spot for the minimum wage Adventureland job as well as a stoner friend Joel who takes James under his wing. The cast is believable and delivers their lines well, no complaints there.

The Blu-ray disc features both 1080p High Definition (1:85:1 aspect ratio) and 480i video (but lets face it, if you're watching the blu-ray 1080p is the only way to go). Audio is available in English 5.1 DTS-HD (48 kHz /24 -bit) and French 5.1 Dolby Digital with subtitles available in English, French, and Spanish. The audio is mixed well and the 40 some odd "period pieces" (read: 80's songs) come through in all their glory. Exlusive to the Blu-ray disc are "Lisa P's Guide to style" showcasing some fantastic 80's attire and "Welcome to Adventureland" which contains phony Adventureland commercials, Orientation Training Video, and (judging by the amount of pot smoked in the movie the not often watched) Drug Policy video.

Also available on the DVD release as well as the Blu-ray are Deleted Scenes, The Making of Adentureland documentary and commentary from Greg Mottola and Jesse Eisenberg. A bonus 2nd disc is included with the blu-ray featureing the obligatory digital copy for your computer or mobile device.

This film will appeal mostly to a more mature, yet still slightly adolescent crowd (age 21-34) and would make for a good date movie as there is plenty to keep both males and females entertained. A stoner comedy/drama without the gross out jokes or over the top antics "Adventureland" is not what you expect but it just might be better than you expect.
-- Eric English
For more reviews please visit our film/television review section.
SPONSORED LINKS