Cursed Series Review
By
Allison Rose
,
Jul 17, 2020 08:42 AM EST
Langford is an excellent choice for Nimue. She is strong and resilient yet somewhat trusting and naïve.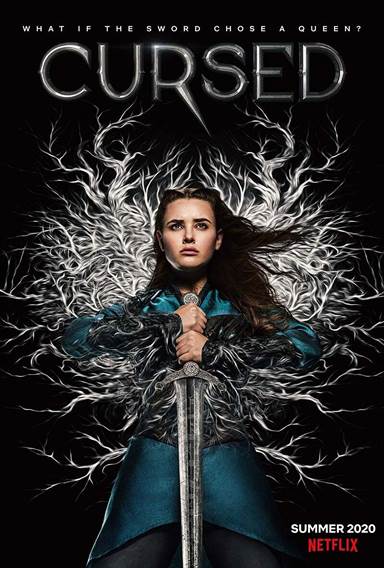 The legend of King Arthur has taken on many forms in various media throughout time. There have been countless novels, movies, and television series that deal either directly with Arthur, Excalibur, and The Lady of the Lake. This week Netflix offers their version, Cursed, based on an illustrated young adult novel written by award-winning comic book legend Frank Miller (Daredevil) and Tom Wheeler (Puss in Boots). This account is told from the perspective of Nimue (Katherine Langford; Knives Out), a teenaged, fae girl who becomes the "Queen" of a marginalized people (I use that word loosely) and eventually, it seems, is fated to be the fabled Lady of the Lake.
In comparison to the Crusades, we meet groups of various fae people who are being stalked and murdered by the Church warriors, known as the Red Paladins, while the King sits idly by and allows it to happen. As Nimue watches her "clan" is slaughtered and burned to death and she witnesses the death of her own mother. Before her mother dies, she gives Nimue a package and tells her to bring it to Merlin (Gustaf Skarsgard; Vikings), a despised magician, considered to be a traitor, who lives under the protection of the King.
While on her quest, Nimue meets Arthur (Devon Terrell; Barry), a young thief who steals her package, which turns out to be the Sword of the First King, long assumed to have been destroyed. Together they unite the fae clans to fight the Red Paladin in an attempt to stop the slaughter of their people. Meanwhile, the various individuals in power (The King, The Church, etc.) are plotting against Nimue to try to get the sword, as it is supposed to possess great power and it is said the person to wield it will become the most powerful in all the land.
Langford is an excellent choice for Nimue. She is strong and resilient yet somewhat trusting and naïve. She is also scarred both physically and emotionally from her childhood and Langford expertly portrays that pain through her eyes. Terrell is an interesting choice for Arthur and he and Langford have good chemistry. Skarsgard plays the often drunk and always "broken" Merlin beautifully. He is a scoundrel but shows glimmers of morals on the rare occasion. The supporting cast have a lot to offer and compliment the main cast. The "weeping warrior" (Daniel Sharman; Fear of the Walking Dead) has such presence you can't help but watch him every time he is on screen.
The story gives a different perspective of the Arthurian tale which is rather interesting. The first episode starts off somewhat slow but the series gains speed as it goes along and packs a lot of material into ten one-hour episodes. Interestingly, while the series is based on a young adult novel, it has rather dark undertones and is definitely not meant for anyone under the age of sixteen or so. The show also presents what seems to be a somewhat realistic version of medieval times with a supernatural bent.
Netflix has become synonymous with quality programming and Cursed is no exception. Filmed in England, the country offers some stunning visuals and natural landscape that lends itself to the era. Be forewarned the show is gory and bloody, hence the "dark" theme and the warning about it being inappropriate for younger teens.
Each episode ends on a cliffhanger so don't be surprised if you find yourself binge-watching all ten episodes in one or two days. Of course, the ending wraps the story up nicely but leaves itself open for a season two, which wouldn't surprise me.
Grade: B