Joshy Blu-ray Review
Joshy is a little underwhelming when you first watch it, but the more you think about it and let it marinate, it tends to grow on you.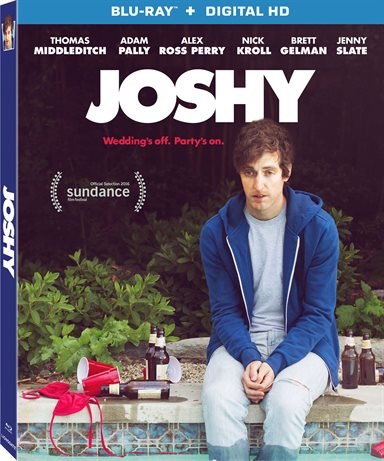 The majority of male bonding movies are typically raunchy, rowdy and depict a group of overgrown children drinking, taking drugs and having lots of sex while on some wild adventure (i.e. trip/vacation). A perfect example would be 2009's
The Hangover.
Based on that film, and its subsequent sequels, it would seem hard partying to the point of forgetfulness is the way to solidify friendship among the 20-40 year old male demographic.
Joshy
is not that type of film... not exactly, anyway.
Joshy can only be described as the anti-Hangover; the thinking man's bonding movie; the nerdy, half-stepbrother of The Hangover; the "artsy" answer to The Hangover. You get the picture. It is thoughtful, insightful, mildly funny and depressing all at the same time.
Josh (Thomas Middleditch; Silicon Valley) was supposed to get married but things changed (horribly). Unfortunately, he forgot about the deposit he put down on the cabin in the mountains to have a group of friends enjoy a "bachelor party" weekend. Deciding to still go, he invites the guys to join him, and Ari (Adam Pally; The Mindy Project), Adam (Alex Ross Perry; Devil Town) and Eric (Nick Kroll; The League) take him up on his offer and head to the cabin, each with their own ideas of what should happen.
As it always happens in these types of movies, the weekend didn't turn out as anyone had planned and after the initial mayhem and partying, there are several insightful "breakthroughs" and "breakdowns", followed by the obligatory "Kumbaya/let's hold hands around the campfire" cathartic moment. Every one leaves the cabin changed, with new insight and purpose in their lives that will probably only last a few weeks to a few months, depending.
While my description so far makes the movie sound pretty bland and boring, Joshy is anything but those things. Yes, the ending is still fairly predictable, but the journey is so enjoyable to watch you don't seem to mind. Eric is so invigorating, especially when his buddy, Greg (Brett Gelman; Married) joins the group, that they beautifully balance the Eeyore-esque Adam with his dungeons and dragons board game (figuratively and literally) mentality.
The actors blend harmoniously to make for a solid unit, despite the friction their characters create. Kroll, Gelman and Pally are definitely the standouts in this ensemble, and supporting actress Jenny Slate (Married) as Jodi adds a subtle layer to the group. Cameos by Paul Reiser (Mad About You) and Lisa Edelstein (House) are simply the icing to this already delicious cake.
The mountainous backdrop serves as the serene and ethereal location perfect for the enlightenment each character endures and is beautifully shot by director/writer Jeff Baena (I Heart Huckabees). His cuts and edits keep the well-written script in constant motion moving the film along at a steady pace.
The Blu-ray is presented in 1080p resolution with a 2.39:1 aspect ratio which shows off the mountain views spectacularly. The DTS-HD Master 5.1 audio is pretty much what you would expect, but the mix was well done. The only extra offered besides the digital code is the audio commentary with Baena, Pally and Middleditch.
Joshy is a little underwhelming when you first watch it, but the more you think about it and let it marinate, it tends to grow on you. The movie is a bit of a downer at times but sometimes that can be a good thing in order to make you appreciate your own life. With a well written script and strong cast, it holds its own in a sea of Comic book heroes and car chases/explosions. Definitely worth watching… maybe with some good friends and a case of beer.
Grade: B+
Purchase your copy of Joshy today at
Download Joshy from the iTunes Store in Digial HD.
MPAA Rating:
R
Running Time:
93 minutes
Distributed By:
Lionsgate
For more information about Joshy visit the FlickDirect Movie Database.
About Allison Skornick-Rose