Halo Episodes 1/2 Video Review

Aliens threaten human existence in an epic 26th-century showdown. TV series based on the video game 'Halo'.
This release has been provided to FlickDirect for review purposes.
Read More Halo Reviews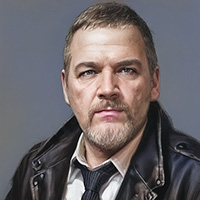 Halo: Season One Blu-ray Physical Media: Blu-ray Review
Halo is growing into its own combat boots and I'm looking forward to season two.
ABOUT HALO
In its adaptation for Paramount+, HALO will take place in the universe that first came to be in 2001 with the launch of Xbox®'s first "Halo" game. Dramatizing an epic 26th-century conflict between humanity and an alien threat known as the Covenant, HALO the series will weave deeply drawn personal stories with action, adventure and a richly imagined vision of the future. The series stars Pablo Schreiber ("American Gods") as the Master Chief, Spartan-117; Natascha McElhone ("Californication") as Dr. Halsey, the brilliant, conflicted and inscrutable creator of the Spartan super soldiers; and Jen Taylor ("Halo" game series, RWBY) as Cortana, the most advanced AI in human history, and potentially the key to the survival of the human race. Additional stars include Bokeem Woodbine ("Fargo"), Shabana Azmi ("Fire"), Natasha Culzac ("The Witcher"), Olive Gray ("Half Moon Investigations"), Yerin Ha ("Reef Break"), Bentley Kalu ("Avengers: Age of Ultron"), Kate Kennedy ("Catastrophe"), Charlie Murphy ("Peaky Blinders") and Danny Sapani ("Penny Dreadful").
Halo is © Paramount Pictures. All Rights Reserved.
SPONSORED LINKS