Green Book (2018)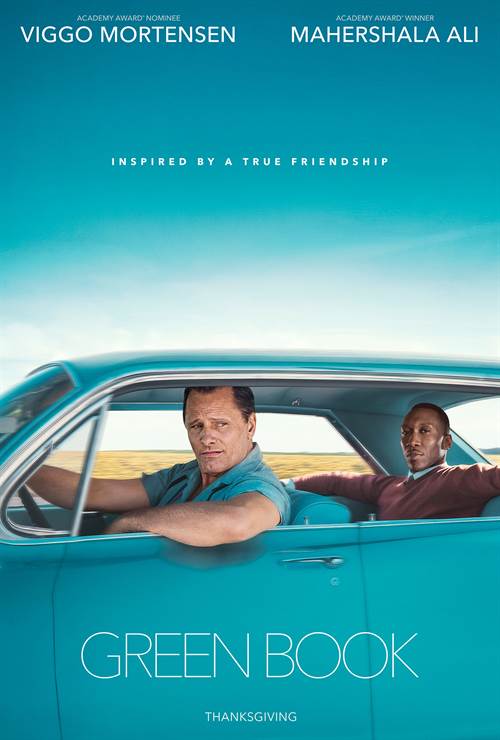 | | |
| --- | --- |
| Director: | |
| Writers: | |
| Cast: | |
| Released: | Wednesday, November 21, 2018 |
| Length: | 130 minutes |
| Studio: | Universal Pictures |
| Genre: | Drama |
| Rating: | Some material may be inappropriate for children under 13. |
Synopsis
Academy Award® nominee Viggo Mortensen (Eastern Promises, The Lord of the Rings trilogy) and Academy Award® winner Mahershala Ali (Moonlight, Hidden Figures) star in Participant Media and DreamWorks Pictures' Green Book. In his foray into powerfully dramatic work as a feature director, Peter Farrelly helms the film inspired by a true friendship that transcended race, class and the 1962 Mason-Dixon line.

When Tony Lip (Mortensen), a bouncer from an Italian-American neighborhood in the Bronx, is hired to drive Dr. Don Shirley (Ali), a world-class Black pianist, on a concert tour from Manhattan to the Deep South, they must rely on "The Green Book" to guide them to the few establishments that were then safe for African-Americans. Confronted with racism, danger—as well as unexpected humanity and humor—they are forced to set aside differences to survive and thrive on the journey of a lifetime.

Purchase DVD/Blu-ray/4K UHD physical copy of Green Book today at Amazon.com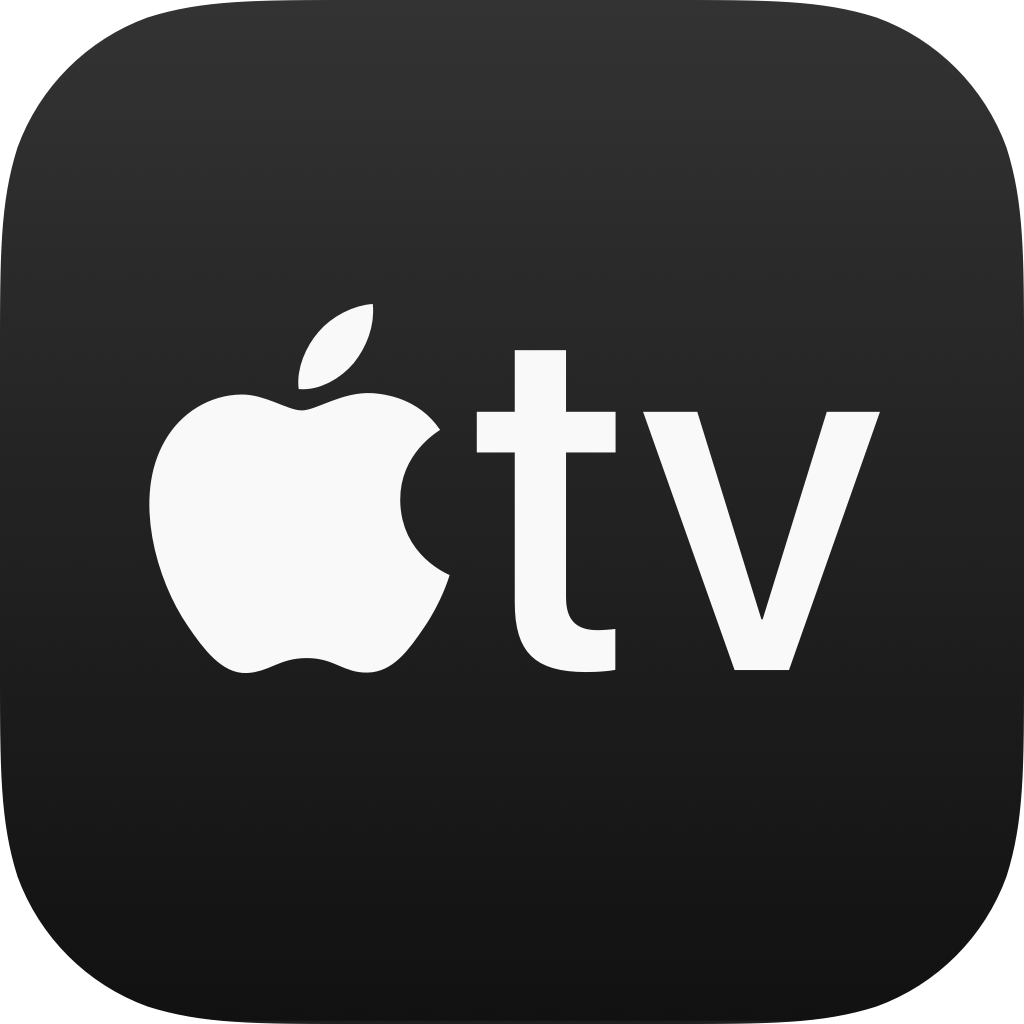 Download Green Book in Digital HD/4K from the iTunes store.
Listen to the Green Book soundtrack on Apple Music.
Green Book images are © Universal Pictures. All Rights Reserved.
Win a Blu-ray Combo Pack of The Oscar Wining Film, Green Book
3/2/2019 4:23 PM EST
How would you like to win a copy of this year's winner for the Best Picture Oscar on Blu-ray? Well, FlickDirect, in conjunction with Universal Pictures, wants to give some lucky winners the chance to own GREEN BOOK for themselves as they celebrate the release of the Blu-ray Combo pack on March 12th, 2019.To enter follow the 4 simple steps below:1. Follow Movie Deals Daily App on Twitter.2. Follow ...
More>>
Win Complimentary Passes For Two To An Advance Screening of Univ...
11/13/2018 12:04 PM EST
One of the most talked about films coming out this holiday season is Universal Studios' GREEN BOOK.  Set in the South in the 1960's it celebrates an unlikely friendship between a White Italian and a Black man.   In conjunction with Universal Studios, FlickDirect would like to offer some lucky winners the opportunity to see a special advance screening on Monday, November 19, 2018, before it opens n...
More>>
Green Book 4K Review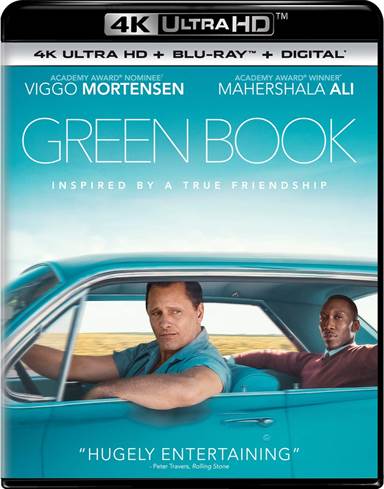 As recent as the 1960's it wasn't safe for African Americans to travel in the southern portion of the United States. Discrimination was commonplace and segregation was simply a fact of life. When Dr. Don Shirley (Mahershala Ali;
Moonlight),
an African American classical and Jazz pianist, decided to tour the southern states he needed to hire a driver/bodyguard. Tony Vallelonga (Viggo Mortensen
; Lord of the Rings
trilogy) was an Italian American living in New York who worked at the Copa Cabana, which was recently closed for renovations. The Academy Award-winning film tells the real-life story of how these two men embarked on a journey and became unlikely lifelong friends.
In this film, based on real-life events, Shirley was an educated and very talented man. He was celebrated all over the world for his musical talents and had performed for kings and queens. However, when he traveled to the southern part of America all people saw was a black man in the segregated states. He traveled in a chauffeur driven car, and wore the finest clothing but even so, he was not allowed to eat in the finest restaurants or sleep in the best hotels. Vallelonga was recommended to Dr. Shirley because he was known for having a cool head in stressful situations.
Reluctant at first to take the job, Vallelonga relents and the two set out for the deep south along with "The Negro Motorist Green Book" – a guide to restaurants and hotels that Blacks could go to while traveling. Along their journey, Shirley helps educate Vallelonga while Vallelonga introduces Shirley to a different philosophy and outlook on life (as well as fried chicken). For each man, it becomes an eye-opening experience as to "how the other half lives and thinks" and sparks a lasting friendship.
While there is a supporting cast, this movie is focused on Mortensen's and Ali's characters and the bond they form. It is not surprising that both men were nominated for Oscars for their performances as both were excellent and memorable. Mortensen embodies the demeanor of a typical 1960's Italian American living in the five boroughs with his own prejudices and a colorful language. Ali is refined and debonair and somewhat pretentious, a rarity amongst 1960's Negros. Each character is nuanced and the effect they each have on one another spills over to the audience throughout. Ali has had exceptional roles in the past few years and this one is no exception. His Oscar was certainly well deserved (The some might argue Richard E. Grant should have won).
As this film gives us glimpses of what is supposed to be the countryside of the southern portion of the United States, the 2160p video quality offers some excellent picturesque scenery with lush greens and sharp colors. The black tones of the evening sequences are deep and true and detailed. The Dolby Atmos audio is an excellent complement to the visuals and highlights the eclectic soundtrack beautifully. The music has a richness and fullness to it while the dialogue is crisp and clean. The Combo pack includes only three extras, totaling just over 13 minutes, which for me was disappointing. They are: Virtuoso Performances, An Unforgettable Friendship and Going Beyond the Green Book. They were interesting enough but I was hoping for more.
While some argued Green Book should not have won the Best Picture Oscar I feel it is deserving of the honor. It was entertaining, and emotional while it reminded us of a time in the history of this country when some people didn't enjoy the same freedoms regardless of talent and intelligence. Above all, though it is a story about breaking down barriers to build a friendship and Mortensen and Ali did that beautifully.
Grade: A
For more reviews please visit our film/television review section.
Academy Award® nominee Viggo Mortensen (Eastern Promises, The Lord of the Rings trilogy) and Academy...
SPONSORED LINKS