A Private War (2018)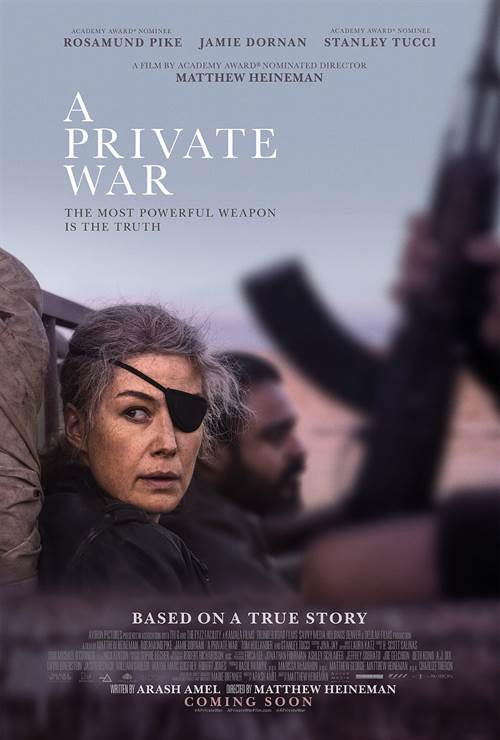 | | |
| --- | --- |
| Director: | |
| Writers: | |
| Cast: | |
| Released: | Friday, November 16, 2018 |
| Length: | 110 minutes |
| Studio: | Aviron Pictures |
| Genre: | Drama |
| Rating: | Under 17 requires accompanying parent or adult guardian. |
A Private War Synopsis
In a world where journalism is under attack, Marie Colvin (Rosamund Pike) is one of the most celebrated war correspondents of our time. Colvin is an utterly fearless and rebellious spirit, driven to the frontlines of conflicts across the globe to give voice to the voiceless, while constantly testing the limits between bravery and bravado. After being hit by a grenade in Sri Lanka, she wears a distinctive eye patch and is still as comfortable sipping martinis with London's elite as she is confronting dictators. Colvin sacrifices loving relationships, and over time, her personal life starts to unravel as the trauma she's witnessed takes its toll. Yet, her mission to show the true cost of war leads her -- along with renowned war photographer Paul Conroy (Jamie Dornan) -- to embark on the most dangerous assignment of their lives in the besieged Syrian city of Homs.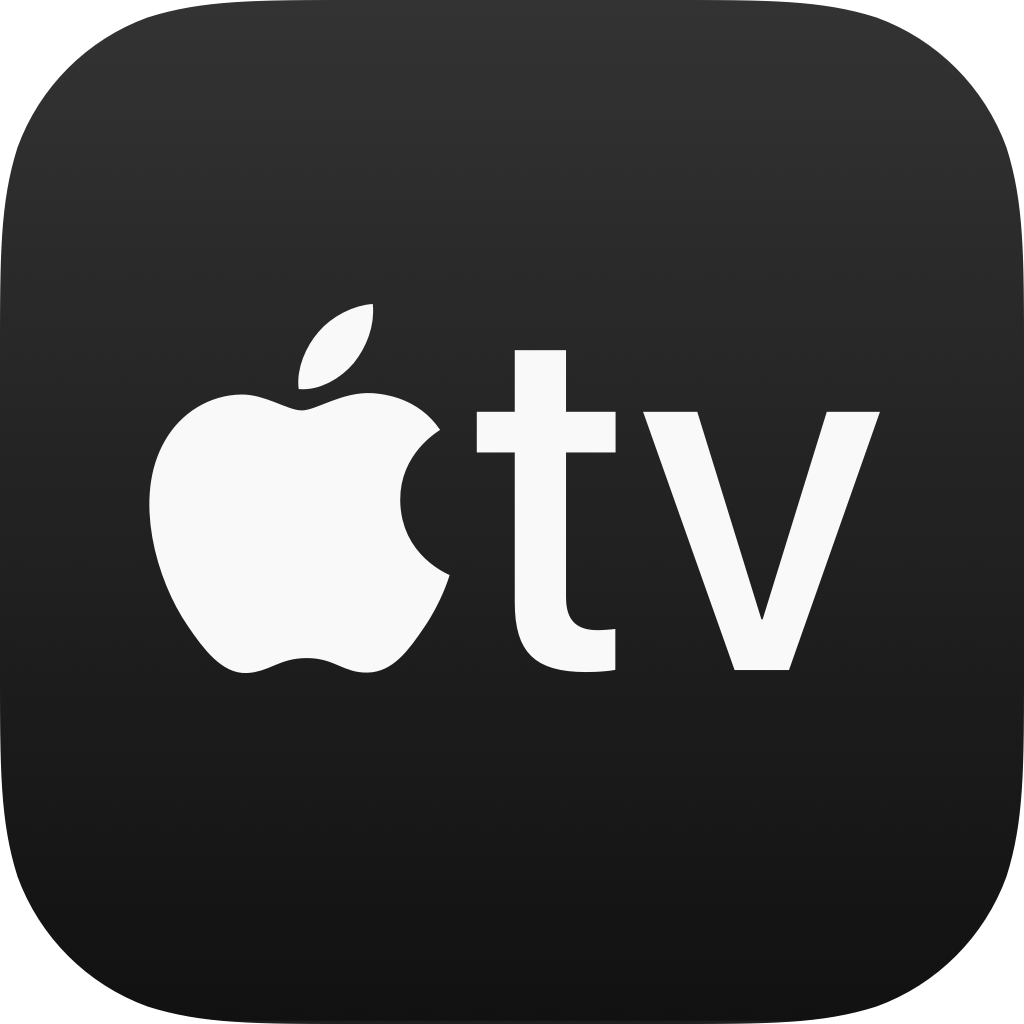 Stream A Private War in Digital HD/4K from the AppleTV store.
Listen to the A Private War soundtrack on Apple Music.
A Private War images are © Aviron Pictures. All Rights Reserved.
Win Complimentary Passes For Two To An Advance Screening of A PR...
10/31/2018 11:01 PM EST
As Oscar season ramps up now is the time to see some of the best films of 2018.  One of these movies, A PRIVATE WAR, tells the story of journalist Marie Colvin and her relentless fearlessness in the pursuit of the truth.  FlickDirect would like to offer some lucky winners to see a special advance screening at either AMC Sunset Place Miami at 7:30 pm on November 5, 2018, or at Franks Theaters Delra...
More>>
A Private War Theatrical Review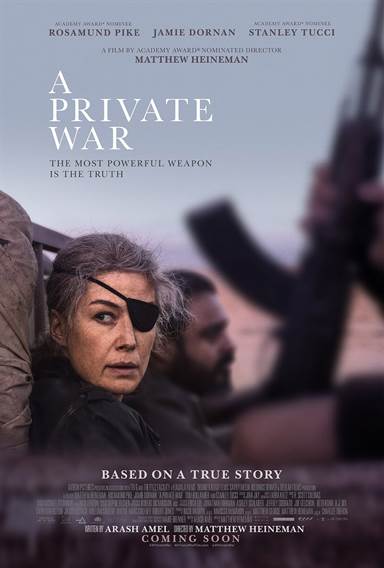 She was a talented writer. She had compassion and conviction. The combination made her words powerful and she became one of the most respected war correspondents in the world. That compassion and Conviction are also likely what got her killed. Running into war zones while others ran away, she told their stories… the soldiers, the innocent civilians and the ruthless leaders. She traveled the world, often into hostile territories to get the stories and when she did she told them as only she could. She made people sit up and listen while championing the underdog. Her name was Marie Colvin (Rosamund Pike;
Gone Girl
) and
A Private War
chronicles her life while she chronicled others lives.
Colvin worked for the British newspaper The Sunday Times beginning in 1985 until her death at the age of 56 in Homs, Syria. Eleven years earlier she lost her left eye while under siege in Sri Lanka. Instead of a deterrent, it served to strengthen her conviction to cover war stories. Some might have said she was crazy while others would have called her driven but whichever it was, she was certainly brave and courageous.
She watched as friends and colleagues were killed and she also suffered her own demons. Colvin was institutionalized for Post Traumatic Stress Disorder at one point but after recovering went right back to the front lines to continue her work. In 2012 she went to Syria and, even after all other reporters evacuated, she stayed behind to reveal the lies being told, mainly that civilians weren't being targeted. After speaking with Anderson Cooper on CNN News she and her photographer Paul Conroy (Jamie Dornan; Fifty Shades of Grey) attempted to leave only to be bombed. While Paul was severely injured, Colvin lost her life.
Pike is masterful as Colvin. She portrays her as strong on the outside while damaged underneath. The vulnerability makes Colvin seem somehow more human and Pike offers a range of emotions with a nuanced performance worthy of an Oscar nomination. Tom Hollander (Bohemian Rhapsody) is great as Colvin's Editor, Sean Ryan and Dornan offers more depth than we have seen from some of his more recent roles. The ensemble cast overall is strong, which is needed for this material. Stanley Tucci (The Devil Wears Prada) also has a great cameo as one of Colvin's lovers and helps to reveal her softer side.
The script by Arash Amel (Grace of Monaco) gives some terrific opportunities for Pike to shine and to allow the audience to see a glimpse inside Colvin's psyche. Director Matthew Heineman (City of Ghosts) certainly doesn't shy away from the graphic images of war. His visuals are haunting and, I can only imagine, realistic. They are sometimes difficult but necessary to watch as they set the scenes. They help establish Colvin's frame of mind while she reports these atrocities and gives the audience some semblance of insight as to what these reporters deal with on a regular basis.
While watching scenes filled with mangled bodies and death – especially those of children - the candor with which the story is told and depicted helps set the stage incredibly well. The film portrays the complex woman very well and Pike does an excellent job of getting the feel of the film across to audiences.
The movie is haunting but does the life of Marie Colvin justice. It couldn't have been easy but it was an important life and the film pays homage to the brilliant woman behind the faces of wars and conflicts all over the world. Sadly, with her death, the innocent have lost one of their bravest warriors on a global stage.
Grade: A-
For more reviews please visit our film/television review section.
SPONSORED LINKS